Heather's IBS Newsletter ~ For Irritable Bowel Syndrome

September 5, 2007

Is Gut-Directed Hypnosis a "Cure" for IBS? Liz Says Yes - It Happened to Her!

Hello to everyone ~

This week we have some very interesting research findings about peppermint, pain, and bloating that mirror what I've learned through personal experience. What I've found is that enteric coated peppermint oil capsules and peppermint tea are best mixed and matched depending on my circumstances. While the caps are stronger than peppermint tea (they are the concentrated oil, after all), they have to be taken on an empty stomach. The tea is less potent, but it's more flexible, as it can be taken any time at all - including before, during, or after a meal.

This makes the caps wonderful for preventing problems in the first place, especially when taken before meals or while traveling, and I depend on them in those situations. However, when I'm in trouble I need help NOW, and I can't wait for an empty stomach. That's when strong hot peppermint tea, while less potent than the oil capsules, is a godsend because it helps immediately.

But what if you're suddenly hit with an attack and you don't have peppermint oil capsules or peppermint tea on hand? One of my favorite tips in that type of emergency situation is to chew Altoids peppermints (I even keep some in the car and the bathroom). Chew two at a time, and just keep going, until your symptoms ease up. I've been known to chew 10 or 12 mints in a row, which isn't really pleasant, but it is effective. It definitely helps hold me over until I can make a cup of Peppermint Tummy Tea, which is so strong it will then stop the attack completely.

This week we're also wrapping up one our most popular Ask Heather topics ever - the Five Constipation Frustrations. Parts three, four, and five are this week - check them out!

Plus, as always, we have a wealth of new digestive health research findings and an all-American zucchini bread recipe made digestion-friendly. Enjoy!

Best Wishes,
Heather Van Vorous

Did a friend send you this newsletter? Sign up here for your own free subscription.

Cinnamon Zucchini Bread

The perfect way to use an abundance of summer garden zucchini! This is one of my favorites - my grandmother's delicious old-fashioned recipe. It's slightly sweet, very moist, and so heavenly it's hard to believe it's good for you. The zucchini gives a wonderfully rich texture with very little added oil, and the cinnamon is a delicious digestive aid.

The Tummy Fiber, while optional, will make the bread even richer and moister, and will add extra soluble fiber.

Makes two 9" x 5" loaves, 12 slices per loaf

Preheat oven to 325 F.

Sift into a large bowl:
3 cups all-purpose unbleached white flour
3 tablespoons Acacia Tummy Fiber
1 teaspoon salt
1 teaspoon baking soda
1 tablespoon ground cinnamon
1/4 teaspoon baking powder

Whisk dry ingredients with a metal whisk until thoroughly blended. Set aside.

In another large bowl beat well with an electric mixer until light and foamy:
6 organic egg whites

Beat into the egg whites:
1/2 cup canola oil
1 1/2 cups packed brown sugar
2 cups grated unpeeled zucchini
2 teaspoons vanilla

Add dry ingredients to wet with a few swift strokes by hand just until well blended. Pour batter into two non-stick loaf pans sprayed with cooking oil. Bake for about 50-60 minutes or until a toothpick or cake tester inserted into the center of the loaf comes out clean. Cool on racks.

This bread freezes beautifully, so if you have a huge crop of zucchini make a bunch of extra loaves and freeze them for future breakfasts and snacks.

For a special treat, serve the zucchini bread as dessert with Jamaican Jerk Chicken.

Are you just learning how to eat for IBS? A little intimidated at the thought of special IBS recipes? Not quite sure just what makes these recipes special in the first place? Don't worry! Come see the IBS Diet pages, and find the answers to all your questions.

~ Heather's Tummy Fiber ~
For the Dietary Management of Abdominal Pain, Diarrhea, &, Constipation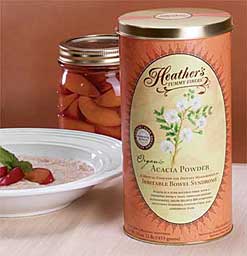 Certified Organic Acacia ~ Pure Soluble Fiber
The prebiotic fiber that relieves both diarrhea and constipation!

** Very Economical ** Only 3 cents per gram of fiber!

A Cure for IBS - "It Happened to Me!"

Dear Heather,

Iíve been meaning to write for a long time. I agree with researchers who call gut-directed hypnotherapy a "cure" for ibs, because it happened to me.

I was diagnosed with IBS and was helped by your diet, but was still feeling symptoms when I deviated. I bought the IBS self-hypnosis program from your web site and listened to the sessions as directed.

I can now eat dairy, raw fruits and vegetables, drink fruit juices, soda, and alcohol, none of which was possible before. I now eat just about anything I want, when I want, and would call myself cured. I do find that I need to listen to the CDds a few times a week, even after finishing the "course" but that is fine because they help me relax and sleep.

A thousand thank-yous, and hugs for your website and for the work and the products you offer. I would be honored if you used my comments on your website.

Sincerely,

Liz Dichiara
Sharon, Ma

Thank you so much, Liz! I am thrilled you had such fantastic results! ~ Heather

Did you miss the recent letter from Ginger, who went from housebound to amazed at the change in her health??



Researchers call gut-directed hypnotherapy a "cure" for IBS!

The Best Gut-Directed Self-Hypnosis Program for All IBS Symptoms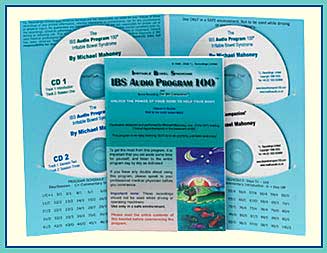 Gives an average 85% reduction of pain and bowel dysfunction symptoms.
Listen to IBS Audio Program 100 samples!


New Retail Stores Carrying Heather's Tummy Care Products
We're continuing our special rebate offer for people who buy Tummy Care products at their local stores, and we have new store announcements this week as well.

California
Real Foods Sausalito
200 Caledonia St
Sausalito, CA 94966
415-332-9640

New York
Next to Nature
87 Lake St
Hamburg, NY 14705
716-646-0060

Texas
Family Health Food
1925 North Grand Ave
Sherman, TX 75090
903 813 0048

If you don't have a store in your area carrying Tummy Care products yet, please give them this flyer to ask them.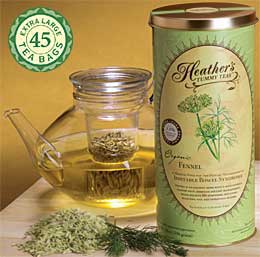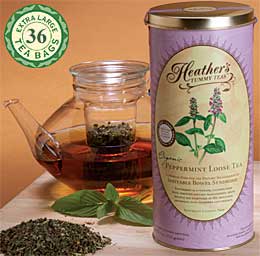 Organic High Volatile Oil Fennel & Peppermint Tummy Tea Bags

Extraordinary Quality ~ Very Economical

Fennel is terrific for bloating & gas, Peppermint is great for IBS pain & spasms.

Probiotic-Prebiotic Treatment for Irritable Bowel Syndrome
A recent study in Clinical Therapeutics aimed to extend a previous 2-week assessment of a probiotic-prebiotic complex in patients with irritable bowel syndrome. Treatment was associated with a continued reduction in general ill feelings/nausea at 4 weeks, and at the 52-week follow-up the rate of remissions was 81.5% to 100%.

Based on the results from the present 1-year extension study, treatment with the probiotic-prebiotic complex may be an option for short-term (2-4 weeks) and long-term ( approximately 60-week) reductions in IBS symptoms.Go here for more information about the prebiotic Acacia.

Go here for more information about this study...

IBS and the Rome III Diagnostic Criteria - for Better or Worse?
A recent article in the European Journal of Gastroenterol & Hepatology gave an early evaluation of the Rome III criteria against the Rome II criteria for irritable bowel syndrome that throws up several important observations.

A three to four-fold increase was observed in irritable bowel syndrome prevalence with the Rome III criteria. Individuals with the Rome II criteria had more doctor visits, perception of stress and a negative global feeling.

There could be a shift of individuals between irritable bowel syndrome and other functional bowel disorder diagnostic groups such as functional constipation and functional bloating. In this review, it is suggested that rigid application of the symptom frequency and duration requirements of the older Rome criteria could have introduced a selection bias for patients with greater psychological disturbance, and that this could have impacted negatively on our perception and management of irritable bowel syndrome.

The findings suggest that the new Rome III criteria may enable us to pay more attention to the average irritable bowel syndrome patient we see in our clinics as opposed to the chronically severe patient. It is proposed that improved management of our average patient may translate into better outcomes in terms of reduction in specialist referral, unnecessary surgery and potentially harmful alternative treatments. Go here for more information about the Rome Criteria.

Go here for more information about this study...

Peppermint Oil Capsules Reduce Bloating and Pain
Juding by a recent Allure magazine article, news of peppermint's benefits for bloating as well as pain has gone mainstream. The magazine covered a review of 17 clinical studies confirming peppermint's effectiveness for soothing the GI tract - and also headaches. Several of the studies showed that taking enteric-coated peppermint oil capsules three times daily relieves abdominal pain, cramping, and bloating, probably by relaxing the muscles of the gut.

One Journal of Gastroenterolgy study referenced found that 83% of patients who took peppermint oil caps had reduced bloating, versus 29% of placebo-treated patients.

Peppermint tea may also work, but is less potent than the capsules, says Benjamin Kligler, associate professor of family medicine at Albert Einstein College of Medicine in New York.

Though less well researched, two studies showed that topically applied peppermint oil treats headaches; in one study, the oil was as effective as acetaminophen (Tylenol). "We've been using it in our practice for a long time, and it seems to work very well," Kligler says, possibly because it "relaxes tension in the thin muscles that overlie the skull." Go here for more information about peppermint oil capsules for IBS...

Go here for more information about peppermint tea for IBS...



Looking for more IBS research and news? Check the IBS Research Library!



~ Heather's Tummy Tamers Peppermint Oil Capsules ~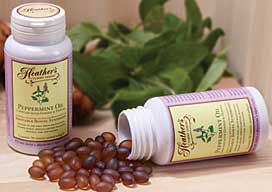 Peppermint Oil Caps Called "Drug of Choice for IBS"

Our Peppermint Oil Caps have the added benefits of fennel and ginger oils, and they help prevent abdominal pain, gas, and bloating!

The Five Constipation Frustrations Revisited
"What if you think you're doing everything you're supposed to do for constipation, but nothing is working?!""

Well, first of all, take a deep breath, relax, and realize that you're not all alone here - and you're definitely not helpless, even if it sometimes feels that way. Constipation tends to be one of the more frustrating IBS symptoms, and it does take longer to resolve through lifestyle changes than diarrhea. But - there are many, many ways to help alleviate constipation successfully, it just takes a little patience and persistence.

What's the best way to take control of IBS constipation? Just make sure you avoid The Five Constipation Frustrations.

So far, we've addressed part one, soluble fiber supplements (they're overnight wonder drugs, right?). Then we tackled the second frustration, insoluble fiber foods (they're IBS triggers, so I just won't eat any!). This week we address the final three:

3. I don't eat anything at all when I'm constipated, because I don't want to make things worse.

As counter-intuitive as it may seem, you actually need to keep eating in order to help resolve constipation. The very act of eating, in and of itself, triggers your gastrocolic reflex, which in turn signals your colon to start contracting. The rhythmic waves of contractions - called peristalsis - are necessary to produce regular bowel movements. If you simply stop eating, your bowel will lose its signals to contract, and constipation will worsen.

What's most helpful is to eat small amounts frequently, making sure that you safely incorporate insoluble fiber foods. Try to keep to a regular schedule of light meals and snacks, so your body becomes accustomed to (and expects) food at predictable times. This will help get your gut in tune with a regular schedule of elimination as well.

As an aside, making sure that you're also on a consistent bedtime/wakeup routine will also help constipation. Your gut normally "wakes up" with you, and peristalsis increases shortly after you get out of bed and start moving around in the morning. Keeping to a set schedule of sleep (and getting enough of it!), plus following the same wakeup time every morning, will help your gut stay in a properly functioning pattern. With IBS, you're waging a daily battle against bowel dysmotility, so your goal is try and make every factor that influences bowel function - diet, stress, sleep, excercise - a gentle but persistent nudge towards regularity, in every sense of the word.

4. I drink eight glasses of water a day - that's plenty, right?

For most people without IBS, yep - this much water can be plenty. For people with IBS, it may take twice as much water - every single day - to help rein in constipation. It's not just your bowel, actually, but your entire GI tract, that needs water to function properly. Soluble fiber, the foundation of the IBS diet and a terrific tool for managing all IBS symptoms, needs plenty of water in order to regulate bowel function. Soluble fiber also normalizes water levels in the gut, which in and of itself helps constipation. But, there has to be enough water in the gut in the first place for soluble fiber to work its magic. Together, fiber and water maintain gastrointestinal muscle tone, dilute toxic wastes in the GI tract, bind irritants, bring oxygen to the tissues, and help maintain the correct balance of intestinal flora.

With constipation, the slower your gut motility is, the longer it takes for the transit of matter through your colon. The longer this takes, the more time there is for the colon to absorb too much moisture out of the matter, and this makes constipation even worse. Drinking plenty of water (especially in conjunction with a soluble fiber supplement) will help alleviate this.

It's pretty difficult to drink too much water, so make it your goal to drink 16 full glasses of water each day, and if you can make it a little bit more, even better. It's easiest to just space out your water throughout the day, especially between meals. Keep a water bottle or glass at hand at all times when you're at home or work, carry a water bottle with you if you're out and about or at school, and keep water bottles in your car for when you're on the go.

If you're suddenly increasing your water intake, then yes, you will be running to the bathroom an awful lot. But hang in there, because it shouldn't take more than a week or so for your bladder to adjust. The really interesting thing is that you'll likely find if you don't keep up with your new water increase once you've adjusted, you will suddenly find yourself very irritable and thirsty. Most people function better overall when they're drinking quite a bit more water than they may think they need.

5. I know exercise is important for constipation, so I get at least 20 minutes of walking in each day.

Exercise is more than important for constipation-prone IBS folks - it is absolutely critical. Exercise in general regulates bowel function and increase the efficiency of your entire digestive process, and it also reduces muscle tension. Exercise works your muscles (including internal muscles, like your colon), releasing the energy stored from involuntary contractions under stress, and allowing relaxation. With IBS, a relaxed colon is a happy colon.

The catch here is that moderate activity - which would help regulate constipation in a normal person - might not be nearly enough for constipation from IBS. You may well need a solid hour - or more - of exercise on a daily basis. You might also need a strenuous aerobic exercise, and not just walking or gentle workouts. This is particularly true if you are sedentary throughout the rest of the day (desk jobs are not good for the gut).

Why would an intense workout be better for constipation than a series of shorter, lighter activities? The production of adrenaline that fast-paced, vigorous exercise produces actually results in something close to the "fight-or-flight" reaction of your body. Part of this reaction is an increase in peristaltic movement and a bowel movement. Light exercise won't necessarily produce the same results.

I know it can be difficult, if not impossible, to find this much time on a day-in, day-out basis for exercise (I constantly struggle with this myself). But if you can make the attempt, please try. Obviously, any exercise is better than none at all, so don't give up shorter, lighter workouts if that's all you can fit in. However, if you are able to try at least a couple full-fledged, all-out, hard-core workouts each week, even if it's just for a trial run, you may see such benefits to your bowel that you become determined to find a way to make this a habit. Just make sure to drink plenty of water afterwards!

~ Heather

Did you miss the recent "Ask Heather" and part 2 of the Five Constipation Frustrations? Find it here...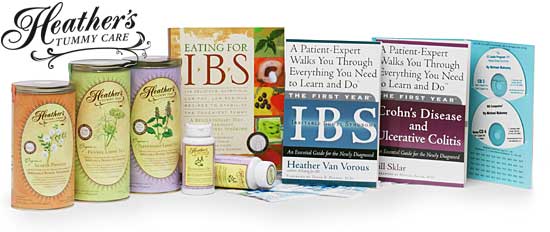 Shop at Heather's Tummy Store for IBS
HelpForIBS.com
The only store that's just for IBS - so we only carry the very best

You're on this newsletter list because you have expressed interest in IBS news and information.




Change your newsletter email address here.

If you are viewing this newsletter on a website and would like to subscribe for email delivery, please "Join the IBS Newsletter" here.

ANTI-SPAM PRIVACY & SECURITY POLICY
HelpForIBS.com
Heather's Tummy Care
80 S. Washington St, #304
Seattle, WA 98104 USA

© 2007 Heather Van Vorous, Heather's Tummy Care. All rights reserved.
USA Copyright Office Registration Number TXU 1-270-858 and others