Heather's IBS Newsletter ~ For Irritable Bowel Syndrome

May 15, 2007

Diarrhea and Constipation Forever, Then Gas and Bloating, Now Completely Gone!

SPECIAL SALE! See below...

Hello to everyone ~

We have a special sales issue that is exclusive to the IBS newsletter, as a thank you to our regular readers and customers! As you're likely well aware, postal package rates have just gone up significantly. The gas price increases behind this have also affected our manufacturing and distribution costs overall, to such a degree that some of our costs have tripled over the past year. In six years of business we have never had an across-the-board price increase on products and shipping, but unfortunately we now have no choice.

As a thank you, to help offset the price increases, we're offering a special 10% discount code through this newsletter only, good through the end of May. If you use this promotional code, which can be applied to any order whatsoever, you'll automatically receive a second 10% discount code for your next purchase. The second code will be good through the entire month of June.

Simply click through here to add items to your cart and get your discount code automatically after you confirm your shipping information upon check out! (This link is the only way to get your special discount.)

I do want everyone to know that we always discount prices on the website to help soften the cost of shipping, and we'll continue to offer standard discounts of 10% to 20% off the suggested retail price. We also continuously strive to offer the highest possible quality products (certified organic, high volatile oil, prebiotic, jumbo tea bags, and more) at the lowest prices, and we'll continue to do so.

In our regular news this week, we have a fantastic letter from a woman who has had diarrhea and constipation forever, then had abdominal surgery that resulted in gas and bloating as well, but now it's all completely gone. Learn how she did it right here!

As always, we also have a delicious, digestion-friendly recipe and the latest IBS news and research, so please enjoy.

Best Wishes,
Heather Van Vorous

P.S. Have you been wondering just what makes the Tummy Care products so special? Check here to find out - you might be surprised!

Did a friend send you this newsletter? Sign up here for your own free subscription.

The Best Gut-Directed Self-Hypnosis Program for All IBS Symptoms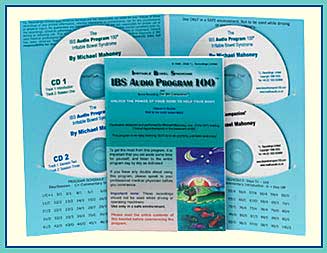 Gives an average 85% reduction of pain and bowel dysfunction symptoms.
Listen to IBS Audio Program 100 samples!

Have you been considering the IBS Audio Program but were hesitant because of the price? Now's your chance to get a special 10% discount code automatically.
Just order it and check out!

Sweet Mango and Roasted Tomato Salsa

As the weather warms up, this is one of the best recipes imagineable for using gloriously ripe tomatoes and sweet mangoes. I like this salsa smoky, so I add a generous amount of chipotle pepper, but you can adjust it to taste.

Makes 6 Servings

5 ripe small tomatoes (plum, yellow, or orange)
1 teaspoon ground chipotle pepper
1 tablespoon Acacia Tummy Fiber
1/4 cup fresh lime juice
2 tablespoons honey
2 small ripe mangoes, peeled and diced

baked corn chips for serving

Roast or broil tomatoes until skin blisters and blackens, turning to cook evenly on all sides. Add tomatoes, chipotle, Tummy Fiber, lime, and honey to a blender and puree until smooth. Pour into serving bowl and stir in diced mango. Adjust ratio of lime juice or honey to taste. Serve with baked corn chips.

For a delicious dip combination, serve with Smoky Eggplant Hummus.

Are you just learning how to eat for IBS? A little intimidated at the thought of special IBS recipes? Not quite sure just what makes these recipes special in the first place? Don't worry! Come see the IBS Diet pages, and find the answers to all your questions.

~ Heather's Tummy Tamers ~

For the Dietary Management of Abdominal Pain &, Bloating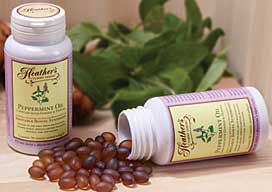 Peppermint Oil Caps with Fennel and Ginger Are Amazing!

Our Peppermint Oil Caps have the added benefits of fennel and ginger oils, and they help prevent abdominal pain, gas, and bloating!

Constipation and Diarrhea Forever, Now Completely Gone!

Hi Heather,

I have had constipation and diarrhea forever. I never had a problem with gas and bloating until I had to have surgery for colon cancer, where they removed part of my upper intestine. Suddenly, I had to deal with IBS-like symptoms for the first time - unbelievable gas and sometimes accidents.

My GI doctor said to drink a lot of water in the morning and didn't have much more to say. I was using tons of psyllium fiber, which wasn't helping at all.

On the advice of a nutritionist I found your site and ordered the Acacia Tummy Fiber - which has completely gotten rid of the problem! So that is something you can add to the list. I'm sure many colon cancer surgery survivors are struggling with this terrible seemingly insolvable problem.

Many thanks,
Maria ~ a fan in Portland, Oregon

Thank you, Marla! I'm so glad you're doing better. ~ Heather

Did you miss the recent letter from Toni, who is 100% better after only one week?

~ Heather's Tummy Fiber ~
For the Dietary Management of Abdominal Pain, Diarrhea, &, Constipation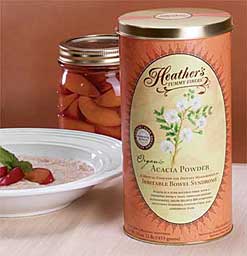 Certified Organic Acacia ~ Pure Soluble Fiber
The prebiotic fiber that relieves both diarrhea and constipation!

** Very Economical ** Only 3 cents per gram of fiber!

Probiotics and Irritable Bowel Syndrome
A recent study in the Neurogastroenterology and Motility noted that probiotics, defined as live organisms that, when ingested in adequate amounts, exert a health benefit on the host, have been used for almost a century in the management of a variety of medical disorders. The clear delineation of a post-infective variety of irritable bowel syndrome (IBS), as well as the description, in a number of studies, of evidence of low-grade inflammation and immune activation in IBS, suggest a role for a dysfunctional relationship between the indigenous flora and the host in IBS and, accordingly, provide a clear rationale for the use of probiotics in this disorder. This is evidently an area of great potential in IBS and deserves further study at all levels. Go here for information about prebiotic soluble fiber...

Go here for more information about this study...

IBS-Diarrhea and Possible Microscopic Colitis
A recent study in Inflammatory Bowel Disease found that microscopic colitis is diagnosed on the basis of histologic criteria, and irritable bowel syndrome (IBS) is diagnosed by symptom-based criteria. However, there had been little investigation into the symptomatic overlap between these conditions. Their aim was to assess the prevalence of symptoms of irritable bowel syndrome in a population-based cohort of patients with microscopic colitis, and they found that the clinical symptom-based criteria for irritable bowel syndrome are not specific enough to rule out the diagnosis of microscopic colitis. Therefore, patients with suspected diarrhea-predominant irritable bowel syndrome should undergo biopsies of the colon to investigate for possible microscopic colitis if symptoms are not well controlled by antidiarrheal therapy.Go here for information about diarrhea...

Go here for more information about this study...

Diagnostic & Treatment Algorithm for Constipation
Dr. John F. Johanson, MD, MSc noted in a recent Medscape article:

"Although the Rome diagnostic criteria for constipation -- most recently, the Rome III criteria - were developed to standardize the definition of constipation for enrollment in clinical trials, no widely accepted, clinically useful definition of constipation exists. Physicians typically define constipation on the basis of stool frequency, with fewer than 3 bowel movements per week considered abnormal. However, patients typically report other symptoms, such as straining, passage of hard stool, inability to defecate at will, unproductive urges, and sensation of incomplete evacuation."

"The key steps in evaluating a patient who presents with constipation include determining whether constipation is a result of a primary or a secondary cause."

The diagnostic/treatment algorithm below shows a suggested process that can be followed for constipation diagnosis and management.

Diagnostic & Treatment Algorithm for Constipation
(by Ascend Media Healthcare) Go here for more information about constipation, including the Five Constipation Frustrations...

Looking for more IBS research and news? Check the IBS Research Library!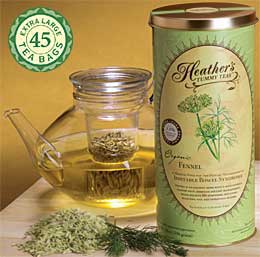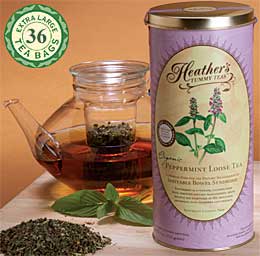 Organic High Volatile Oil Fennel & Peppermint Tummy Tea Bags

Extraordinary Quality ~ Very Economical

Fennel is terrific for bloating & gas, Peppermint is great for IBS pain & spasms.

What Makes Heather's Tummy Care Products So Special?
"Why are the Tummy Care products so special? And how do I know which ones are the best for my symptoms?"

The philosophy behind all of the Heather's Tummy Care products is to give people with IBS simple, safe, and effective ways to manage all of their symptoms. Every product is not just completely natural, but in most cases is certified organic and kosher as well. To be organic certified is really special - it means that a product contains:

* no pesticides
* no chemical fertilizers
* no herbicides
* no GMO (genetically modified organisms)
* no preservatives
* no artificial additives
* no irradiation
* no animal testing

Organic certification also guarantees:

* good ecology - enriched soil, less soil erosion
* harvesting through farming which respects the environment
* traceability of each batch demonstrated from the orchard to the customer

On top of that, every Tummy Care product is packaged as generously as possible while priced as economically as possible. This takes into account the fact that for most people, IBS needs ongoing management on a daily basis, and it needs to be not just effective but affordable.

Here's a little cheat sheet on the special benefits of the Heather's Tummy Care products, all of which are considered medical foods for the dietary management of IBS symptoms:

Organic Acacia Tummy Fiber
* helps normalize bowel motility
* relives both diarrhea and constipation
* prebiotic - it encourages the growth of healthy gut flora (probiotics)
* pure soluble fiber - no insoluble fiber, no psyllium, nothing else added whatsoever
* has a good gastrointestinal tolerance - it's very unlikely to cause gas and bloating
* tasteless, odorless, grit-free, and non-thickening
* packaged in generous 1 pound quantities
* available in bulk refill pouches as well as canisters
* only 3 cents per gram of fiber - drastically less expensive than other brands

Tummy Tamers Peppermint Oil Capsules
* prevent pain, cramps, and urgency
* powerful anti-spasmodic and pain-killer
* with added fennel oil for bloating and gas
* highly concentrated and long-lasting
* 50% more enteric coating than the industry standard
* convenient and portable

Organic Fennel Tummy Tea
* exceptional for gas and bloating
* offers immediate relief
* relaxes the gut and helps regulate contractions
* extremely generous quantities - 45 jumbo tea bags, or one pound of loose tea
* highest possible volatile oil content - it's the volatile oil that makes it effective
* harvested and packaged to be as fresh and strong as possible
* extremely economical and simply incomparable quality compared to other brands
* available in tea bags for convenience, and loose tea for affordability

Organic Peppermint Tummy Tea
* offers immediate relief
* calms abdominal spasms and diarrhea
* powerful pain-killer and anti-spasmodic
* large cut leaf, extremely high volatile oil content
* special jumbo tea bags made from loose tea, not tea bag cut
* harvested and packaged to be a fresh and strong as possible
* extremely economical and simply incomparable quality compared to other brands
* available in tea bags for convenience, and loose tea for affordability

All of the Tummy Care products can be mixed and matched as needed, and won't interfere with any prescription or over-the-counter drugs. They're also safe enough to use daily for a lifetime.

Not sure that your symptoms actually are IBS? It's important that you don't self-diagnose this disorder - only a doctor can tell you that you do in fact have Irritable Bowel Syndrome, as other diseases can cause similar symptoms. If you're unsure, there's full diagnostic information and medical facts in the IBS Glossary. Inform yourself first, make sure you get a valid diagnosis from your physician, and then you'll be ready to start tackling your most troublesome symptoms. ~ Heather

Did you miss the recent "Ask Heather" about yogurt and IBS? Find it here...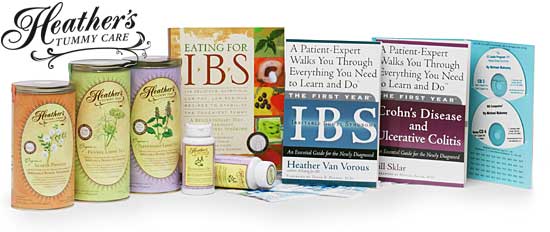 Shop at Heather's Tummy Store for IBS
HelpForIBS.com
The only store that's just for IBS - so we only carry the very best

You're on this newsletter list because you have expressed interest in IBS news and information.




Change your newsletter email address here.

If you are viewing this newsletter on a website and would like to subscribe for email delivery, please "Join the IBS Newsletter" here.

ANTI-SPAM PRIVACY & SECURITY POLICY
HelpForIBS.com
Heather's Tummy Care
80 S. Washington St, #304
Seattle, WA 98104 USA

© 2007 Heather Van Vorous, Heather's Tummy Care. All rights reserved.
USA Copyright Office Registration Number TXU 1-270-858 and others