Heather's IBS Newsletter ~ For Irritable Bowel Syndrome

April 17, 2007

IBS Drug Zelnorm Withdrawal - One Reader's Happy Healthy Solution

Hello to everyone -

This week we have a wonderfully encouraging followup to last issue's news that the IBS drug Zelnorm has been withdrawn from the US market.

We'll wrap up our three-part series on wheat, gluten, whole grains, and IBS with an overview of true gluten intolerance (do you have it? you need to know!)

Finally, we have a wealth of new stores carrying Tummy Care products, and some special in-store sales as well!

Best Wishes,
Heather Van Vorous

Did a friend send you this newsletter? Sign up here for your own free subscription.

Moroccan Couscous Breakfast Pudding

This is a wonderfully soothing, nutritious, and delicious one-dish breakfast. The couscous gives a safe soluble fiber base to the nuts and dried fruit, it takes just five minutes to make, and leftovers are even better the next day! You can omit the orange flower water, but it does give a lovely special touch, so please try it.

Makes 6-8 Servings

2 cups water
1 1/3 cups couscous
2 Tbsp. Acacia Tummy Fiber
1/2 cup finely chopped unsalted, natural (not dyed-red) pistachios
1 tsp. canola or safflower oil
1/3 cup brown sugar (or to taste)
1 1/4 cups vanilla soy or rice milk
1/2 cup finely chopped dried apricots
1/4 tsp. orange flower water (available at most grocery stores or a spice shop)

Bring water to a boil. Blend couscous and Acacia Tummy Fiber in a large bowl, add boiling water, and cover. Let sit for 5 minutes. Uncover and fluff with a fork. Drizzle in oil and sugar, and stir well. Add all remaining ingredients and gently combine. Serve warm or cold.

For a truly special breakfast or brunch feast, serve with Wild Mushroom & Thyme Scrambled Eggs on Sourdough Toast.

Are you just learning how to eat for IBS? A little intimidated at the thought of special IBS recipes? Not quite sure just what makes these recipes special in the first place? Don't worry! Come see the IBS Diet pages, and find the answers to all your questions.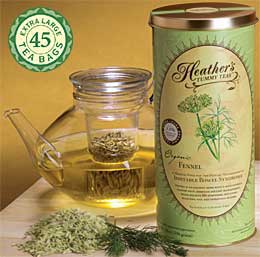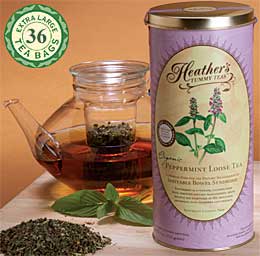 Organic High Volatile Oil Fennel & Peppermint Tummy Tea Bags

Extraordinary Quality ~ Very Economical

Fennel is terrific for bloating & gas, Peppermint is great for IBS pain & spasms.

A Happy, Healthy Life Without Zelnorm

Heather,

I have been taking Zelnorm for about a year now and I was a little uneasy to see that it had been taken off the market. I must admit I never liked the fact that it wasn't approved in Europe as they are usually a lot more liberal than the US. I was also concerned that I would have no viable treatment options.

I finally ordered the Acacia Tummy Fiber and Fennel Tumy Tea last week. I have to say that although I've only been taking a small dose for four days now I can already see a big difference in the way I feel. I feel much better than I did on the Zelnorm and I am not concerned at all about taking your products since they're natural. The fennel tea is tasty and settles my stomach better than any tea I've ever had, but honestly my stomach has felt remarkably good since I started the Tummy Fiber.

As someone who has suffered with stomach and intestinal trouble for 30 years I have to say that I am now hopeful that I truly have a way to manage my condition naturally and effectively. Thank you for being there for all of us.

Regards,

Peggy
San Diego, CA

Thank you so much, Peggy! I'm thrilled to hear that you're doing well, and I hope your letter gives hope to others who have suddenly found themselves unable to continue taking Zelnorm. ~ Heather

Did you miss the recent lighthearted reader letter from Mae, and how the IBS hypnosis program has helped her - and her dogs?!

~ Heather's Tummy Fiber ~
For the Dietary Management of Abdominal Pain, Diarrhea, &, Constipation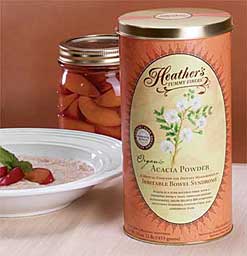 Certified Organic Acacia ~ Pure Soluble Fiber
The prebiotic fiber that relieves both diarrhea and constipation!


New Retail Stores Carrying Heather's Tummy Care Products

We're continuing our special rebate offer for people who buy Tummy Care products at their local stores, and this offer is good in conjunction with the local store sales.

California
Fitness Nutrition
1438 Manhattan Ave
Hermosa Beach, CA 90254
310 798 2656

Full Circle Center
3798 Janes Rd Suite 3
Arcata, CA 95521
707 826 2222

Valley Health Mill
3037-J Hopyard Rd
Pleasanton, CA 94588
925 462 9354

Connecticut
Nature's Way Health Food Store
922 Barnum Ave Cutoff
Stratford, CT 06614
203-377-1740

Idaho
Health Nut
119 E Cameron Ave
Kellogg, ID 83837
208 786 6860

New York
Life Source Acupuncture
855 Maryland Ave
Syracuse, NY 13210
315 423 8614

Oregon
Holistic Nutrition for the Whole You
403 NE Casper St
Roseberg, OR 97470
541 498 2235

Utah
Harvest Fresh Natural Foods
157 N. State St
Orem, UT 84057
801 225 4224

Washington
Island Health Foods
764 Winslow Way East
Bainbridge Island, WA 98110
206 842 3333

Pilgrim's Natureway
23632 Highway 99 Suite R
Edmonds, WA 98026
(425) 774-7777

Uptown Nutrition
1002 Lawrence St
Port Townsend, WA 98368
360 385 3290

If you don't yet have a store in your area carrying Tummy Care products yet, please give them this flyer to ask them.


Retail Stores with Special Tummy Care Sales!
The Health Mart
369 N. Main St
Milford, MI 48381
248-676-8085
10% off all Heather's Tummy Care products during the month of April!

Pilgrim's Natureway
4455 California Avenue SW
Seattle, WA 98116
206-935-4200
10% off all Heather's Tummy Care products during the month of April!



~ Heather's Tummy Tamers ~For the Dietary Management of Abdominal Pain &, Bloating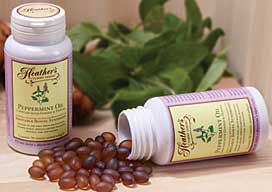 Peppermint Oil Caps with Fennel and Ginger Are Amazing!

Our Peppermint Oil Caps have the added benefits of fennel and ginger oils, and they help prevent abdominal pain, gas, and bloating!

7 Common Myths and Facts about IBS
While IBS is a common disorder - affecting 10 to 15 percent of the U.S. population - it's also one of the most misunderstood among patients and physicians alike, says William D. Chey, M.D., a gastroenterologist at the University of Michigan Health System.

"There are a wide spectrum of symptoms that IBS patients can experience, which can make it challenging to diagnose," says Chey, director of the Gastrointestinal Physiology Laboratory in the U-M Division of Gastroenterology.

Chey offers these seven tips to help separate IBS fact from fiction.

1. MYTH: IBS is psychosomatic
FACT: For many years, physicians believed IBS was a psychological condition - it only existed in the patient's head. While some patients with IBS experience depression or anxiety, it is likely that psychological distress or stress worsen IBS, but may not be the primary cause of it.

2. MYTH: IBS only affects young women
FACT: Although IBS does tend to occur more frequently in women, Chey says, "it's important that people know that there are many men diagnosed with IBS, and it also affects the elderly. In fact, there's some early evidence to suggest that IBS affects 8 to 10 percent of older individuals."

3. MYTH: IBS is not an important condition
FACT: "Many physicians believe that IBS is not an important condition because it does not affect a person's lifespan," says Chey. While that may be the case, IBS can significantly impact a person's quality of life and ability to function on a day-to-day basis, and should be taken seriously by doctors and patients alike.

4. MYTH: IBS is related to lactose intolerance
FACT: About a quarter of patients with IBS are also lactose intolerant. However, Chey notes that about a quarter of the general population who don't have IBS are lactose intolerant as well. So, he says, while lactose intolerance may play a role in some patients, it is not the cause of symptoms in the vast majority of patients with IBS.

5. MYTH: IBS means a lifetime of bland food
FACT: "A lot of patients with IBS end up on these very bland diets, and I think most of the time it is not justified," says Chey. Instead, Chey has his patients keep a diary to record all of the food that they eat, and any symptoms they may experience.

"At the end of a two week period, it's possible to get a fairly good idea about whether there are specific trigger foods associated with the onset of symptoms. Those foods then can be easily eliminated from a patient's diet." Certain foods, however, such as fatty foods, milk products, chocolate, alcohol, caffeine and carbonated drinks are more likely to aggravate symptoms in some IBS patients.

6. MYTH: IBS cannot be accurately diagnosed
FACT: Contrary to what some physicians believe, Chey says most patients do not need a lot of medical tests to be diagnosed with IBS. "Identifying the presence of persistent or recurrent abdominal pain in association with altered bowel habits, and excluding warning signs (e.g. new symptoms occurring after age 50, GI bleeding, unexplained weight loss, nocturnal diarrhea, severe or progressively worse symptoms or a family history of colon cancer, inflammatory bowel disease, colon cancer or celiac disease), is enough to accurately diagnose IBS in most patients."

7. MYTH: There are no good treatment options for IBS
FACT: Not true, says Chey. With effective counseling, dietary and lifestyle intervention, and use of over-the-counter or prescription medications, IBS can be effectively managed. If symptoms doe not improve with changes in diet and lifestyle, or over-the-counter medications, prescription medications are available for people with IBS.

Go here for full information about IBS and successful ways to manage it...

Go here for more information about this article...



Looking for more IBS research and news? Check the IBS Research Library!

The Best Gut-Directed Self-Hypnosis Program for All IBS Symptoms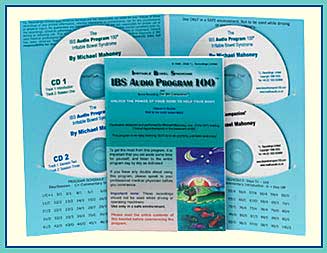 Gives an average 85% reduction of pain and bowel dysfunction symptoms.
Listen to IBS Audio Program 100 samples!

Wheat, Gluten, and IBS
"I know wheat bothers me, but does that mean that I'm gluten intolerant?"

In a nutshell, nope, it does not. We recently addressed the issue of wheat and IBS, and the different effects on the gut of white flour versus whole wheat flour. Now, we need to tackle the difference between an IBS intolerance to wheat and true gluten intolerance, otherwise known as celiac disease.

While many people with IBS are intolerant to wheat bran, and whole wheat, this is not at all the same thing as the total gluten intolerance caused by celiac. It is possible to have BOTH celiac and IBS, but it's also very common for celiac to be misdiagnosed as IBS.

So - what exactly is celiac disease? Celiac is a digestive disease that damages the small intestine and interferes with absorption of nutrients from food. People who have celiac disease cannot tolerate a grain protein called gluten, which is found in wheat, rye, and barley. Gluten can also be found in stamp and envelope adhesive, medicines, and vitamins.

Symptoms of celiac disease may include gas, recurring abdominal bloating and pain, chronic diarrhea, and constipation. Sound familiar? As these are also the hallmark symptoms of Irritable Bowel Syndrome, it's easy to see how celiac could be misdiagnosed as IBS. This is why it's imperative that you do not accept an IBS diagnosis until celiac disease has been ruled out.

An initial screen for celiac disease will check your blood for antibodies to gluten, and if the results are positive, a small bowel biopsy will follow. Before you're tested for celiac, make sure you continue to eat foods with gluten, such as breads and pastas. If you avoid gluten before being tested, you may get a false negative test result.

If you do test positive for celiac, the only treatment is a completely gluten-free diet. If you have both IBS and celiac, you can combine their dietary concerns by sticking to gluten-free soluble fiber foods such as rice, potatoes, quinoa, root vegetables, tapioca, amaranth, buckwheat, and soy. In addition, many of the supplements that help IBS symptoms are gluten-free (including the entire Tummy Care line) and thus safe for celiac as well.

Following a gluten free diet is much more difficult than following the IBS diet, as even trace amounts of gluten need to be scrupulously avoided. This is completely possible, however, and certainly well-worth it. There are also many delicious, nutritious recipes available, so don't be discouraged.

For inspiration, read Kandee's story of living with both IBS and celiac. Check here for more information about celiac disease.

~ Heather

Did you miss the recent "Ask Heather" and how to take safely incorporate whole grains other than whole wheat into your diet? Find it here...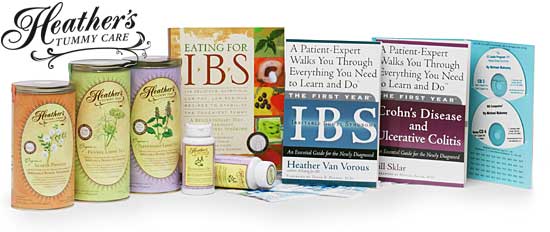 Shop at Heather's Tummy Store for IBS
HelpForIBS.com
The only store that's just for IBS - so we only carry the very best

You're on this newsletter list because you have expressed interest in IBS news and information.




Change your newsletter email address here.

If you are viewing this newsletter on a website and would like to subscribe for email delivery, please "Join the IBS Newsletter" here.

ANTI-SPAM PRIVACY & SECURITY POLICY
HelpForIBS.com
Heather's Tummy Care
80 S. Washington St, #304
Seattle, WA 98104 USA

© 2007 Heather Van Vorous, Heather's Tummy Care. All rights reserved.
USA Copyright Office Registration Number TXU 1-270-858 and others