Heather's IBS Newsletter ~ For Irritable Bowel Syndrome

April 3, 2007

Surprising, funny, and sweet letter about IBS hypnosis!

Hello to everyone -

This week we have a special IBS news alert - the IBS drug Zelnorm has been withdrawn from the US market due to cardiovascular events. If you're taking this drug, you should call your physician immediately for advice about other treatment options.

We had a number of questions about last issue's Ask Heather article on wheat, so we have a special follow up in this issue about safer whole grain options, especially for people who are trying to avoid refined grains due to glycemic concerns. Plus, this week's delicious soba noodle recipe gives a great example of just how tasty one safe whole grain option can be.

Finally, we have a reader letter guaranteed to take you by surprise and make you smile.

Best Wishes,
Heather Van Vorous

Did a friend send you this newsletter? Sign up here for your own free subscription.

Japanese Soba Noodles with Dipping Sauce

If you've never had soba noodles before this dinner will be a real treat. They have a very hearty flavor that comes from buckwheat flour, one of the safest whole grains for IBS, and they're traditionally served chilled. They're delicious served with steamed sweet potatoes or edamame (fresh soybeans).

Don't be intimidated by the specialty ingredients. The bonito, soba, and nori are all readily available at most Asian markets and many grocery stores in the Asian foods section, and the recipe itself is foolproof.

Makes 4 Servings

Dipping Sauce:
1/3 cup boiling water
1/4 cup bonito flakes
2 tablespoons soy sauce
2 tablespoons granulated sugar

6 oz. dried soba noodles
1 sheet nori seaweed, cut into thin strips with kitchen shears
toasted sesame seeds

Combine boiling water and bonito flakes, and set aside for 10 minutes. Strain broth, pressing hard on solids, and discard bonito. Stir soy sauce and sugar into broth until dissolved. Set aside.

Bring a large pot of water to boil and add the noodles, cooking, stirring occasionally, until tender, about 10 minutes. Drain and rinse with cold water until chilled. Divide noodles among serving bowls and sprinkle with shredded nori and toasted sesame seeds. Serve with dipping sauce.

For a special treat and a nutritous meal, serve with Simple Roasted Sweet Potato Salad.

Are you just learning how to eat for IBS? A little intimidated at the thought of special IBS recipes? Not quite sure just what makes these recipes special in the first place? Don't worry! Come see the IBS Diet pages, and find the answers to all your questions.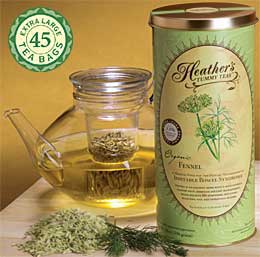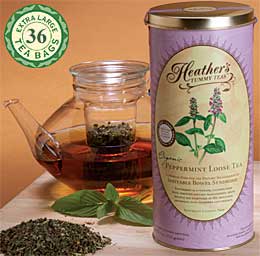 Organic Fennel & Peppermint Tummy Tea Bags

Extraordinary Quality ~ Very Economical

Fennel is terrific for bloating & gas, Peppermint is great for IBS pain & spasms.

IBS Hypnosis - for Dogs?!

Dear Heather,

I am now 22 days into the hypnosis for IBS program. I believe it is helping me.

However, the reason for this letter is that as soon as my two dogs hear the intro music they come running from whatever room they are in and jump up on the furniture beside me. They remain until the session is finished. Then they jump down and go on to their daily business. They really seem to enjoy the sessions.

I figure - stress management is good for dogs also!

Blessings,
Reverend Dr. Mae Euell

Thank you so much, Reverend Euell, for such a light-hearted letter. I hope you enjoy the program as much as your pooches! ~ Heather

For a recent reader letter about a human response to the IBS hypnotherapy program, check here.

For another terrific IBS dog story, check here for Sammy's tale.

The Best Gut-Directed Self-Hypnosis Program for All IBS Symptoms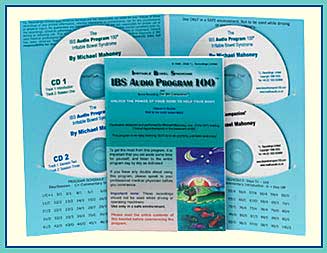 Gives an average 85% reduction of pain and bowel dysfunction symptoms.
Listen to IBS Audio Program 100 samples!


Retail Stores with Special Tummy Care Sales!
The Health Mart
369 N. Main St
Milford, MI 48381
248-676-8085
10% off all Heather's Tummy Care products during the month of April!

Pilgrim's Natureway
4455 California Avenue SW
Seattle, WA 98116
206-935-4200
10% off all Heather's Tummy Care products during the month of April!

We're also continuing our special rebate offer for people who buy Tummy Care products at their local stores, and this offer is good in conjunction with the local store sales.

If you don't yet have a store in your area carrying Tummy Care products yet, please give them this flyer to ask them.




~ Heather's Tummy Tamers ~For the Dietary Management of Abdominal Pain &, Bloating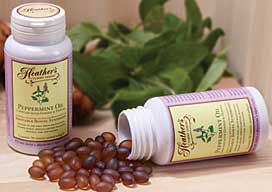 Peppermint Oil Caps with Fennel and Ginger Are Amazing!

Our Peppermint Oil Caps have the added benefits of fennel and ginger oils, and they help prevent abdominal pain, gas, and bloating!

Special News Alert!
IBS Drug Zelnorm Withdrawn from USA Market by FDA
On March 30, 2007, the Food and Drug Administration (FDA) requested that Novartis Pharmaceuticals voluntarily discontinue marketing of Zelnorm (tegaserod) based on the recently identified finding of an increased risk of serious cardiovascular adverse events (heart problems) associated with use of the drug. Novartis has agreed to voluntarily suspend marketing of the drug in the United States.

Zelnorm is a prescription medicine approved in July 2002 for short-term treatment of women with irritable bowel syndrome whose primary symptom is constipation. It was subsequently approved in August 2004 for treatment of chronic constipation for men and women under age 65. Zelnorm is marketed in 55 countries.

FDA is currently advising patients who are using Zelnorm to contact their health care providers to discuss treatment alternatives. Patients who are taking Zelnorm should seek emergency medical care if they experience severe chest pain, shortness of breath, dizziness, sudden onset of weakness or difficulty walking or talking, or other symptoms of a heart attack or stroke.

"This decision reflects the FDA's commitment to continuously monitor approved drugs throughout their marketing life, and take action when we believe the risks exceed the benefits," said Dr. Douglas Throckmorton, Deputy Director for the Center for Drug Evaluation and Research. "Here, a potential risk of very serious harm to patients who have this non-life-threatening condition was recently identified, making this action necessary."

Throughout February and March 2007, Novartis reported to FDA the results of a new analysis of 29 short-term (1 - 3 months) randomized, controlled clinical trials of Zelnorm. FDA has concluded, based on these data that for most patients the benefits of this drug no longer outweigh the risks.

The analysis included more than 11,600 patients treated with Zelnorm and over 7000 patients treated with placebo. The data showed that the risk of serious cardiovascular adverse events (e.g., angina, heart attacks, and strokes) associated with use of Zelnorm is higher than with placebo treatment. Thirteen Zelnorm-treated patients (or 0.1%) had confirmed cardiovascular ischemic events, and only 1 placebo-treated patient (or 0.01%) with an event.

FDA will work with Novartis to allow access to Zelnorm as an investigational drug for patients with no other treatment options where the benefits may outweigh the risks. FDA has also indicated to Novartis the possibility of considering limited re-introduction of Zelnorm at a later date if a population of patients can be identified in which the benefits of the drug outweigh the risks. Any such proposal would be the subject of a public advisory committee meeting before an FDA decision. Go here for more information about Zelnorm...



Looking for more IBS research and news? Check the IBS Research Library!

~ Heather's Tummy Fiber ~
For the Dietary Management of Abdominal Pain, Diarrhea, &, Constipation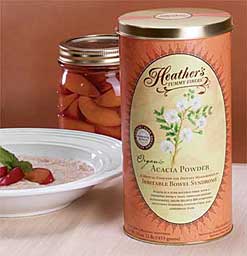 Organic Acacia ~ Pure Soluble Fiber
The prebiotic fiber that relieves both diarrhea and constipation!

Whole Grains and IBS
"I can't eat whole wheat but I also don't want to limit my diet to refined grains only. What can I do?"

Last week we addressed the issue of wheat and IBS, and the different effects on the gut of white flour versus whole wheat flour. Since whole wheat and wheat bran tend to be difficult, if not intolerable, for many people with IBS, the article prompted a lot of questions about what whole grains (if any) are safer options. This is an area of serious concern to people with both IBS and diabetes or hypoglycemia.

If you're trying to balance an IBS-friendly diet with low glycemic foods, there's very good news for you. Try whole grains such as brown rice, oatmeal, buckwheat or soba noodles (see the fabulous recipe above), corn meal or polenta, quinoa, and barley. These tend to be well-tolerated whole grains for IBS (not always, and not for everyone, but definitely in general). If you're really struggling with chronic attacks, you may have no choice but to limit or eliminate whole grains until you're stable, but once you are you should be able to carefully try adding these options back in.

It's also helpful to make sure you're already eating as many of the unrefined but easy-on-the-gut foods as possible: root veggies (sweet potatoes, pumpkin, beets, rutabagas, carrots, etc.), mangoes, bananas, peeled apples and peeled pears, peeled peaches and apricots, and avocados. See how you do with adding in small amounts of well-cooked and pureed beans or lentils as soup or dip additions to your diet as well. Take this process slowly, and you can actually significantly increase your tolerance of legumes.

Remember that if you've been totally avoiding insoluble fiber foods like whole grains you're going to have to start eating them carefully, and giving your body time to adjust. You will increase your tolerance for these foods and digest them better the more you eat them, as long as you follow the guidelines.

Once you start thinking outside the whole wheat bread box, you'll find a lot of safer (and delicious) whole grain options.

Next week, we'll wrap up this issue by tackling the difference between an IBS intolerance to wheat and true gluten intolerance, plus celiac!

~ Heather

Did you miss the recent "Ask Heather" and how to take vitamins if you have IBS? Find it here...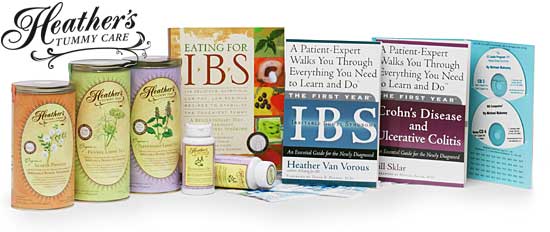 Shop at Heather's Tummy Store for IBS
HelpForIBS.com
The only store that's just for IBS - so we only carry the very best

You're on this newsletter list because you have expressed interest in IBS news and information.




Change your newsletter email address here.

If you are viewing this newsletter on a website and would like to subscribe for email delivery, please "Join the IBS Newsletter" here.

ANTI-SPAM PRIVACY & SECURITY POLICY
HelpForIBS.com
Heather's Tummy Care
80 S. Washington St, #304
Seattle, WA 98104 USA

© 2007 Heather Van Vorous, Heather's Tummy Care. All rights reserved.
USA Copyright Office Registration Number TXU 1-270-858 and others