Heather's IBS Newsletter ~ For Irritable Bowel Syndrome

November 28, 2006

After a Lifetime of IBS, Why is One Reader No Longer Afraid to Go Out?

Hello to everyone -

If you missed our recent newsletters, we were thrilled to announce our brand new customer account feature! This has been a long time coming, so thank you for your patience, and for your wonderful suggestions on how we can expand and improve the system to suit your needs.

We have our first addition to the system up and running. "Standing Orders" are now available!

This was by far the most-requested feature, and it is simply terrific. Create your own customer account if you haven't already, or, if you have, just log in to "my account", and see what you think!

Plus, prebiotics, probiotics, antibiotics - oh my! Is the recent focus on bacterial overgrowth in IBS a cause for hope - or just hype? Check our special RX News & Research report and decide for yourself.

Finally, we have a wealth of new Pacific Northwest stores to announce this week, following our recent New England (and chain store) debut in the last newsletter. Enjoy!

Best Wishes,
Heather Van Vorous

Did a friend send you this newsletter? Sign up here for your own free subscription.

Holiday Honey Glazed Snack Mix

This all-time favorite snack mix is crunchy, sweet, and salty all at once, and it's consistently one of my most-requested recipes. It's absolutely perfect for holiday munchies, makes a great snack for traveling, and children as well as adults adore it.

Makes 10 half-cup servings

3 tablespoons canola or safflower oil
1/4 cup honey
2 cups Corn Chex cereal
2 cups Rice Chex cereal
1 cup mini pretzels

In a small bowl stir together oil and honey until well blended. In a large bowl stir together cereals and pretzels, top with honey mixture, and stir until well combined. Microwave on high for 3-6 minutes (depending on the strength of your microwave), stirring well every 30 seconds, until cooked through. Watch carefully or it will burn! Cool thoroughly before serving.

For a truly special, stabilizing treat, serve the honey snack mix with a hot cup of peppermint or fennel tummy tea!

Are you just learning how to eat for IBS? A little intimidated at the thought of special IBS recipes? Not quite sure just what makes these recipes special in the first place? Don't worry! Find the answers to all your questions in the IBS Diet Kit.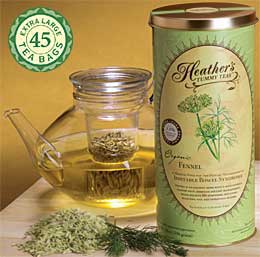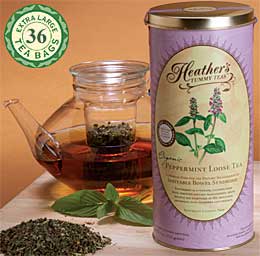 Organic Fennel & Peppermint Tummy Tea Bags

Extraordinary Quality ~ Very Economical

Fennel is terrific for bloating & gas, Peppermint is great for IBS pain & spasms.


New Retail Stores Carrying Heather's Tummy Care Products
We're continuing our special rebate offer for people who buy Tummy Care products at their local stores, and we have new store announcements this week as well.

Montana
Great Grains Health Foods
21 S. 9th
Miles City, MT 59301
406-234-5811

Oregon
Sundance Natural Foods
748 E. 24th Ave
Eugene, OR 97405
541 343 9142

Tom's Natural Foods
19770 McLoughlin Blvd
Gladstone, OR 97027
503 657 8129

Vitamin Market - Roseburg
250 NE Garden Valley Blvd Suite 5
Roseburg, OR 97470
541 673 6315

Washington
Beem's Nutrition Centers Chesterley
3715 River Rd
Yakima, WA 98902
509-452-4814

Beems Valley Nutrition
4515 S. 14th St.
Union Gap, WA 98903
509-453-5940

Island Market Vashon Thriftway
9740 SW Bank Road
Vashon Island, WA 98070
206 463 2446

Manna Mills
21705 66th Ave W
Mountlake Terrace, WA 98043
425 775 3479

McPhee's Grocery
717 South Race St
Port Angeles, WA 98362
360 457 4333

If you don't have a store in your area carrying Tummy Care products yet, please give them this flyer to ask them.




Now with 50% More Enteric Coating!
~ Heather's Tummy Tamers ~
For the Dietary Management of Abdominal Pain &, Bloating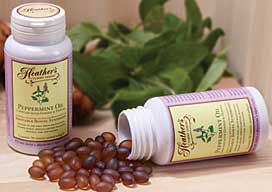 Peppermint Oil Caps with Fennel and Ginger Are Amazing!

Because our Peppermint Oil Caps have the added benefits of fennel and ginger oils, they are truly unbeatable for preventing abdominal pain, gas, and bloating!

Why Carolyn is No Longer Afraid to Go Out

Heather,

I would just like to say that I am so thankful for finding your wonderful website! I was recently diagnosed with IBS, although I have suffered with it since I was a child. I am now 48 years old! I was feeling so sick all the time until I found your website. I ordered the Eating For IBS kit with the peppermint caps and the Acacia Tummy Fiber.

I believe you are working miracles! I check your website several times a week and I must have read things over and over just for reassurance and knowing I am not suffering with this alone.

Your Acacia Tummy Fiber is a miracle. I will never go without it again after trying it. Within 3 days, I was feeling like a totally different person! I had forgotten how it feels to not be afraid of going out in public, always worrying about finding a restroom.

I have tried some of your recipes and they are quickly becoming part of my recipe collection! You are a Godsend for all you are doing for those of us with this puzzling, frustrating and scary disorder. I would be honored if you used my comments on your website or the newsletter!

I truly have suffered all my life with intestinal issues. I've had colitis in the past and recently I had a colonoscopy to rule out anything else. They said I had mild colitis and IBS. My IBS causes me diarrhea, not really any constipation.

Again, I thank you from the bottom of my heart. You are helping so many people!

Thank you so much,

Carolyn Goedike

Thank you, Carolyn! I'm so happy that you're feeling better and able to get out and about. ~ Heather

Did you miss the last reader letter from Ruth, who found a secret to IBS-safe travel? Find it here...

~ Heather's Tummy Fiber ~
For the Dietary Management of Abdominal Pain, Diarrhea, &, Constipation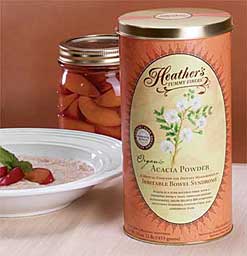 Organic Acacia ~ Pure Soluble Fiber
The prebiotic fiber that relieves both diarrhea and constipation!

** Very Economical ** Only 3 cents per gram of fiber!

Special Report: Bacterial Overgrowth and IBS - Hope or Hype?
A recent Medscape Gastroenterology article addressed the role of intestinal bacteral in patients with Irritable Bowel Syndrome. The report noted that functional gastrointestinal disorders (FGIDs), chief among them IBS, are extremely common reasons for seeking healthcare and can be extremely frustrating to patients and clinicians because of the lack of a reliably identifiable pathophysiologic etiology and an even less reliable response to therapy. Recently, significant attention has been directed toward clarifying the role of intestinal bacteria in the evolution of IBS symptoms.

The recognition of postinfectious IBS as a common sequel of acute infectious gastroenteritis, in addition to data demonstrating prevalence values of small intestinal bacterial overgrowth (SIBO) between 30% and 70% in patients with IBS, is driving forward research into the fields of probiotic therapy as well as antibiotic therapy to ease IBS symptoms. This special report highlights the research in this area, as presented at the recent annual scientific meeting of the American College of Gastroenterology (ACG).

During a clinical symposium convened during this year's ACG meeting, leading experts in the field addressed issues surrounding the diagnosis of SIBO and the use of antibiotics and probiotics. Dr. Jack DiPalma opened the symposium with a discussion of bacterial overgrowth. He highlighted some of the clinical conditions that predispose patients to bacterial overgrowth, such as postsurgical states, age extremes, and motility abnormalities, as well as the symptoms of overgrowth such as chronic diarrhea, malabsorption, and nutrient deficiencies. He touched on the various diagnostic tests for bacterial overgrowth and identified the best predictive factors among these tests. Dr. DiPalma also discussed the well-known limits of the so-called "gold standard" of small bowel fluid aspiration and culture, which include the invasive nature of the test, oral floral contamination, culture transport difficulties, limited access to the distal small bowel, and the unclear relevance of colonization in the elderly. He concluded by reviewing the ideal testing measures that should be present when testing for bacterial overgrowth.

Dr. Lawrence Schiller followed with a discussion of prebiotics and probiotics. It is interesting to note that there are more than 1015 bacteria in the human gut, of which 500 different species have been identified and one third have been cultured. The bacteria have been selected, through the innate immune system (that part of the immune system that responds to immunogenic patterns rather than specific antigens), to coexist in the gut and provide for enterocyte nutrients, vitamin production, defense against pathogenic bacteria, and to modulate mucosal inflammation and permeability. Prebiotics are substances that can be ingested and which foster bacterial growth, and include acacia, fructo-oligosaccharides, inulin, and lactulose.

Probiotics are live organisms that can be ingested for health benefits, but there is little theoretical basis for the selection of particular strains of probiotics, and the exact contributions of probiotics to intestinal health are unknown. Potential mechanisms of action for probiotics include displacement of pathogens, enhancement of bacterial function, and modification of signaling. Although complications of probiotic therapy are rare and some mixtures have been reported to improve IBS symptoms, many unanswered questions remain. These include whether live organisms need to be ingested, whether enteric colonization occurs, the ideal duration of therapy, and what biochemical signatures are most predictive of treatment success.

Dr. Mark Pimentel concluded the symposium with a discussion of the rationale for the use of antibiotics in IBS. He eloquently presented the evidence for the role of enteric bacteria in the etiology of IBS symptoms and how intrinsic or extrinsic factors can produce alterations in the normal motility pattern of the gut, leading to abnormal levels of enteric bacteria which then induce inflammation and/or further alterations in gut function. Dr. Pimentel then reviewed the evidence supporting the use of antibiotics, often in combination with promotility agents such as tegaserod (Zelnorm), for the effective treatment of IBS.

The promotility agents are used to promote more effective peristalsis and intestinal stripping waves and may have a role in preventing recurrence, although this concept has not been studied rigorously. When used for this purpose, tegaserod is usually administered at a lower dose (2 mg) and in a fasting state (every night at bedtime) rather than the standard regimen used in the settings of IBS with constipation and chronic constipation (6 mg twice daily) in order to minimize potential motility-related side effects such as diarrhea.

Although it is clear that there is much that we do not know regarding the role and effects of modulation of the enteric flora in patients with IBS, this is a very exciting corner of the IBS world and additional data are eagerly awaited. Go here for comprehensive information about Irritable Bowel Syndrome.

Go here for more information about this article...

Looking for more IBS research and news? Check the IBS Research Library!

The Best Gut-Directed Self-Hypnosis Program for All IBS Symptoms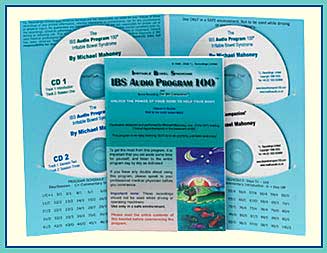 Gives an average 85% reduction of pain and bowel dysfunction symptoms.
Listen to IBS Audio Program 100 samples!

Snacks for Irritable Bowel Syndrome
"I'm always in such a rush over the holidays. What can I grab for a quick snack when I'm on the run?"

Eating small meals and snacks is actually ideal for people with IBS, because it's better for your gut to have small amounts of food frequently rather than going hours between large meals. Since there are many safe and wonderful treats to snack on, this can be a lot of fun, too. One quick, delicious place to start is with the Holiday Honey Glazed Snack Mix recipe above.

For a simple snack in just seconds, use toasted fresh white bread, baked corn chips, soda crackers, rice cakes, or pitas as a soluble fiber basis for low fat dips, salsas, soups, and more. Baked potato chips, pretzels, soy crisps, corn or rice cereals, and instant oatmeal packets are all fast, safe snack foods when you're on the run. Add a hot, calming cup of peppermint or fennel tummy tea for extra digestive stability.

There are also two terrific resources on our website that are absolutely essential for snack ideas. The first is a list of Snacks, Quick Foods, and Good Grub to Grab in a Hurry, and includes snacks, cereals, bars, drinks, and more. This is the first place to look if you're hungry but at a loss for snack ideas. The second resource is our comprehensive list of Brand Name Recommendations for IBS-Safe Foods. This list is organized by country, and includes everything from ready-to-eat meals to soups, dairy substitutes, cookies, candies, and more.

Even when you're in a hurry you can still eat safely (and nutritiously) for IBS, and use snacks to your advantage to help keep your gut stable throughout the day. So go ahead - spoil your appetite for a big heavy dinner. Your tummy will thank you!

~ Heather

Did you miss our recent "Ask Heather" and how to travel safely with IBS? Find it here...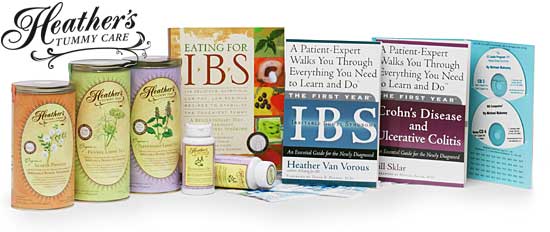 Shop at Heather's Tummy Store for IBS
HelpForIBS.com
The only store that's just for IBS - so we only carry the very best

You're on this newsletter list because you have expressed interest in IBS news and information.




Change your newsletter email address here.

If you are viewing this newsletter on a website and would like to subscribe for email delivery, please "Join the IBS Newsletter" here.

ANTI-SPAM PRIVACY & SECURITY POLICY
HelpForIBS.com
Heather's Tummy Care
80 S. Washington St, #304
Seattle, WA 98104 USA

© 2006 Heather Van Vorous, Heather's Tummy Care. All rights reserved.
USA Copyright Office Registration Number TXU 1-270-858 and others