Heather's IBS Newsletter ~ For Irritable Bowel Syndrome

October 31, 2006

What One Reader Found for Instant Relief of Bloating & Gas

Hello to everyone -

If you missed our recent newsletters, we were thrilled to announce our brand new customer account feature! This has been a long time coming, so thank you for your patience, and please let me know how we can expand and improve the system to suit your needs. We're already working on additions thanks to reader suggestions, and my ultimate goal is to make living with IBS as pleasant and easy as possible for all of you.

We also have a terrific letter from Amanda, who finally found relief from IBS bloating and gas.

We had such a great response to our recent "safe drinks for IBS" column asking what, exactly, are NOT safe drinks, that we're featuring part two of that information in this week's Ask Heather.

Plus, as always, we also have a fabulous (and gorgeous!) IBS-friendly recipe, and the latest in IBS news and research (including a double whammy on IBS hypnotherapy). Enjoy!



Best Wishes,
Heather Van Vorous

Did a friend send you this newsletter? Sign up here for your own free subscription.

Emerald Thai Fried Rice

If you've only had fried rice in Chinese restaurants, you're in for a wonderful surprise with this recipe! The prep work for it is time-consuming, but it cooks very quickly, and makes a terrific and nutritious one-dish meal. It also makes a very generous quantity, so you can keep it and reheat it for lunch or dinner for several days.

The fresh cilantro gives the rice its gorgeous emerald green hue, the rice itself is a terrific soluble fiber basis, and there is very little added fat. The insoluble fiber from the fresh veggies is well-cooked to make it digestion-friendly. Make sure you have plenty of lime wedges for serving - they add the perfect tangy note to the smoky flavors of the rice.

Makes 6-8 Servings

4 cups cold, cooked jasmine or other long grain white rice
8 large cloves garlic
1/2 cup packed fresh finely chopped cilantro
2 tablespoons canola oil
1 cup diced onion
1 cup peeled diced carrots
3/4 lb. shelled and deveined raw shrimp
3 organic egg whites
1/4 cup Thai or Vietnamese fish sauce (available at grocery stores)
3 tablespoons Thai Mushroom Soy Sauce (use other soy sauce if Thai is not available)
1 tablespoon brown sugar
1/2 teaspoon white pepper
2 scallions (green onions), diced
1 cup fresh or frozen green peas

Lime wedges for serving

Knead the cold rice gently through your fingers to separate the grains (rinse your hands in cold water first so the rice doesn't stick). Set aside.

Blend the garlic and cilantro to a paste in a food processor or blender. Place all ingredients within easy reach of the stove.

Set a wok over medium-high heat. When it's very hot, add the oil, tilting wok to coat sides. When the oil is hot, add the garlic-cilantro paste, onion, and carrot, and fry until the onion is transparent. Add the shrimp and fry just until they begin to turn pink. Add egg whites, stirring them at the bottom of the wok until cooked, then mix them in to the other ingredients.

Add the rice and stir well, then press the rice mixture into the bottom of the wok to fry for several minutes. Turn the mixture over, stir, and press down into the wok again. While rice is cooking, stir together fish sauce, soy sauce, sugar, and white pepper. Add the liquid down the sides of the wok, and stir well, and fry for 2-3 minutes. Add the scallions and peas, stir well and fry just until the scallions are limp.

Serve fried rice with wedges of fresh lime.

For a truly special treat, serve the fried rice with our rich and creamy Cinnamon Chai Tea!!

Are you just learning how to eat for IBS? A little intimidated at the thought of special IBS recipes? Not quite sure just what makes these recipes special in the first place? Don't worry! Find the answers to all your questions in the IBS Diet Kit.

~ Heather's Tummy Fiber ~
For the Dietary Management of Abdominal Pain, Diarrhea, &, Constipation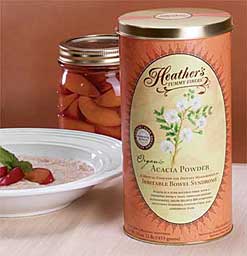 Organic Acacia ~ Pure Soluble Fiber
The prebiotic fiber that relieves both diarrhea and constipation!

** Very Economical ** Only 3 cents per gram of fiber!


New Retail Stores Carrying Heather's Tummy Care Products
We're continuing our special rebate offer for people who buy Tummy Care products at their local stores, and we have new store announcements this week as well.

California
Golden Carrot Natural Foods
1621 West Imola Ave
Napa, CA 94559
707-224-3117

Sunflower Natural Foods
726 Sutter St
Yuba City, CA 95991
(530) 671-9511

Illinois
Naturally Yours
4700 N University St
Peoria, IL 61614
309-692-4448

Michigan
Nutrition Works
2815 Silver Lake Road
Fenton, MI 48430
810-629-5559

If you don't have a store in your area carrying Tummy Care products yet, please give them this flyer to ask them.


New Stores That May Add Tummy Care Products
We have quite a long list of stores (and we update the list each week) that have expressed interest in carrying our products, have asked for samples and information, but have not yet ordered. To see if one of these stores is in your area, please check our list of potential stores and practitioners. If someone on the list is near your location please let them know you'd like them to add the Tummy Care line for you.



Now with 50% More Enteric Coating!
~ Heather's Tummy Tamers ~
For the Dietary Management of Abdominal Pain &, Bloating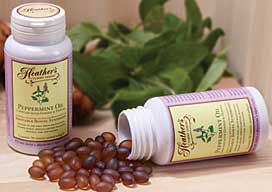 Peppermint Oil Caps with Fennel and Ginger Are Amazing!

Because our Peppermint Oil Caps have the added benefits of fennel and ginger oils, they are truly unbeatable for preventing abdominal pain, gas, and bloating!

What One Reader Found for Instant and Consistent Relief

Hello Heather,

I hope this letter gets to the right place. I just want to say a BIG THANK YOU for the Fennel Tummy Tea. The ad is absolutely true - I get immediate relief from gas, bloating, and the pain associated with it upon the first sip of this tea.

I have tried Gas-X, plus several other over-the-counter anti-gas medicines, exercise, painkillers, everything imaginable to relieve these horrible symptoms. Many nights have I been awake, nearly writhing from the burning pain and pressure caused by these attacks.

The fennel tea is the first thing I have ever used that has instantly and consistently given me relief. Thank you again!!

Feel free to share my comments - if it encourages someone else to get help, I'll be thrilled!

Regards,

Amanda Marlowe

Thank you, Amanda! I'm so happy that you're feeling better. ~ Heather

Did you miss the last reader letter from Marilyn, who successfully put the chocolate back into her life? Find it here...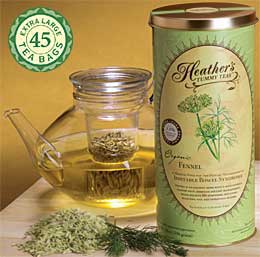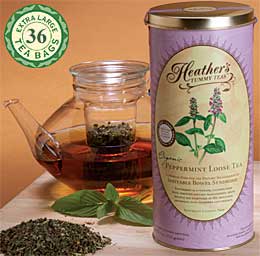 Organic Fennel & Peppermint Tummy Tea Bags

Extraordinary Quality ~ Very Economical

Fennel is terrific for bloating & gas, Peppermint is great for IBS pain & spasms.

Consumer Reports Recommends Hypnotherapy for IBS
The article "Hypnosis eases irritable bowel syndrome" in the October 2006 issue of Consumer Reports on Health examines a 2005 review of 14 studies on IBS hypnotherapy, concluding that it consistently improved symptoms in most patients. The six studies that used a control group--including hypnosis without any suggestion of pain relief--found improvement in 52 to 87 percent of patients.

The benefits of hypnotherapy also seem to last, an earlier British study found. The researchers surveyed 204 patients up to six years after hypnotherapy, which had initially helped over two-thirds of them. Of those positive responders, 81 percent maintained the improvement, with no significant drop-off as the years passed.

Hypnotherapists can't explain exactly how the technique works. While IBS is exacerbated by stress, it is not a purely psychological disorder, says Olafur Palsson, associate professor of medicine at the University of North Carolina and author of a widely used hypnosis protocol. "The current understanding of IBS suggests that there is a problem in the way the brain and the gut interact in controlling bowel function," he says. The hypnotic suggestions seem to "help make that normal again." Go here for information about self-hypnosis for Irritable Bowel Syndrome.

Go here for more information about this article...

Influence of Alcohol Consumption on IBS and Dyspepsia
The role of alcohol use in irritable bowel syndrome (IBS) and dyspepsia is not well understood. A recent study in Neurogastroenterology and Motility assessed associations between IBS, dyspepsia, abdominal pain, and alcohol.

A total of 4390 people responded; of these, 10.5% reported IBS, 2% dyspepsia and 22% abdominal pain. Alcohol consumption of greater than 7 drinks per week was associated with a greater odds for dyspepsia and frequent abdominal pain but not IBS. However, significant interactions among gender, alcohol use and symptom scores were detected.

In females with a low symptom score, consuming alcohol greater than 7 drinks per week increased the odds of IBS compared to drinking alcohol moderately. Alcohol consumption was associated with dyspepsia and abdominal pain. Go here for more information about this study...

Antibiotic Rifaximin Appears Safe and Effective for IBS
Treatment with the antibiotic rifaximin for 10 days can improve Irritable Bowel Syndrome bloating for up to 10 weeks, findings from a small study suggest. Previous reports have suggested that alterations in gut flora, primarily bacterial overgrowth, may influence the pathogenesis of irritable bowel syndrome. Therefore, treatment with agents that modify this flora might have an effect on disease outcomes, Dr. Mark Pimentel, from the Cedars-Sinai Medical Center in Los Angeles, and colleagues note in the Annals of Internal Medicine for October 17.

"The clinical challenge is to identify the subset of patients with IBS who are most likely to have bacterial overgrowth that produces symptoms relative to the many other factors contributing to patients' clinical state," Dr. Douglas A. Drossman, from the University of North Carolina at Chapel Hill, comments in a related editorial. Go here for more information about this study...

The Effectiveness of Hypnotherapy in the Management of IBS
A recent study in Alimentary Pharmacology aimed to systematically review the literature evaluating hypnotherapy in the management of irritable bowel syndrome. All studies, except single case or expert opinion, were sought and all patient-related outcomes eligible.

Out of 299 unique references identified, 20 studies (18 trials of which four were randomized, two controlled and 12 uncontrolled) and two case series were eligible. These tended to demonstrate hypnotherapy as being effective in the management of IBS.

The study concluded that the published evidence suggests that hypnotherapy is effective in the management of IBS. Over half of the trials (10 of 18) indicated a significant benefit. Go here for more information about this study...

Looking for more IBS research and news? Check the IBS Research Library!

The Best Gut-Directed Self-Hypnosis Program for All IBS Symptoms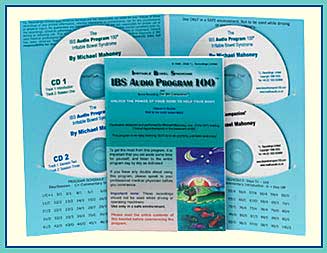 Gives an average 85% reduction of pain and bowel dysfunction symptoms.
Listen to IBS Audio Program 100 samples!

What NOT to Drink for Irritable Bowel Syndrome
"What drinks should I avoid if I have IBS?"

After our recent, and very popular column about what's safe to drink for IBS, I received a lot of letters from folks asking what's NOT safe.

The short answer is, unfortunately, quite a few things - enough for two separate Ask Heather columns, actually. (If you missed part one - coffee, soda pop, and dairy - check here.)

Just knowing potential triggers is half the battle, so here's a rundown on what drinks you should really avoid altogether - especially since there is such a wealth of delicious, safe alternatives. There may be some individual exceptions to the drinks on this list, and I've tried to include those in as much detail as possible.

* Alcohol - it's a GI irritant and a colon carcinogen as well, so it's especially important to avoid altogether if you have an inflammatory bowel disease. Alcohol is more likely to trigger IBS attacks on an empty stomach, so some folks can drink a bit when they're generally stable and have just eaten. If you do drink, please choose wisely, and avoid adding other GI triggers to the equation (so no mixed drinks with dairy, coffee, high fat coconut milk, or carbonation). Some folks find wines more tolerable than hard liquor, and white wines more tolerable than red.

* Black Tea - mostly if you're prone to upper GI problems like heartburn or reflux. Acidic foods, such as the tannic acid in black teas, can trigger or exacerbate acid reflux. Green teas, especially decaffeinated versions, are often much more tolerable. Green tea is also phenomenally good for your overall health, so if you can tolerate the decaf variety, particularly blended with an IBS-helpful tea like fennel or peppermint, it's well worth drinking.

* Energy Drinks - what happens if you take everything awful for IBS that's in soda pop, then add extra artificial ingredients, caffeine, and other GI stimulants? You'll get the most terrible beverage for IBS ever invented. The only way to make it worse would be to add some hard liquor and smoke a few cigarettes along with it. I'm actually getting queasy just thinking about this...

* Meal Replacement Drinks - while these logically should be designed for optimum GI tolerability, they're not. I've yet to see a brand that doesn't contain dairy, added dairy proteins like whey, a high fat content, fructose, artificial flavors, artificial colors, caffeine, or all of these triggers combined.

* Diet, Slimming, or Detox Teas - usually these words are code for "harsh stimulant laxative", such as senna or cascara, or harsh diuretics. You have to read the labels to be sure, so be very careful you know exactly what you're dealing with here.

Feeling discouraged? Don't be! There are many delicious and safe beverage options for IBS, so don't focus on deprivation when you have a wonderful (and long) list of IBS-friendly drinks.

~ Heather

Did you miss our recent "Ask Heather" and part one of drinks to avoid for IBS? Find it here...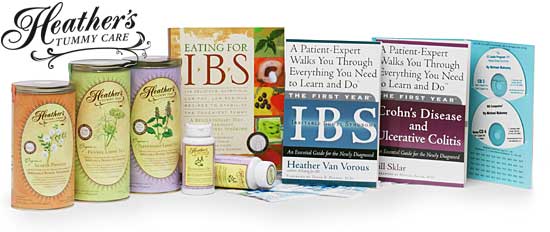 Shop at Heather's Tummy Store for IBS
HelpForIBS.com
The only store that's just for IBS - so we only carry the very best

You're on this newsletter list because you have expressed interest in IBS news and information.




Change your newsletter email address here.

If you are viewing this newsletter on a website and would like to subscribe for email delivery, please "Join the IBS Newsletter" here.

ANTI-SPAM PRIVACY & SECURITY POLICY
HelpForIBS.com
Heather's Tummy Care
80 S. Washington St, #304
Seattle, WA 98104 USA

© 2006 Heather Van Vorous, Heather's Tummy Care. All rights reserved.
USA Copyright Office Registration Number TXU 1-270-858 and others