Heather's IBS Newsletter ~ For Irritable Bowel Syndrome

October 17, 2006

How One Reader Put the Chocolate Back Into Her Life

Hello to everyone -

If you missed our last newsletter, we were thrilled to announce our brand new customer account feature! This has been a long time coming, so thank you for your patience, and please let me know how we can expand and improve the system to suit your needs. We're already working on additions thanks to reader suggestions, and my ultimate goal is to make living with IBS as pleasant and easy as possible for all of you.

This week we feature a reader letter very dear to my own heart, from a woman who was determined to get chocolate back into her life without giving up control over her IBS. Learn how she did it, and bring a little chocolate back to your life, too!

We also got such a great response to our recent "safe drinks for IBS" column asking what, exactly, are NOT safe drinks, that we're featuring that information in this week's Ask Heather.

Plus, as always, we also have a fabulous IBS-friendly recipe, and the latest in IBS news, research, and more. Enjoy!

Best Wishes,
Heather Van Vorous

Did a friend send you this newsletter? Sign up here for your own free subscription.

Smoky Eggplant & Fennel Hummus

This is a wonderful snack with baked corn chips, or the foundation for a fast and easy pita sandwich. It keeps well in the fridge for weekday lunches, but it's also pretty enough to serve to company. The eggplant and chickpeas are completely pureed until smooth, minimizing the risk of their insoluble fiber, while the addition of the Tummy Fiber increases the safe soluble fiber foundation.

While most hummus recipes are high fat due to a lot of olive oil, this dip uses just a bit of tahini for a lower fat but extra flavorful and delicious alternative. An added bonus? The finely ground fennel seeds are terrific for bloating and gas!

Makes 6-8 servings

1 medium eggplant (about 1 pound)
1 tablespoon whole fennel seeds
1 cup cooked or canned chickpeas, rinsed and drained
1 medium garlic clove, mashed
2 tablespoons well-stirred tahini (available at grocery stores)
1/4 teaspoon salt
2 teaspoons freshly grated lemon zest
1/4 cup fresh lemon juice (do not use bottled)
2 teaspoons Acacia Tummy Fiber (optional, but great for extra soluble fiber)
1 tablespoon finely chopped fresh flat-leaf parsley

Pita bread or baked corn chips for serving

Preheat broiler or prepare a grill. Prick eggplant in several places with a fork. Broil or grill about 3-4 inches from heat, turning every 10 minutes or so, until eggplant is charred black all over and very soft (about 45 minutes). Put eggplant in a bowl to cool and collect juices.

In a blender or spice grinder grind the fennel seeds until finely ground. When the reserved eggplant is cold, peel skin off, discard skin, and transfer pulp to a blender, food processor, or food mill. Add the ground fennel seeds and all remaining ingredients except parsley and puree until very smooth, with no visible eggplant seeds, scraping down sides with a rubber spatula as necessary. Transfer to serving bowl and sprinkle with parsley. Serve with fresh pita bread or baked corn chips.

For a truly special treat, serve this hummus with our rich and creamy Cinnamon Chai Tea!!

Are you just learning how to eat for IBS? A little intimidated at the thought of special IBS recipes? Not quite sure just what makes these recipes special in the first place? Don't worry! Find the answers to all your questions in the IBS Diet Kit.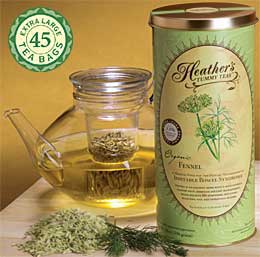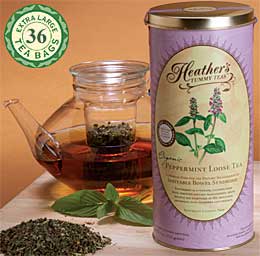 Organic Fennel & Peppermint Tummy Tea Bags

Extraordinary Quality ~ Very Economical

Fennel is terrific for bloating & gas, Peppermint is great for IBS pain & spasms.


New Retail Stores Carrying Heather's Tummy Care Products
We're continuing our special rebate offer for people who buy Tummy Care products at their local stores, and we have new store announcements this week as well, including our first store locations in Georgia and Utah!

Florida
DB Karlan and Associates
1831 N. Belcher Rd Suite C2
Clearwater, FL 33765
727-641-8979

Illinois
Dr. Cheryl Novak
1022 North Main St
Naperville, IL 60563
630-781-6345

Ohio
Ritzman Pharmacy
120 High St
Wadsworth, OH 44281
330-335-2595

Virginia
The Heritage - THEY NOW HAVE FENNEL TUMMY TEA!
314 Laskin Road
Virginia Beach, VA 23451
757-428-0500

If you don't have a store in your area carrying Tummy Care products yet, please give them this flyer to ask them.


New Stores That May Add Tummy Care Products
We have quite a long list of stores (and we update the list each week) that have expressed interest in carrying our products, have asked for samples and information, but have not yet ordered. To see if one of these stores is in your area, please check our list of potential stores and practitioners. If someone on the list is near your location please let them know you'd like them to add the Tummy Care line for you.



Now with 50% More Enteric Coating!
~ Heather's Tummy Tamers ~
For the Dietary Management of Abdominal Pain &, Bloating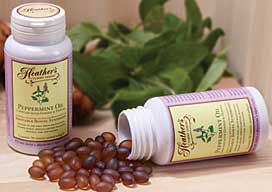 Peppermint Oil Caps with Fennel and Ginger Are Amazing!

Because our Peppermint Oil Caps have the added benefits of fennel and ginger oils, they are truly unbeatable for preventing abdominal pain, gas, and bloating!

How Marilyn Put The Chocolate Back Into Her Life

Dear Heather:

Having just read the letter from Jeanne Frois, I must share with you my experience with Acacia Tummy Fiber. Well, you've heard it all, and you know all the "remedies" for IBS because we've tried them all! What works for some does not work for others. I, too, have gone through it ALL trying to find a "cure" for my symptoms.

Without getting into all that, I can tell you that Acacia is like my little miracle. I have diarrhea predominant IBS, but if I put even one tiny piece of chocolate in my mouth, I am packed up like cement for days. Then I have to deal with an entire other set of symptoms, those of which are not suitable to discuss in an email.

Living without chocolate was just not going to be acceptable to me. I was able to eat chocolate my entire life except for the past few years. The smallest morsel would do me in. But NOW, I can actually have one piece of chocolate, every day if I want, and it's all because of the Tummy Fiber!

I have actually stopped ALL prescriptions that were given to me, because they didn't really work anyway. I cannot believe how the Acacia has changed my life. I still have an occasional outbreak and must be careful for a few days, but for the most part, my symptoms have improved dramatically. Now, if you could just put it in pill form, I'd really be happy.

Thanks for all you do to help those of us who suffer from this condition. I truly appreciate you.

Marilyn Kuboff

Thank you so much, Marilyn. I, too, am not willing to live without chocolate, so I share your joy at finding a way to safely do so! ~ Heather

Did you miss the last reader letters from Jeanne, who lost the bloat and found her waistline? Find it here...

~ Heather's Tummy Fiber ~
For the Dietary Management of Abdominal Pain, Diarrhea, &, Constipation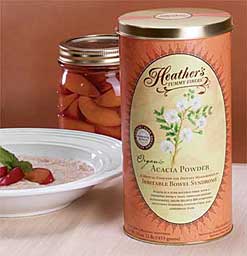 Organic Acacia ~ Pure Soluble Fiber
The prebiotic fiber that relieves both diarrhea and constipation!

** Very Economical ** Only 3 cents per gram of fiber!

IBS Linked to Migraine, Fibromyalgia, and Depression
Findings from a large study in the September 28th issue of BMC Gastroenterology indicate that patients with irritable bowel syndrome (IBS) are at increased risk for migraine, fibromyalgia, and depression.

Previous research has linked IBS with these disorders, but much of the supporting data has come from case reports or from small clinical practices. The current study involved more than 125,000 subjects.

Compared with non-IBS patients, those with the condition were 60% more likely to have any one of the three target disorders, the report indicates. The elevated risks for depression, migraine, and fibromyalgia were 40%, 60%, and 80%, respectively.

The current findings support previous reports, which have promoted speculation that all four disorders share an underlying biological mechanism, the authors conclude. Go here for comprehensive information about Irritable Bowel Syndrome.

Go here for more information about this study...

Traveler's Diarrhea May Boost Risk of Irritable Bowel Syndrome
People who experience traveler's diarrhea appear to be at significantly increased risk of subsequently suffering from irritable bowel syndrome (IBS), according to a recent issue of Clinical Infectious Diseases.

The research team found that the rate of IBS in travelers who had had diarrhea during their trip (13.6%) was more than 5 times greater than in was in participants who had no such diarrhea (2.4%). Women appeared to be more likely to experience IBS. They accounted for 60.9% of the IBS group, but only 46.7% of the entire cohort.

Among other findings, the researchers conclude, were that in the diarrhea group, abdominal pain was significantly more common in those who developed IBS and the duration of diarrhea was significantly greater. Go here for more information about this study...

Restricted Fetal Growth Linked to Irritable Bowel Syndrome
Findings from a new study in Gut suggest that restricted fetal growth is a risk factor for the development of irritable bowel syndrome (IBS) later in life.

Nutrition during fetal life is thought to play a role in a number of chronic diseases, including diabetes, hypertension, and coronary heart disease. In the present study, Dr. May-Bente Bengston and colleagues determined if this was also the case for IBS by looking at the impact of intrauterine growth on disease outcomes.

A birth weight below 1500 g was linked to a 2.4-fold increased risk of IBS compared with a weight exceeding 2500 g. Moreover, the disease appeared about 8 years earlier in lower weight groups than in higher weight groups. Genetic factors appear to contribute to IBS in females to a greater extent than in males.

"These results may suggest a new classification of patients into subgroups based on age at onset of symptoms, sex, familial resemblance, and birth weight, to improve our understanding of the pathophysiological mechanisms of IBS," the researchers conclude. Go here for more information about this study...

Anti-Depressant Celexa Improves Symptoms of IBS
The anti-depressant prescription drug Celexa (generic name Citalopram) improves the symptoms of irritable bowel syndrome (IBS), according to the results of a placebo-controlled crossover trial reported in a recent issue of Gut.

"Selective serotonin reuptake inhibitors (SSRIs) are frequently used in the treatment of IBS, although evidence of their efficacy is scarce," write J. Tack, MD, from the University of Leuven in Belgium, and colleagues. "Recently, we demonstrated that administration of the SSRI citalopram in healthy subjects decreases the sensitivity of the colon to distension and inhibits the colonic response to feeding. These observations may provide a rationale for use of citalopram in the treatment of IBS."

Compared with placebo, citalopram significantly improved abdominal pain, bloating, impact of symptoms on daily life, and overall well-being after 3 and 6 weeks of treatment. However, there was only a modest effect on stool pattern, and changes in depression or anxiety scores were not related to symptom improvement.

"The SSRI citalopram significantly improves IBS symptoms, including abdominal pain, compared with placebo," the authors write. "The therapeutic effect is independent of effects on anxiety, depression, and colonic sensorimotor function."

Study limitations include criticisms of the crossover design, selection of patients from a tertiary care center only, and inability to determine the mechanism underlying the beneficial effect of citalopram. Go here for more information about this study...

Looking for more IBS research and news? Check the IBS Research Library!

The Best Gut-Directed Self-Hypnosis Program for All IBS Symptoms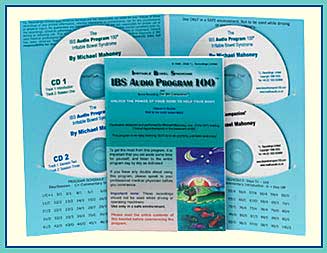 Gives an average 85% reduction of pain and bowel dysfunction symptoms.
Listen to IBS Audio Program 100 samples!

What NOT to Drink for Irritable Bowel Syndrome
"What drinks should I avoid if I have IBS?"

After last week's very popular column about what's safe to drink for IBS, I received a lot of letters from folks asking what's NOT safe.

The short answer is, unfortunately, quite a few things - enough for two separate Ask Heather columns, actually. But, knowing about potential triggers is half the battle, so here's a rundown on what drinks you should really avoid altogether - especially since there is such a wealth of delicious, safe alternatives.

* Coffee - Both regular AND decaf coffees contain an enzyme that's an extremely strong GI tract irritant. In addition, the caffeine in coffee is a GI stimulant, and coffee is highly acidic, which can aggravate the upper GI symptoms (such as reflux or heartburn) that many people with IBS are also prone to.

Sometimes people with IBS-constipation come to rely on coffee for its laxative effect, but because it's such a harsh irritant it's likely to cause cramps, spasms and rebound diarrhea. It can also worsen constipation if it causes intestinal spasms severe enough to seize up the colon to such an extent that motility is slowed or outright halted.

If I had to name the single worst beverage for IBS, coffee would win the prize.

* Soda Pop - The only IBS-safe ingredient in soda pop is the water. Most commercial brands are sweetened with high fructose corn syrup, and fructose is a very poorly digested sugar. What does this mean? It means it can cause cramps, spasms, bloating, gas, and diarrhea. Does this mean that diet soda is a safer bet? Nope - artificial sweeteners are even worse. Splenda, NutraSweet, Equal, saccharine, sorbitol, and all other artificial sweeteners can trigger IBS symptoms.

Many soda pops also contain caffeine. All of them are carbonated, and carbonation can cause or increase gas and bloating, or trigger intestinal spasms. If I had to actually design an IBS-unfriendly drink, I'd definitely come up with something exactly like soda pop.

* Dairy - But wait, what if it's low fat? What if it's lactose-free? What if it's cultured? Doesn't matter, doesn't matter, doesn't matter. It's not just the fat and the lactose in dairy that can trigger severe IBS symptoms. All dairy beverages contain components such as the proteins whey and casein, which can cause severe digestion problems. Avoid dairy altogether, and if you need a replacement use soy, rice, or almond dairy substitutes.

We'll wrap up the list with our next newsletter, but in the meantime, if you're feeling discouraged, don't be! Our last newsletter gave all the delicious and safe beverage options for IBS, so don't focus on deprivation when you have a wonderful (and long) list of IBS-friendly drinks.

~ Heather

Did you miss our recent "Ask Heather" about IBS safe drinks? Find it here...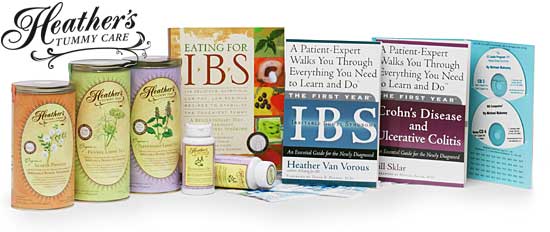 Shop at Heather's Tummy Store for IBS
HelpForIBS.com
The only store that's just for IBS - so we only carry the very best

You're on this newsletter list because you have expressed interest in IBS news and information.




Change your newsletter email address here.

If you are viewing this newsletter on a website and would like to subscribe for email delivery, please "Join the IBS Newsletter" here.

ANTI-SPAM PRIVACY & SECURITY POLICY
HelpForIBS.com
Heather's Tummy Care
80 S. Washington St, #304
Seattle, WA 98104 USA

© 2006 Heather Van Vorous, Heather's Tummy Care. All rights reserved.
USA Copyright Office Registration Number TXU 1-270-858 and others