Heather's IBS Newsletter ~ For Irritable Bowel Syndrome

October 3, 2006

How One Woman Lost the Bloat & Found Her Waistline

Hello to everyone -

This week we announce our brand new customer account feature! This has been a long time coming, so thank you for your patience, and please let me know how we can expand and improve the system to suit your needs.

We also have a wonderfully enthusiastic letter from a woman who conquered 20 years of bloating and found her waistline for the first time since the '80s. Plus, a delicious cinnamon chai recipe leads to an Ask Heather column that addresses one of the questions I'm asked most often. Curious? Find it right here.

As always, we also have the latest in IBS news, research, and more. Enjoy!

Best Wishes,
Heather Van Vorous

Did a friend send you this newsletter? Sign up here for your own free subscription.

Cinnamon Chai

This is a safe (dairy-free, caffeine-free) version of the chai tea served at Starbucks and other espresso stands. It's exotically spiced and smooth, creamy, and dreamy. Cloves, fennel, and cinnamon are all digestive aids, so this tea is downright beneficial for IBS.

Cinnamon Chai

Makes 1 Serving (easily doubled or tripled)

Chai Mix:
1 tablespoon whole cloves
1 tablespoon whole fennel seeds
1 tablespoon whole cardamom seeds (not in pods)
4 small cinnamon sticks, broken into small pieces

1 cup vanilla soy or rice milk
1 teaspoon honey

Stir together all chai mix ingredients. Add 1 tablespoon chai mix to soy milk and bring to a boil. Remove from heat and steep for 3 minutes. Strain and stir in honey. Store extra chai mix in an airtight container.

For a truly special treat, serve this chai with our delectably delicious Indian Curried Potatoes!!

Are you just learning how to eat for IBS? A little intimidated at the thought of special IBS recipes? Not quite sure just what makes these recipes special in the first place? Don't worry! Find the answers to all your questions in the IBS Diet Kit.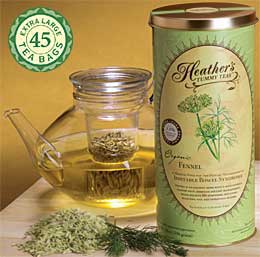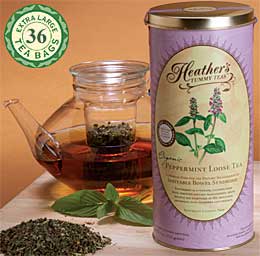 Organic Fennel & Peppermint Tummy Tea Bags

Extraordinary Quality ~ Very Economical

Fennel is terrific for bloating & gas, Peppermint is great for IBS pain & spasms.


New "My Account" Feature Is Finally Here!

Great news! You now can set up your own account for shopping on HelpforIBS.com. I know it has been very frustrating to have to continually re-enter your address information every time you order, and I apologize for the previous hassle.

Now that we have our new system in place, setting up your account is super simple when you place an order. Just before you enter your credit card number, you will see a "remember me" box. Leave it checked to set up an account, then go ahead and enter your card number, and hit submit. On the following "thank you" page you will then choose your password.

After that, the next time you order, when you check out just log in as a returning customer, and everything on the check out page (except credit card info) will automatically be filled out for you. You can even set up standing orders!

You can also go to your "my account" page at any time after you set up your account (there's a button at the top right hand side of every page on the website), log in with your email and password, and see if your current order has shipped, repeat your last order, or view all past orders.

We would like to enable your account with many features to make your life easier, so after you've set up your account, please feel free to email suggestions to help@helpforibs.com. We'll try to incorporate as many requests as possible, and I'll make this feedback the focus of upcoming newsletters as we get everything set up just the way you all want it. Please tell me about any problems with our process as well, so we can fix them.

I'd love to hear your ideas for: making ordering easier; remembering to order before you run out of a product; keeping track of key information to help make your life easier (new stores or events in your area, new product announcements, etc.)

As a note, the IBS Newsletter and your account home page will be the only places I post sales or special events.

My ultimate goal is to make living with IBS as pleasant and easy as possible for you; please let me know how best to do this.



Now with 50% More Enteric Coating!
~ Heather's Tummy Tamers ~
For the Dietary Management of Abdominal Pain &, Bloating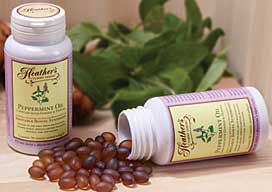 Peppermint Oil Caps with Fennel and Ginger Are Amazing!

Because our Peppermint Oil Caps have the added benefits of fennel and ginger oils, they are truly unbeatable for preventing abdominal pain, gas, and bloating!

How One Reader Lost the Bloat and Found Her Waistline

Dear Heather:

I have to share this with you because it almost seems miraculous. I have always been tall and thin. In the early 80's, I had a paralytic ileus after surgery that nearly killed me. I survived, but for ever after, no matter my weight, my stomach was always pokey, bloated, full of pressure. Eating some foods made it worse than others. Sometimes at night, I bloated so much I felt my back would break in two from the pressure, and I looked at least seven months pregnant.

In the winter, I was diagnosed with a number of gastric complaints, one of which was diverticulosis. I had subscribed to your newsletter in the fall and remembered some of your products. I was greatly helped by the peppermint oil capsules and the Fennel Tummy Tea, BUT, my dear Heather, I recently tried your Acacia Tummy Fiber and I can't tell you the difference it has made.

No more bloating, discomfort, having to wear oversized shirts on bad days. In addition to the end of pain and discomfort, I have once again found my waistline and almost flat abdomen. I am so grateful to you for your wonderful help and products that I had to share this immediately with you. Additionally, I have loved some of your recipes that I have tried. God bless you for thinking about others who have suffered the same as you! Acacia will be a permanent fixture on my kitchen shelf!

Thanks, Heather. Please use my comments. I'd be flattered-- and thanks again for your wonderful products! Especially Acacia! CONGRATULATIONS on the wonderful work you do!

Jeanne Frois

Thank you so much, Jeanne. Your letter truly made my day! ~ Heather

Did you miss the last reader letters from Anna Marie and Sherry, two women whose lives were changed by IBS hypnotherapy? Find them here...

~ Heather's Tummy Fiber ~
For the Dietary Management of Abdominal Pain, Diarrhea, &, Constipation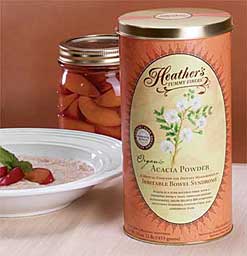 Organic Acacia ~ Pure Soluble Fiber
The prebiotic fiber that relieves both diarrhea and constipation!

** Very Economical ** Only 3 cents per gram of fiber!

Part 4 of a Special 4-Part Issue - A Review of What's New with IBS
A recent MedGenMed Gastroenterology article by Amy Foxx-Orenstein, DO, FACG, FACP reviewed what's new with IBS, including an introduction to the disorder, making a positive diagnosis, and a fascinating look at the science behind the underlying pathophysiology of IBS.

The Science of IBS

Important advances in research made during the past 50 years have brought us closer than ever to understanding the numerous putative etiologic factors involved in IBS, including previous gut infections and the possible overgrowth of bacteria in the small intestine.

Postinfectious IBS

The presence of postinfectious (PI)-IBS, referring to the development of IBS symptoms -- particularly abdominal pain and diarrhea -- shortly after an enteric infection, is based on research from prospective studies in which IBS symptoms developed in 7% to 32% of patients after they recovered from bacterial gastroenteritis. Specific risk factors for the development of PI-IBS have been identified, including younger age, female sex, presence of severe infectious gastroenteritis for a prolonged period, use of antibiotics to treat this infection, and presence of concomitant psychological disorders (eg, anxiety).

Difficulty in downregulating intestinal inflammation in the colonic mucosa has been suggested as a potential underlying mechanism in this condition. Also suggested as a potential underlying mechanism is the presence of colonic changes shown in patients with PI-IBS compared with controls, including increased gut permeability, increased mucosal enterochromaffin cell production, and increased concentration of mast cells and T lymphocytes in the gut mucosa.

Despite considerable evidence linking IBS with an inflammatory etiology (perhaps triggered by enteric infection), in a controlled trial of patients with PI-IBS, anti-inflammatory treatment with prednisolone was not more effective than placebo in improving patient symptoms. The true role of prior infection as a key factor in PI-IBS remains to be established.

The use of probiotics (products containing live or attenuated bacteria that have a positive effect on the host) in alleviating symptoms in patients with PI-IBS is an area of recent focus. The potential utility of probiotics in this setting stems from their antibacterial, antiviral, and immune-modulating properties; their ability to modify intestinal flora; and their potential to enhance intestinal mucus secretion or influence stool consistency or volume and gas handling.

The number of studies evaluating the efficacy of probiotic preparations in patients with IBS is limited but growing. Because trials vary in study design, dose, and strain, direct comparison of results is challenging. Overall, some degree of IBS symptom improvement has been demonstrated in symptoms such as abdominal pain, bloating, gas, and daily symptom scores.

Small Intestinal Bacterial Overgrowth

The presence of a higher than usual population of bacteria in the small intestine (leading to bacterial fermentation of poorly digestible starches and subsequent gas production) has been proposed as a potential etiologic factor in IBS. When measured by the lactose hydrogen breath test, small intestinal bacterial overgrowth (SIBO) has been detected in 78% to 84% of patients with IBS. However, the accuracy of the breath test in testing for the presence of SIBO has been questioned. Sensitivity of the breath test for SIBO has been shown to be as low as 16.7%, and specificity approximately 70%. Additionally, this test may suboptimally assess treatment response. The glucose breath test has been shown to be a more reliable tool, with a 75% sensitivity for SIBO.

In a recently conducted retrospective study involving review of patient charts for the presence of gastrointestinal-related symptoms (including IBS) in patients who were referred for glucose hydrogen breath tests for SIBO, of 113 patients who met Rome II criteria for IBS, only 11% tested positive for SIBO. Thus, results demonstrated that IBS symptoms are often unrelated to the presence of SIBO.

Despite the controversy regarding the contribution of SIBO to the underlying pathophysiology of IBS and its symptoms, short-term placebo-controlled clinical studies with select antibiotics, including neomycin and rifaximin, have demonstrated symptom improvement in IBS patients. Antibiotics may therefore have potential utility in select subgroups of IBS patients in whom SIBO contributes to symptoms. However, the chronic nature of IBS symptoms often leads to the need for long-term treatment. Given the fact that long-term use of antibiotics is generally undesirable, the place of antibiotics in IBS therapy remains to be established. Go here for more information about this review...

Go here for comprehensive IBS information, diagnostic guidelines, and treatments.

Looking for more IBS research and news? Check the IBS Research Library!

An average 85% reduction of pain and bowel dysfunction symptoms!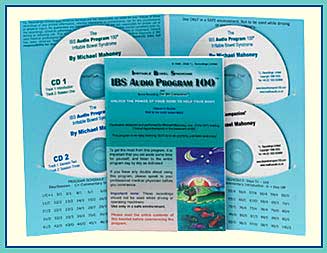 The Best Gut-Directed Self-Hypnosis Program for All IBS Symptoms
Listen to IBS Audio Program 100 samples!

Safe Drinks for Irritable Bowel Syndrome
"Is there anything I can I drink besides plain water that's safe for IBS?"

I get asked this question a lot, and I love it, because I can give such a wonderful reply. Yes! There are many, many drinks besides water that are safe for IBS, and some are downright helpful for preventing and/or relieving IBS symptoms like abdominal pain, bloating, and gas. Herbal teas, fruit smoothies, soy coffees, Indian chais, flavored rice and soy drinks, even hot chocolate - there's quite a long list, so you have a lot of delicious options.

What matters most is that you avoid beverage triggers (dairy, caffeine, coffee, tannic acid, carbonation, alcohol, high fat content, artificial sweeteners). Secondary to that, you can focus on adding IBS aids (soluble fiber, beneficial herbs) to safe beverages. At worst you'll be drinking something that simply won't harm your IBS, and at best you can enjoy drinks that actively help.

Where to start? Well, for beverages that will directly address IBS symptoms, try:

Peppermint tea for abdominal pain, spasms, or cramps.

Fennel tea for bloating and gas

Ginger tea for nausea

Chamomile tea for relaxing the gut and nervous system

For an all-around digestive aid, try a blend of herbs and spices such as the Cinnamon Chai recipe above. Don't want to bother making your own chai? Look for decaf versions ready-made in the tea/coffee aisle of grocery stores (Pacific and Oregon brands are both good).

If you're looking for a more filling drink, blend up a fresh fruit smoothie. Blending mechanically breaks down the insoluble fiber in the fruit, making it much more tolerable for IBS. Try a combination of fresh or frozen peaches, apricots, cherries, bananas, mangoes, or your own favorites. Add just enough soy or rice milk to blend smoothly, then add a little honey if you want extra sweetness. You can even throw in some Acacia Tummy Fiber for extra soluble fiber.

Many rice, soy, and almond milks, especially vanilla flavored, make great drinks in their own right. Chocolate soy milk makes a terrific hot chocolate - just heat and serve. Once the holiday season begins, you can even find eggnog flavored soy milk, which is delicious hot or cold with a little nutmeg sprinkled on top.

Decaffeinated black or green teas are tolerable for many people with IBS - just watch out if you're prone to heartburn or reflux, as the tannic acid in teas can sometimes aggravate that.

Soy or herbal coffees, which are available in many different brands, are not only safe for IBS but delicious, especially brewed with a little soy or rice milk for extra creaminess. There are wonderful flavors like mocha and hazelnut available, so feel free to experiment and find your own favorite!

~ Heather

Did you miss our recent "Ask Heather" about getting off laxatives? Find it here...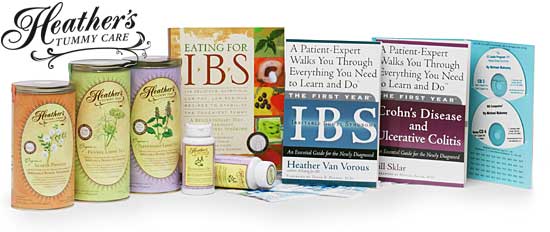 Shop at Heather's Tummy Store for IBS
HelpForIBS.com
The only store that's just for IBS - so we only carry the very best

You're on this newsletter list because you have expressed interest in IBS news and information.




Change your newsletter email address here.

If you are viewing this newsletter on a website and would like to subscribe for email delivery, please "Join the IBS Newsletter" here.

ANTI-SPAM PRIVACY & SECURITY POLICY
HelpForIBS.com
Heather's Tummy Care
80 S. Washington St, #304
Seattle, WA 98104 USA

© 2006 Heather Van Vorous, Heather's Tummy Care. All rights reserved.
USA Copyright Office Registration Number TXU 1-270-858 and others