Heather's IBS Newsletter ~ For Irritable Bowel Syndrome

January 24, 2006

A Mother Daughter Story and Acupuncture for IBS?

Hello to everyone -

This week we wrap up our "cooking with digestive herbs" series with a delicious twist on peppermint. If you've only used dried peppermint leaf for brewing tea, it will come as a wonderful surprise to see how beautifully this herb works in foods.

We're continuing our special rebate offer for people who buy Tummy Care products at their local stores, and we have a new store announcement this week as well:

Pilgrim's Natureway
4455 California Avenue SW
Seattle, WA 98116
206-935-4200

I'm thrilled to welcome a store in my hometown, and I hope to host a special IBS in-store event very soon - that will be announced in a future newsletter, so if you live in the Seattle area keep an eye out for it! If you don't yet have a store in your area carrying Tummy Care products yet, please give them this flyer to ask them.

If you missed last week's newsletter, we debuted a wonderful new column featuring stories from readers. We receive so many incredible letters from people about how they have learned to successfully manage their IBS that I decided to start sharing their stories in each newsletter. I hope they will inspire, encourage, and educate you to find the best ways possible to help your own IBS.

As always, we've also got the latest IBS news and research. Enjoy!

Best Wishes,
Heather Van Vorous

Did a friend send you this newsletter? Sign up here for your own free subscription.

Winter Beet Salad with Toasted Walnuts and Mint

This salad offers a delicious and unusual way to use peppermint leaf, which is a terrific digestive aid for IBS. Beet salad is a winter staple in our home, and this version has a sophisticated combination of flavors that belies the speed and simplicity of its preparation. The beets are high in soluble fiber and very nutritious, the toasted walnuts add a small amount of heart-healthy oils and a delightfully nutty crunch, and the sweet-tart note of balsamic vinegar ties all of the flavors together. If you've never been a beet-lover, give this recipe a try and you might just be surprised at how wonderful this neglected root vegetable can be!

Makes 3-4 servings

2 large fresh beets or 15 oz. can of beets
2-3 T mild balsamic vinegar
1/3 cup chopped walnuts
1 T loose peppermint leaf
1/2 t sea salt

If you're using fresh beets, peel them and roast, whole, wrapped in aluminum foil, at 425F until tender (about one hour). Let cool then cut into 1/2" slices and add slices to a serving bowl. Alternately, if using canned beets, drain and add beets to a serving bowl. Drizzle beets with vinegar to taste.

In a small dry skillet (NOT non-stick) toast walnuts over medium heat, stirring frequently, until they are fragrant and golden. Let cool then mix walnuts in a small bowl with peppermint and salt. Sprinkle walnut topping over beets and serve.

Are you just learning how to eat for IBS? A little intimidated at the thought of special IBS recipes? Not quite sure just what makes these recipes special in the first place? Don't worry! Come see the IBS Diet pages, and find the answers to all your questions.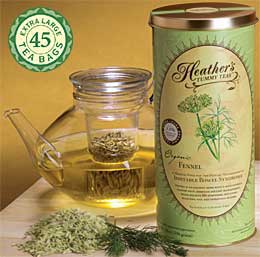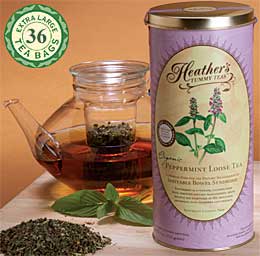 Fennel & Peppermint Tummy Teas - High Volatile Oil Content
Now in New Jumbo Organic Teabags!

Fennel is terrific for bloating & gas, Peppermint is great for IBS pain & spasms.

A Mother and Daughter Story
In the last newsletter I mentioned a wonderful letter I'd received in the past from a mother, telling me about her daughter Tory's journey to long-term IBS stabilization. The woman who wrote that letter, Lynne Grubbs, saw the newsletter and sent me a terrific follow-up story, and I'm just tickled to be able to share it with you. Thank you, Lynne!

January 12, 2006
Dear Heather, I am touched that you chose to reprint my note thanking you for all your help with my daughter's IBS. I thought you might like to know that I was approached last summer at a wedding by a neighbor and her 19 year old daughter who had recently been diagnosed with IBS. The daughter had a friend who had heard Tory's IBS senior speech. The mother and daughter were anxious for any helpful information I had. Did they come to the right place! They went home with the name of your book and email address and the next day I put some fat-free crackers (your #1 tip in my book) in their mailbox.

Word is getting out slowly. If we could only get the gastroenterologists and family physicians on board...Do you see any hope on that front? I shudder to think of the countless people suffering because they lack the information contained in your marvelous book.

The neighbor's child and my daughter were both healthy, athletic, engaged individuals who very suddenly developed severe IBS. I tend to think IBS is caused by a virus. Is there any research to support this?

Thanks again for all your hard work! We remain unbelievably grateful! ~ Lynne

January 17, 2006
Heather, I wrote Tory to ask if she would mind the printing of my recent letter. She is long past the age where she thinks her mother should be talking about her in public. (Remember your chapter in the First Year IBS about your grandmother talking to others of your difficulties?)

I was frankly amazed (and gratified) by her response. She said that if it were not for her mother and Heather, she would not be enjoying the great life she has today. She is very grateful for your book and thankful that her story can inspire and give hope to others...

So, yes, feel free to print my letter. Keep up your great work. I do not know what we would have done without you! ~ Lynne

A huge thank you from the bottom of my heart to Lynne and Tory! ~ Heather

Did you miss the last reader letter? Find it here...

~ Heather's Tummy Fiber ~
For the Dietary Management of Abdominal Pain, Diarrhea, &, Constipation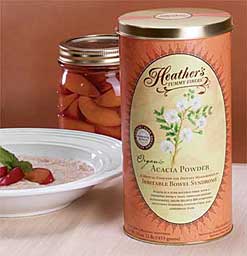 Organic Acacia ~ Pure Soluble Fiber
The prebiotic fiber that relieves both diarrhea and constipation!

Stability of IBS Using a Rome II-Based Classification
A recent study in Alimentary Pharmacology noted that, as there is no biological marker for irritable bowel syndrome, a diagnosis is made using symptom-based criteria. The study aimed to evaluate the stability of self-reported symptoms consistent with Rome II-based irritable bowel syndrome classification. Of the 697 subjects, 30% remained in the same irritable bowel syndrome subtype in both surveys, 18.4% changed irritable bowel syndrome subtype and 52% no longer met the irritable bowel syndrome criteria at follow-up.

Lack of pain caused more subjects to fall out of the irritable bowel syndrome criteria than the absence of non-painful bowel symptoms. However, the majority of subjects that did not fulfill the pain component of the irritable bowel syndrome criteria continued to report abdominal pain of at least moderate severity. The study concluded that irritable bowel syndrome is episodic in nature and current classification is limited in capturing fluctuation of the disorder over time. Go here for more information about this study...

IBS Drug Cilansetron Abandoned in the US
Solvay Pharmaceuticals announced it has suspended regulatory activities for the IBS drug Cilansetron with the United States regulatory agency, the Food and Drug Administration. Cilansetron is a 5-HT3 receptor antagonist which decreases gastrointestinal motility, secretion, and sensation. Efficacy and safety studies have included more than 4,000 patients worldwide, both men and women, with diarrhea predominance (D-IBS). Both men and women recorded symptom improvements and improved quality of life. However, the FDA requested additional clinical trials, and Solvay preferred to pull the drug altogether from the US regulatory process. Go here for more information about this study...

Carbon Monoxide Eases Ulcerative Colitis
A recent Journal of Experimental Medicine study found that carbon monoxide helps soothe a common form of inflammatory bowel disease called ulcerative colitis by shutting down the inflammation that causes the condition. University of Pittsburgh researchers used low concentrations of inhaled carbon monoxide to ease inflammatory bowel disease symptoms in mice. The carbon monoxide inhibited production of a protein called interleukin-12 (IL-12), which is normally produced during infection and helps activate immune cells that attack invading pathogens.

However, chronic production of IL-12 in the gut results in inflammation that causes ulcerative colitis. Inhibiting production of IL-12 prevents such inflammation, the researchers said. The researchers are now trying to learn exactly how carbon monoxide inhibits IL-12. Go here for more information about this study...

Digestive Woes May Keep the Overweight From Exercising
While exercise is often recommended for overweight people as part of a weight-loss program, digestive problems that affect them may hamper their ability to exercise. That finding by U.S. researchers appears in a study in the current issue of the journal Clinical Gastroenterology and Hepatology.

The study of 983 overweight or obese men and women in Minnesota concluded that links between gastrointestinal (GI) problems and diet and exercise may affect treatment for both obesity and gastrointestinal problems, such as irritable bowel syndrome. Go here for more information about this study...

Looking for more IBS research and news? Check the IBS Research Library!

~ Heather's Tummy Tamers ~For the Dietary Management of Abdominal Pain &, Bloating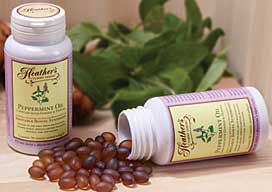 Peppermint Oil Caps with Fennel and Ginger Are Amazing!

Because our Peppermint Oil Caps have the added benefits of fennel and ginger oils, they are truly unbeatable for preventing abdominal pain, gas, and bloating!

Acupuncture and Irritable Bowel Syndrome
"Can acupuncture help IBS?"
Acupuncture is one of the most popular forms of alternative medicine in America, and is becoming increasingly mainstream. But can acupuncture help IBS? The short answer is yes, it can. Both the National Institutes of Health Consensus Panel and the World Health Organization, using different criteria, have identified many different conditions as appropriate for acupuncture treatments, including several that directly pertain to IBS:

Abdominal pain
Muscle cramping
Diarrhea
Constipation

In addition, acupuncture has also been deemed effective as a means of stress reduction, and at addressing related physiological problems that are often triggers for IBS symptoms, such as:

Anxiety
Insomnia
Nervousness
Premenstrual syndrome
Menstrual cramps

Several clinical studies have directly investigated the use of acupuncture in IBS patients. One particularly interesting study found that patients' quality-of-life and gastrointestinal symptom scores were improved, with a statistically significant reduction in abdominal pain. When the patients were followed for a 4-week post-trial period, the pain reduction persisted.

Furthermore, a significant reduction in stress perception was also observed. The conclusion drawn was that acupuncture is an effective form of treatment for IBS, particularly the pain and stress symptoms, and that its benefits exceed those of standard relaxation treatment.

While it is unquestionable that acupuncture can provide significant pain relief and help minimize other symptoms of IBS as well, from a Western medical standpoint (though certainly not from the traditional Chinese medicine point of view) no one quite knows how or why this is true. From the Western viewpoint, it may be that acupuncture affects the nervous system by stimulating the release of endorphins, naturally produced chemicals in the body that block pain signals in the brain and spinal cord. Research has shown that acupuncture results in changes in the conduction of electromagnetic signals in the brain, an alteration of blood circulation within the brain that increases blood flow to the thalamus (the area associated with relaying pain and other sensory impulses), and measurable differences in the brain's output of neurotransmitters such as serotonin, norepinephrine, and of inflammation-causing substances such as prostaglandins.

Why these changes occur is still considered a mystery by doctors and scientists who do not hold with traditional Chinese medicine concepts. However, if you're suffering from chronic pain and associated diarrhea or constipation as a result of IBS, odds are you don't care why acupuncture works – just that it does work. It's the end result that counts here, not the underlying reasons for success.

If acupuncture interests you it's a good idea to go ahead and try it. The risk is certainly negligible and the rewards may well be great! If you'd like to learn more about acupuncture, check the First Year: IBS for detailed information on acupuncture as well as other alternative therapies for IBS. ~ Heather

Did you miss the last "Ask Heather" about the Rome II Diagnostic Criteria for IBS? Find it here...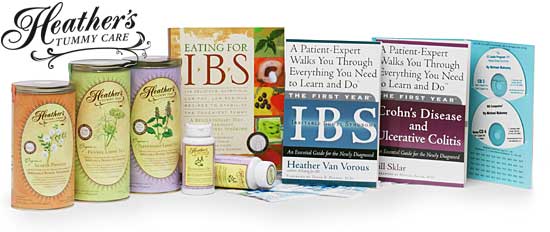 Shop at Heather's Tummy Store for IBS
HelpForIBS.com
The only store that's just for IBS - so we only carry the very best

You are receiving this email because you have expressed interest in IBS news and information.




Change your newsletter email address here.

If you are viewing this newsletter on a website and would like to subscribe for email delivery, please "Join the IBS Newsletter" here.

ANTI-SPAM PRIVACY & SECURITY POLICY
HelpForIBS.com
Heather's Tummy Care
80 S. Washington St, #304
Seattle, WA 98104 USA

© 2006 Heather Van Vorous, Heather's Tummy Care. All rights reserved.