Advertisement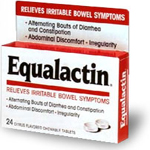 I'm happy to have Equalactin as a newsletter sponsor I can personally endorse, as I believe clinical trials of Equalactin have credibly established this product as genuinely helpful for IBS.
- Heather

In this Issue...

Special Events

Food & Diet

Rx News & Research

Ask Heather

About Us









Eating for IBS

Eating for IBS is the
life changing cookbook for good digestive health. Discover the delicious diet that controls IBS!


Tell a friend about
the IBS newsletter!



First Year: IBS

First Year: IBS is an essential guide that covers the core issues of
symptom prevention on a daily basis, including: stress management, yoga, hypnotherapy, travel, work concerns, social events, restaurants, holidays, children with IBS, support groups, and more!














































Come make yourself at home!

Join the new IBS Message Boards!

February 12, 2002


Valentine's Day Special!
Chocolate Cheesecake Brownies

14-16 Servings

Filling:
9-11 oz. pkg. silken tofu
1/3 c. plain soy yogurt
2 egg whites
1 T cornstarch
3 T white sugar
2 t vanilla
1/8 t salt

Brownies:
1 1/2 C. white flour
1 C brown sugar
1/3 C cocoa powder
1 t baking soda
1/2 t salt
1 C water
1 T canola oil
4 T applesauce
1 T vinegar
1 t vanilla

Crumble tofu into a sieve lined with several layers of paper towels. Add soy yogurt. Cover sieve with plastic wrap and place over a bowl to drain overnight, or for up to two days (the longer this drains, the thicker and creamier your filling will be).

Preheat oven to 350F. In a small bowl with an electric beater, beat the drained tofu/yogurt with other filling ingredients until smooth and creamy (or blend ingredients in a blender). Set aside.

In a large bowl sift together the flour, sugar, cocoa powder, soda, and salt. Whisk dry ingredients until well blended. Whisk in water, oil, applesauce, vinegar, and vanilla just until batter is blended.

Lightly spray a 9 x 13" baking pan with cooking oil. Pour chocolate mixture into pan and spread evenly. Spoon large dropfuls of the filling mixture in 12 even spoonfuls across the batter (you should have three rows of four dropfuls of filling). Take the flat side of a butter knife and gently pull it through the batter and filling to make a marble pattern. Bake for 18-22 minutes, until a toothpick inserted in a brownie portion comes out with moist crumbs. Cool on rack.

Hello to everyone -

If you're like me, Valentine's Day means love and chocolate - the more the better! So here's a decadently rich chocolate brownie recipe with a lusciously creamy filling. It's the perfect romantic dessert splurge - you could even use a cookie cutter to cut heart-shaped servings for a fun touch.

Rich chocolate desserts at restaurants are rarely a safe choice for digestive health, but our version is special in more ways than one. The deep, dark chocolate comes from cocoa powder, not solid chocolate, so there is a very low fat content. The generous quantities of butter so typical for desserts have been replaced here with applesauce and just a touch of heart-healthy canola oil.

The creamy cheesecake filling is the best surprise of all - it's made with silken tofu and soy yogurt! The secret is to drain these ingredients for a day or two so they thicken up, which gives the filling the rich texture and tang of pure cream cheese - but without the fat and dairy triggers.

If you're feeling creative, you can even marble the filling and batter into heart-shaped swirls before baking. If you're feeling lazy or are pressed for time, just bake the brownies without the filling and have a pure chocolate indulgence. Either way, you can give your sweetie a special Valentine's Day sweet treat, while treating yourself right as well. There's never any need to sacrifice your digestive health for a decadent dessert splurge, and this recipe deliciously proves it!


Have a happy Valentine's Day!
Heather Van Vorous



For more recipes, click here for the IBS Recipe Board!

Lynda Carter Kicks off Seattle IBS Support Group!


When Lynda Carter visits Seattle on February 20th as a part of the "Talk IBS" campaign, she will announce the formation of a local IBS support group. I'll be facilitating this group in association with University of Washington researchers and physicians, and our first meeting is scheduled for April or May. Our focus will be on education as well as empathy, so I hope to see you there.

I'm also coordinating the formation of IBS support groups nationwide and internationally, so if there isn't currently a group in your area here's a wonderful opportunity to make your voice heard about this need.



If you haven't already, come join the new

IBS Message Boards!
These long-awaited interactive boards are friendly, supportive places with three separate forums to post questions and share information. One is for everyone following the IBS Diet, so that they may share dietary ideas, questions, and suggestions. The other is just for all you cooks out there (from beginner to gourmet!) who have asked to share IBS Recipes. Both boards have several moderators who are personally experienced with the IBS diet, and who will help me ensure that board messages have accurate information and remain supportive and focused. I have also had quite a few readers ask about following the IBS diet in conjunction with other health issues such as gluten intolerance, pregnancy, diabetes, or polycystic ovarian syndrome. The boards are the perfect place to address these concerns and share helpful ideas with others in the same situation. The third board focuses on Yoga for Digestive Health, and welcomes all levels of yoga experience, from new students to seasoned instructors.

To become a new member of the boards and start reading and posting, just click here.

If you'd like to browse the boards only (you won't be able to post until you register), click here.
Soy and Women's Health
The Massachusetts College of Pharmacy and Health Sciences issued a recent peer-reviewed and extensively referenced article reviewing the nutritional and pharmacological activities of dietary soy, and discussing the recent evidence demonstrating this legume's ability to beneficially influence women's health. Cardiovascular disease, breast cancer, osteoporosis, and menopause concerns are among the issues addressed.

Peptide & Neuropeptide Levels Differ among Patients with IBS
Irritable bowel syndrome patients have lower levels of the peptide YY in the descending colon than people without the syndrome, Swedish researchers report. Their research also demonstrates that IBS patients with diarrhea as the predominant bowel pattern have lower levels of the neuropeptide Y than do those with constipation. These findings could help explain symptom variation in IBS patients and reflect on the pathophysiology of the condition.
Click here for more information...

Follow-Up of Celiac Adults on Gluten-Free Diet: Prevalence and Correlates of Intestinal Damage
Celiac disease is the most common severe food intolerance in the Western world and is due to gluten ingestion in genetically susceptible children and adults. Intestinal biopsy is the golden standard for evaluation of mucosal damage associated with celiac disease. A gluten-free diet is the key treatment for celiac disease. This study reports data on the control of celiac disease and on its correlates in a large cohort of celiac adults during long-term treatment with a gluten-free diet. Click here for more information...

The Cost-Effectiveness of Psychotherapy and Anti-Depressants for IBS
A recent study by the The North of England IBS Research Group found that for patients with severe IBS, both psychotherapy and the anti-depressant paroxetine are cost-effective means of improving health-related quality of life. Click here for more information...

Smoking and Ulcerative Colitis
It has been an unproven theory that smoking protects against the development of ulcerative colitis. This study suggests that the withdrawal of the immunosuppressive effect of smoking triggers the disease onset in a genetically susceptible individual or simply unmasks its symptoms. Click here for more information...

Can I take a multi-vitamin without triggering IBS symptoms?
"I'd like to take a multi-vitamin and mineral supplement every day, but each time I try I end up having my IBS symptoms flare. Is there a way around this?" - Linda Donovan

Multi-vitamins often cause GI upsets for people who don't even have IBS. One of the best ways around this is to always take your vitamins at the end of a meal, and never on an empty stomach. Iron supplements and vitamin C are two of the most likely culprits for GI distress, so check the dosage levels for these ingredients. Unless your doctor has recommended otherwise, make sure you're not exceeding one hundred percent of the US RDA for iron or vitamin C. Calcium can have a constipating effect, which can be helpful or hurtful depending on your symptoms. Magnesium can have a laxative effect, and this too can either aid or exacerbate IBS, depending on the individual. Again, make sure that your mineral supplement is not giving you a megadose of these ingredients.

Ask your local pharmacist about the most tolerable brands of vitamins in their store. GI upsets are very common with vitamins, and pharmacists are familiar with this request. Prenatal vitamins may be an option, as they are sometimes formulated specifically to help minimize the risk of GI side effects. Liquid vitamins or powder caplets may also be more tolerable than pills. One last thing to consider is the fillers and additives in many vitamins; check the ingredients for lactose, artificial colors, and preservatives, as many people with IBS are sensitive to even small quantities of these substances. A health food store may have a wider variety of additive-free vitamins than a drug store. Heather & Company is dedicated to serving people with IBS. Our mission is to offer education, services, and products that allow people with IBS to successfully manage their symptoms through lifestyle modifications. We currently offer the books
Eating for IBS and First Year IBS, web site resources, seminars and classes, and Heather Cooks!, a healthy cooking show on the internet and television. We will soon have other IBS services available. Heather Van Vorous, an IBS sufferer since age 9, is the company founder and president.

Our websites receive over 250,000 unique visitors each year, and our newsletter is sent to over 11,000 people twice monthly. Every week over 100 new people join our mailing list. Heather & Company and Heather Van Vorous offer the following...

The world's best-selling and best-reviewed books for IBS

The internet's only full-length cooking show, with thousands of subscribed viewers

Excerpts and recipes from Eating for IBS licensed by Novartis Pharmaceuticals

Included in 4th edition of Marquis Who's Who in Medicine and Healthcare

Clinical research study based on Eating for IBS diet underway in the private gastroenterology practice of Dr. Noel Hershfield in Calgary, Canada

Dietary information used by the Radiology Department of the Cancer Centre in Birmingham, England, for treatment of radiation enteritis

Information requested by gastroenterologists, family physicians, and dieticians across the USA, Canada, UK, and Australia for IBS patient distribution

The "Authorized Expert" for Diet & Nutrition at the IBS Association and IBS Self Help Group forums

Finalist for an IACP Julia Child Cookbook Award 2001 - Eating for IBS

#17 on the Library Journal's Cookbook Bestseller list for 2000 - Eating for IBS

Work with corporate HR departments to offer employee IBS education programs.

Nominated for a Woman of Strength Award by Oxygen.com

Over 4,000 personal thank you letters received from readers worldwide for IBS dietary information

Foremost patient-expert on IBS in America

Sponsorship opportunities are available for the websites and this newsletter for companies and/or products that have been legitimately established as helpful for digestive disorders. Please click here to contact us for information.



You are receiving this email because you have expressed interest in IBS news and information.
To unsubscribe from this newsletter, please click here.



LEGAL DISCLAIMER - This email is not intended to replace the services of a physician, nor does it constitute a doctor-patient relationship. Any application of the recommendations in this email is at the reader's discretion. Heather Van Vorous and Heather & Company are not liable for any direct or indirect claim, loss or damage resulting from use of this email and/or any web site(s) linked to/from it. Readers should consult their own physicians concerning the recommendations in this email.