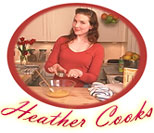 On TV and the Internet
Seattle Channels 29 &77



In this Issue...

Special Recipes!

Rx News & Research

Ask Heather

About Us





Missed the Last
Heather Cooks?

Click here to catch
the show while you can!

Garden Veggie Nachos

The perfect fast and easy snack or casual meal! These colorful, zesty nachos can be thrown together without exact measurements, and will please children as well as adults.

If you thought Mexican food was a thing of your past, this delicious and digestion-friendly version will have you dancing in the kitchen!.










Eating for IBS

Eating for IBS is the
life changing cookbook for good digestive health. Discover the delicious diet behind Heather Cooks!


Tell a friend about
the IBS newsletter!



First Year: IBS

First Year: IBS covers the core issues of
symptom-control on a daily basis, including: travel, work concerns, social events, restaurants, holidays, support groups, and more!



November 20, 2002


Smooth, sweet and creamy Pumpkin Pie from scratch after just 5 minutes in the kitchen!


This fabulous pie is just one of four special Thanksgiving recipes.


Bonus Newsletter Recipes!

Rosemary Raisin Bread Stuffing!

Candied Sweet Potatoes!

Cinnamon Pear Tart with Almond Crust!

Hello to everyone!

Welcome to our special Thanksgiving edition! This week's newsletter is dedicated to bringing you a holiday that's just as healthy as it is happy. We have a recipe extravaganza, with a special showing of pumpkin pie at Heather Cooks, plus three extra recipes right here in the newsletter. We also have tips and tricks for enjoying your Thanksgiving meal without worries of digestive consequences. So enjoy the holiday!

Best,

Heather Van Vorous Fabulous 5 Minute Pumpkin Pie
Click here to come watch the show at Heather Cooks, the internet's only cooking show for good digestive health! Thanksgiving Pumpkin Pie is playing now. Drop by my kitchen for the free show and click here get the recipe! If you live in the Seattle/King County area, you can also watch Heather Cooks on television every week. We air on the Scan network, at channels 77 and 29.

Love the idea of baking a pie from scratch for the holiday, but dread the time and work? Well, if you own a blender and a pie plate you'll be popping a fabulous pumpkin pie into the oven after just five minutes in the kitchen! Even if you've never made a pie in your life, you'll have a quick and easy time whipping up this fabulous treat, and I'll walk you through every step of the way. This is no ordinary pumpkin pie, either. It's the smoothest, creamiest, most luscious and fragrantly spiced pumpkin pie ever! All without high fat, dairy, or egg yolks - but with a high soluble fiber base, soy goodness, and loads of beta-carotene. It's actually healthy enough to eat for breakfast... but the taste is pure pie-in-the-sky dessert heaven!



Have a Happy AND Healthy Holiday!

Looking forward to seeing friends and family for Thanksgiving, but worried that you won't be able to enjoy the feast with paying a price? Have no fear - it's easy to enjoy a delicious Thanksgiving dinner without risking your digestive health. Here's how...

The Turkey!
The centerpiece of every Thanksgiving feast, roast turkey is actually a safe staple for digestive health, as long as you stick to the white meat and don't eat the skin. It's the gravy you have to watch out for. Gravy is pure fat, and nothing can upset your digestion more quickly. While there is really no way to make a turkey gravy that's low fat, it is fairly simple to just limit the amount of gravy you eat. Realize that you're pouring liquid oil over your meal, and try to avoid it altogether or at least get by with just a small spoonful. You won't feel deprived by this when you have delicious side dishes to accompany your turkey breast, such as...

Rosemary Raisin Bread Stuffing
This is a wonderfully old-fashioned stuffing with a hint of spice and a light sweet note from the raisins. The savory herbs give a tantalizing fragrance and flavor! Stuffing is a great soluble fiber basis to your meal, and this is important as soluble fiber is what will keep your digestion stable. So dig in!

Makes 8-10 servings.

2 cups onion, finely chopped
2 tablespoons canola oil
1 cup finely chopped fresh cranberries
2 tablespoons packed brown sugar
2 teaspoons dried rosemary, crushed
1/2 teaspoon dried sage
7 cups raisin bread, cut into 1/2" cubes and toasted (about 12 slices)
1/2 cup fresh orange juice
1/2 cup vegetable or fat-free chicken broth

Preheat oven to 325F. In a large non-stick skillet cook the onion in the oil over medium heat until softened. Add cranberries, brown sugar, rosemary, sage, and salt and pepper to taste. Cook, stirring, for 5 minutes. Transfer mixture to a large bowl, add toasted bread cubes and orange juice, and stir gently but thoroughly until well combined. Spoon stuffing into a 3-quart casserole dish, drizzle with the broth, and bake, covered, for 30 minutes. Uncover and bake 30 minutes more.


Candied Sweet Potatoes
These are rich and tender with a chewy caramelized crust. Their luscious sweetness is offset by just a hint of spiciness for the cayenne. This recipe is my very favorite Thanksgiving side dish. More good news, sweet potatoes are also a great source of soluble fiber. Just like the stuffing, this dish is actually very helpful for your digestion!

Makes 6 Servings

2 tablespoons canola oil
3 large sweet potatoes, peeled and cut into 1/4 inch slices
1 cup water
1/2 cup packed brown sugar
dash salt
dash cayenne, or to taste

Heat the oil in a well-seasoned large cast iron skillet over medium low heat. Add the sweet potatoes. Stir together the water, sugar, salt, and cayenne, and pour over potatoes. Cover and cook for about 20 minutes without stirring. Turn the potatoes over, cover, and cook for about 15 minutes more, turning occasionally to coat each piece with syrup and taking care that the potatoes caramelize evenly. Continue to cook and turn potatoes in this manner until they are fork-tender. Transfer to serving platter immediately.


Cinnamon Pear Tart with Almond Crust
Makes a 9" pie - 8 generous or 16 small slices

This makes a beautiful, cinnamon-scented pie mounded high with juicy pear slices. The richly flavored almond crust is accented by the delicate touch of almond extract in the filling. Bartlett or Comice pears work well here, but Bosc pears will not cook down as much and will stay very firm.

Crust:
1 cup almonds
1/4 cup unbleached white flour
2 T brown sugar
1/8 t salt
1/8 t cinnamon
1 t vanilla extract
1-2 T water


Generously spray a 9" pie plate (preferably Pyrex or ceramic) with cooking oil. Set aside. In a blender or food processor combine the almonds and 2 T of the flour. Pulse on and off until the nuts are finely ground. If using a blender, stop and scrape down sides with a rubber spatula as needed. Transfer nut mixture to a medium size bowl, and add remaining flour, sugar, salt, cinnamon, and vanilla. Mix with a fork until well blended. Add water one tablespoon at a time, mixing well, until the dough holds together when you squeeze it in your hand. You want to add just enough water to let the dough hold together, without making it sticky. With your hands, press the dough evenly across the bottom and slightly up the sides of the prepared pie plate. Set aside and make filling.

Filling:
6 medium size firm-ripe pears, peeled and cored, cut into 1/4" slices
2 T unbleached white flour
1 t cinnamon
3 T packed brown sugar
zest of 1 lemon
1 T fresh lemon juice
1 T almond extract
1/8 t salt


Preheat oven to 375F. Add pear slices to a large bowl and sprinkle gradually with the flour as you toss them gently with a rubber spatula. Add remaining ingredients and gently combine with the spatula. Turn filling out into unbaked crust. Bake for 35 minutes and cool on a metal rack. Serve warm.

Tips, Tricks and Hints for a Healthy Thanksgiving

Be careful with what you drink, not just what you eat. If you're splurging a little with wine or champagne, make sure you've had a soluble fiber snack first so your stomach isn't empty. Better still, have the alcohol with your meal or dessert.

Don't turn to sparkling cider as an alternative to alcohol. The high fructose content plus the carbonation is a deadly ticket to digestive distress. The safest drink is an herbal tea or just fresh water.

For safe mashed potatoes, use plain soy milk instead of dairy milk or cream. Reduce the amount of oil you add to just a few tablespoons, and use a richly flavored olive oil instead of butter. You can blend in some whole roasted garlic cloves for extra flavor without fat.

Cranberry sauce is more tolerable if it's well-cooked, which will break down the insoluble fiber of the skins.

Remember that although it's an annual rite to stuff yourself like the turkey, too much of any food is a bad idea. Keep your digestion stable by keeping your meal size reasonable. You can always have seconds later. To help prevent overeating in the first place, have a good sized breakfast of a soluble fiber staple such as oatmeal or cream of rice. At dinner, take just a little of everything and enjoy every bite!

Bundle up and go for a walk outside after your meal. Keeping gently active will keep your digestive tract functioning properly. Even if the rest of the family settles down for a post-turkey nap, take that walk alone and savor the quiet time.

If there's a special treat that you know is a trigger but you just can't resist, try this: limit yourself to a small amount, have the treat after you've eaten some soluble fiber foods, and have a soluble fiber supplement (such as two Fibercon tablets) with a glass of water right beforehand. This will help keep your digestion stable even as you splurge.

Take things easy the day after Thanksgiving. Have some nice turkey sandwiches (remember, skinless white meat only) on fresh white bread with some cranberry sauce or mustard, get extra sleep, and go for another long walk. Give your body a chance to recover from any indulgences and congratulate yourself on staying healthy for the holiday!

Upcoming Webcast on Ulcerative Colitis, December 10, 2002
The Crohn's and Colitis Foundation of America is sponsoring a half-hour webcast with Dr. Sunanda Kane, one of the leading ulcerative colitis specialists in America. You can participate in the webcast by submitting questions, and the latest information in treatment and research will be discussed.

Cancer Risk with Celiac is Lower than Previously Thought
Patients with the digestive disease celiac have been reported to have an increased risk of lymphoma and other forms of cancer. However, researchers recently report that these patients have only slightly higher cancer risks than people without these conditions. Click here for more information...

Eating Fish Keeps Your Heart Healthy
People should try to eat at least two servings of fish every week to get a good dose of heart-healthy omega-3 fatty acids, according to the American Heart Association. The AHA first issued this recommendation in 2000, but recently updated their position. Click here for more information...

Acidophilus Supplements May be Duds, or Even Dangerous
A recent analysis of Lactobacillus supplements sold in Seattle stores reveals that only a fraction actually contained the live organism, which is a beneficial bacteria commonly found in yogurt (soy and dairy). Some of the supplements were even contaminated with organisms that could act as pathogens.



"What recommendations do you have for those times when I have to take antibiotics?  Antibiotics (regardless of what kind) just kill my gut, and I get instant diarrhea. What can I do?" - Lara Weed
Antibiotics cause gastrointestinal side effects for most people. This is because the drugs not only kill the bacteria causing the infection you're treating, but they also kill the friendly bacteria, called "flora", that live in your intestines. These friendly bacteria normally regulate the consistency of the stools and help with digestion.

One of the simplest steps to take is to ask your doctor for the most "digestion-friendly" antibiotic suitable for you. Then make sure you're taking the medication with a meal, and not on an empty stomach (check the prescription label to make sure this is allowed). This will help prevent some of the immediate GI side effects many people see with antibiotics. Another helpful tip is to eat several daily servings of soy yogurt labeled as having "live cultures." The healthy flora in the yogurt will help replace the natural gut flora that is being wiped out by the antibiotics. Make sure you choose soy yogurt instead of dairy, as the fat, casein, and whey in dairy can cause GI upsets as well. Keep up the soy yogurt for at least two weeks after you stop taking the antibiotics.

It's also very helpful to be extra careful to keep your digestion stable by strictly limiting your fat intake. Try to keep your overall diet at about 20% fat while you're on antibiotics. Just as importantly, make sure that every meal and snack is based on soluble fiber foods like rice, pasta, oatmeal, or potatoes. The soluble fiber will keep your gut muscle contractions stable and keep bowel function normal, so you can head off the diarrhea and cramping. Add in (or increase) a daily soluble fiber supplement such as Citrucel or Fibercon as well. Check with your doctor or pharmacist about taking the supplement with the antibiotic, as the supplement may prevent proper drug absorption. If this is a concern simply take the supplement a few hours apart from the medication.

Finally, peppermint, chamomile, and ginger are all helpful herbs for counteracting the GI side effects of antibiotics. Brew any of these herbs as teas and drink them throughout the day. Peppermint is especially helpful for cramping and diarrhea, while ginger will head off any nausea, another common side effect.



Heather & Company is dedicated to serving people with IBS. Our mission is to offer education, services, and products that allow people with IBS to successfully manage their symptoms through lifestyle modifications. We currently offer the books
Eating for IBS and First Year IBS, web site resources, seminars and classes, and Heather Cooks!, a healthy cooking show on the internet and television. We will soon have other IBS services available. Heather Van Vorous, an IBS sufferer since age 9, is the company founder and president.

Our websites receive over 250,000 unique visitors each year, and our newsletter is received by 11,000 people 1-2 times monthly. Every week over 100 new people join our mailing list. Heather & Company and Heather Van Vorous offer the following...

The world's best-selling book for IBS

The internet's only full-length cooking show, with thousands of subscribed viewers

Excerpts and recipes from Eating for IBS licensed by Novartis Pharmaceuticals

Included in 4th edition of Marquis Who's Who in Medicine and Healthcare

Clinical research study based on Eating for IBS diet underway in the hospital gastroenterology practice of Dr. Noel Hershfield in Calgary, Canada

Dietary information used by the Radiology Department of the Cancer Centre in Birmingham, England, for treatment of radiation enteritis

Information requested by gastroenterologists and family physicians across the USA, Canada, UK, and Australia for IBS patient distribution

The "Authorized Expert" for Diet & Nutrition at the IBS Association and IBS Self Help Group forums

Finalist for an IACP Julia Child Cookbook Award 2001 - Eating for IBS

#17 on the Library Journal's Cookbook Bestseller list for 2000 - Eating for IBS

Work with corporate HR departments to offer employee IBS education programs.

Nominated for a Woman of Strength Award by Oxygen.com

Over 4,000 personal thank you letters received from readers worldwide for IBS dietary information

Foremost patient-expert on IBS in America

Sponsorship opportunities are available for the websites and this newsletter. Please click here to contact us for information.



You are receiving this email because you have expressed interest in IBS news and information.
To unsubscribe from this newsletter, please click here.



LEGAL DISCLAIMER - This email is not intended to replace the services of a physician, nor does it constitute a doctor-patient relationship. Any application of the recommendations in this email is at the reader's discretion. Heather Van Vorous and Heather & Company are not liable for any direct or indirect claim, loss or damage resulting from use of this email and/or any web site(s) linked to/from it. Readers should consult their own physicians concerning the recommendations in this email.