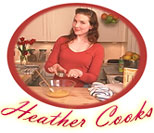 On TV and the Internet
Seattle Channels 29 &77



In this Issue...

Food & Diet

Rx News & Research

Ask Heather

About Us





Missed the Last
Heather Cooks?

Click here to catch
the show while you can!

Italian Bread Salad

An Italian one-bowl meal in a flash! Great for dinner and lunch the next day, this salad is as colorful as it is delicious.

For an easy, sunny change of pace on a busy work night, come make this satisfying vegetarian meal with luscious tomatoes and fresh basil. Take a break from heavy winter food and bring back a taste of summer!










Eating for IBS

Eating for IBS is the
life changing cookbook for good digestive health. Discover the delicious diet behind Heather Cooks!


Tell a friend about
the IBS newsletter!



First Year: IBS

First Year: IBS is an essential guide that covers the core issues of
symptom prevention on a daily basis, including: stress management, yoga, hypnotherapy, travel, work concerns, social events, restaurants, holidays, children with IBS, support groups, and more!



December 12, 2002


Orange Corn Bread

Bake a golden loaf of moist, rich corn bread with the sweet perfume of fresh orange zest. Just 10 minutes in the kitchen to get a batch in the oven!






Give yourself a hand for baking such a delicious bread from scratch!

This tender loaf has a light crust that toasts to crispy perfection. Have a piece for a quick snack with a cup of herbal tea.




Hello to everyone!

Special News - IBS Message Boards!
Coming very soon, there will be IBS Diet and IBS Recipe Exchange message boards at the Eating For IBS website. These interactive boards will be friendly, supportive places with two separate focuses. One is for everyone following the IBS Diet, so that they may share dietary ideas, questions, and suggestions. The other is just for all you cooks out there (from beginner to gourmet!) who have asked to share IBS recipes. Both boards will have several moderators who are personally experienced with the IBS diet, and who will help me ensure that board messages have accurate information and remain supportive and focused. The boards will go live shortly!

Best,

Heather Van Vorous Heather Cooks! Now No Need to Log On!
The internet's only full-length cooking show, at HeatherCooks.com, has always been free, but now it's more accessible than ever. You can directly enter the site to watch the shows or just get recipes without logging on via email and password. If you had trouble accessing the shows in the past please try again, and click here to watch Orange Corn Bread. Or, just click here to get the recipe! If you live in the Seattle/King County area, you can also watch Heather Cooks on television every week. We air on the Scan network, at channels 77 and 29.

This week, take just ten minutes to bake a moist, rich corn bread with the sweet perfume of fresh orange zest. With soy goodness and no cholesterol, this bread's great for breakfast and snacks! Even if you've never baked before, the recipe is foolproof. You can also easily double the recipe and freeze extra loaves. This bread is especially heavenly toasted and topped with a drizzle of honey. Yum!


Actress Lynda Carter Champions The Need To Talk About IBS
Actress Lynda Carter will champion a nationwide public education initiative sponsored by Novartis Pharmaceuticals, Talk IBS, designed to educate women about the symptoms and management of irritable bowel syndrome (IBS) and to arm them with the tools to work with their physicians to get proper diagnosis and care. The launch of Talk IBS was sparked by the findings of Irritable Bowel Syndrome in Women: The Unmet Needs, a new report from the Society for Women's Health Research.

American Academy of Family Physicians Releases New Guidelines for Management of IBS
EXCERPT: "Irritable bowel syndrome is the most common functional disorder of the gastrointestinal tract and is frequently treated by family physicians. Despite patients' worries about the symptoms of irritable bowel syndrome, it is a benign condition. The diagnosis should be made using standard criteria after red flags that may signify organic disease have been ruled out. An effective physician-patient relationship is vital to successful management." Click here for more information...

GERD: A Growing Concern
GERD's symptoms are all too familiar to the 25 million American adults who experience them on a daily basis: heartburn; an acid taste in your mouth; trouble swallowing; and regurgitation of food. Most mild cases are easily treated with changes in eating habits and medications, and more severe ones can be treated with the latest in surgical procedures. But some doctors are starting to make the troubling link between the increasing number of GERD cases and a similar jump in the number of cases of esophageal cancer.

Common Virus May be Linked to Colorectal Cancer
A virus that lurks harmlessly in the bodies of tens of millions of Americans may play a role in the development of colorectal cancer, new research suggests.The findings are preliminary, and the germ -- known as human cytomegalovirus -- might not actually contribute to the development of the second deadliest type of cancer, says study co-author Dr. Charles S. Cobbs, a neurosurgeon at the Birmingham VA Medical Center in Alabama. "But if other people can confirm this data, then the plot thickens," he says. Click here for more information...

Chemo Drug Improves Crohn's Symptoms
The painful and debilitating symptoms of Crohn's disease may be eased or even eliminated by a seemingly unlikely source -- a drug primarily used to boost immunity. A study shows Leukine to be a unique and promising new approach to treat the disease. The irony: Crohn's has been thought to result from an overactive immune system, and traditional therapies have attempted to suppress -- not enhance -- immune activity. Click here for more information...

"How often and how much soluble fiber supplement should I take?"
For the powders (Citrucel, Metamucil, Benefiber) start at 1 teaspoon twice a day and over the next week or two work up to 2 tablespoons twice a day. If you're using pills start at 2 pills twice daily and and work up to 2 pills four times daily. You can also mix and match the powders and pills (for example, take the powders at home but keep the pills on you at work or for taking before restaurant meals). Make sure you have a large glass of water with each dose, and drink fresh water frequently throughout the day as well. Soluble fiber needs water to work. You can take soluble fiber every day for the rest of your life. There are no risks or side effects, but there are quite a few health benefits in addition to getting your IBS under control.

If you're prone to bloating or gas avoid Metamucil (and psyllium) and try Citrucel, Fibercon, or Benefiber instead. Also, be aware that the sugar-free versions of the supplements can contain artificial sweeteners, which can trigger IBS attacks. In addition, citric acid is often added to orange-flavored supplements, and this can cause acid reflux in some people. If these are concerns for you, choose a sugar-sweetened or unsweetened, unflavored variety of supplement.

Heather & Company is dedicated to serving people with IBS. Our mission is to offer education, services, and products that allow people with IBS to successfully manage their symptoms through lifestyle modifications. We currently offer the books
Eating for IBS and First Year IBS, web site resources, seminars and classes, and Heather Cooks!, a healthy cooking show on the internet and television. We will soon have other IBS services available. Heather Van Vorous, an IBS sufferer since age 9, is the company founder and president.

Our websites receive over 250,000 unique visitors each year, and our newsletter is sent to over 11,000 people twice monthly. Every week over 100 new people join our mailing list. Heather & Company and Heather Van Vorous offer the following...

The world's best-selling book for IBS

The internet's only full-length cooking show, with thousands of subscribed viewers

Excerpts and recipes from Eating for IBS licensed by Novartis Pharmaceuticals

Included in 4th edition of Marquis Who's Who in Medicine and Healthcare

Clinical research study based on Eating for IBS diet underway in the hospital gastroenterology practice of Dr. Noel Hershfield in Calgary, Canada

Dietary information used by the Radiology Department of the Cancer Centre in Birmingham, England, for treatment of radiation enteritis

Information requested by gastroenterologists and family physicians across the USA, Canada, UK, and Australia for IBS patient distribution

The "Authorized Expert" for Diet & Nutrition at the IBS Association and IBS Self Help Group forums

Finalist for an IACP Julia Child Cookbook Award 2001 - Eating for IBS

#17 on the Library Journal's Cookbook Bestseller list for 2000 - Eating for IBS

Work with corporate HR departments to offer employee IBS education programs.

Nominated for a Woman of Strength Award by Oxygen.com

Over 4,000 personal thank you letters received from readers worldwide for IBS dietary information

Foremost patient-expert on IBS in America

Sponsorship opportunities are available for the websites and this newsletter. Please click here to contact us for information.



You are receiving this email because you have expressed interest in IBS news and information.
To unsubscribe from this newsletter, please click here.



LEGAL DISCLAIMER - This email is not intended to replace the services of a physician, nor does it constitute a doctor-patient relationship. Any application of the recommendations in this email is at the reader's discretion. Heather Van Vorous and Heather & Company are not liable for any direct or indirect claim, loss or damage resulting from use of this email and/or any web site(s) linked to/from it. Readers should consult their own physicians concerning the recommendations in this email.