Hello -
Enjoy this week's classic IBS recipe made from every day pantry staples. I hope it gives some comfort for these very scary times.
Gramma's Chocolate Applesauce Cake
This is a family heirloom Depression era cake that's fast and easy to make from basic pantry staples. I grew up watching my Grams bake this cake frequently, and it is now one of my own most cherished standbys. I still follow the directions from the original recipe card written in my grandmother's lovely old-fashioned handwriting, although I have made several adaptations for IBS.
This is called a cake, but it's baked in bread loaf pans and is not really dessert-sweet. It's easily suited to breakfasts and snacks. It comes out perfectly every time, and it is dependably scrumptious. I consider this my most treasured recipe.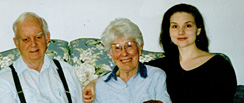 Bumpa, Grams, and me
Makes One 9 x 5" loaf, 16 slices per loaf
Preheat oven to 325F.
Sift together in large bowl and whisk thoroughly to combine:
2 cups all-purpose unbleached white flour
2 tablespoons
Tummy Fiber Acacia
2 teaspoons baking soda
1/3 cup unsweetened cocoa powder
1 tablespoon cornstarch
1 cup granulated sugar
1/2 teaspoon cinnamon
1/2 teaspoon cloves
1/2 teaspoon nutmeg
1/2 teaspoon salt
Whisk together by hand thoroughly:
1 3/4 cups homemade or unsweetened bottled applesauce
1/4 cup canola or safflower or sunflower oil
1 tablespoon vanilla
1 cup diced raisins
Add the wet ingredients to the dry with a few swift strokes by hand, just until well blended. Pour batter into loaf pan sprayed with cooking oil. Bake for 1 hour to 1 hour 15 minutes, or until a toothpick or cake tester inserted into the center of the loaf comes out clean. Cool on rack.
Gone gluten free? Substitute a gluten free all purpose white flour such as Bob's Red Mill.
Final step? Enjoy your cake! And if you make this, post your own picture or video results to our private
Facebook Group
to share!
You are not alone!
P.S. If you have any questions or comments I'd love to hear them - just reply to this email to reach me directly.
To taming your tummy,
Heather

Heather Van Vorous
Over 40 years dealing with IBS
By the way...
If you'd rather not receive our recipes and tips, use the link below.
You'll still receive my other emails, updates, and information on dealing with IBS.
Yes, opt me out of recipes, tips, and fast facts emails (Please keep me on your list).
---
You can change your email below or unsubscribe completely from my emails.
If you do, I won't be able to send you any updates about your orders, complimentary information on dealing with IBS, special deals, and much more.
If you have any issues, please reply to this email and let me know.
I'm here for you. =)

You're on this newsletter list because you have expressed interest in IBS news and information.
Change your newsletter email address here.

Unsubscribe Here
If you are viewing this newsletter on a website and would like to subscribe for email delivery, please "Join the IBS Newsletter" here.

ANTI-SPAM PRIVACY & SECURITY POLICY
HelpForIBS.com
Heather's Tummy Care
19203 70th Ave S
Kent, WA 98032 USA
866-640-4942

© 2020 Heather Van Vorous, Heather's Tummy Care. All rights reserved.
Authored by Heather Van Vorous. May not be reproduced without permission.
USA Copyright Office Registration Number TXU 1-270-858 and others.