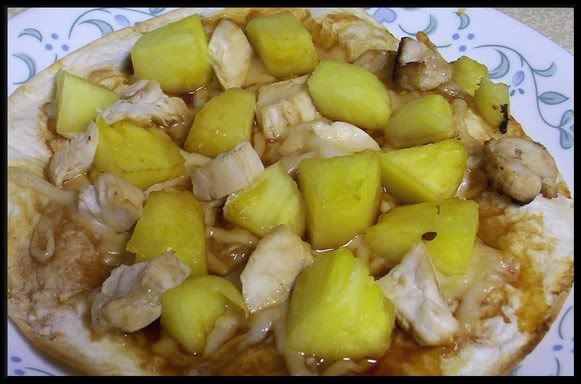 Teriyaki Tortilla Pizza for One

This is an easy weeknight meal. It's crispy, melty, and satisfying! Use as much of the pineapple and chicken as you prefer. The original recipe called for chunks of deli ham, so I'm sure turkey ham would be great on this as well.

1 flour tortilla
1/2-1 tablespoon teriyaki sauce
1/4 cup grated mozzarella soy cheese
pineapple chunks
chopped, cooked chicken breast

Preheat the oven to 400 degrees.
Spray the bottom of the tortilla with cooking spray.
Spread the teriyaki sauce on the tortilla.
Scatter the cheese on top of the teriyaki sauce.
Scatter the pineapple chunks and chopped chicken on top of the cheese.
Place a baking pan on a bottom rack of the oven. Put the tortilla directly onto the rack above the pan (so the pan can catch any falling juice or falling pineapple in my case!).
Bake for 7 minutes.
Carefully remove it from the oven to cool a bit before you eat it.
Eat it over a plate because this is juicy! I ended up using a knife and fork for part of it.

NOTE: I added more teriyaki sauce because it looked like it needed it, but once the tortilla crisped up it was almost too much! So you may want to start with the Tbsp or less suggested in the recipe.



Adapted slightly from a recipe by ladypit on Recipezaar

--------------------
"Anyone can exercise, but this kind of lethargy takes real discipline." -Garfield

Post Extras