And my rat girlies ...
#273283 - 07/10/06 08:00 AM
CathUK

Reged: 05/25/04
Posts: 373
Loc: Cambridge, UK


Poppy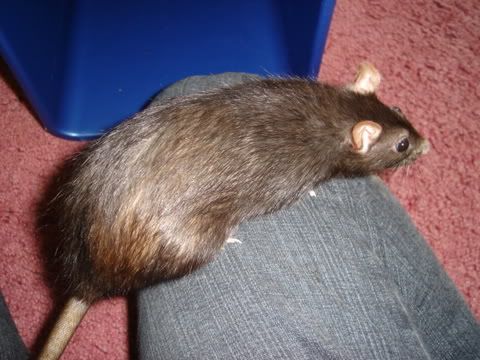 Parker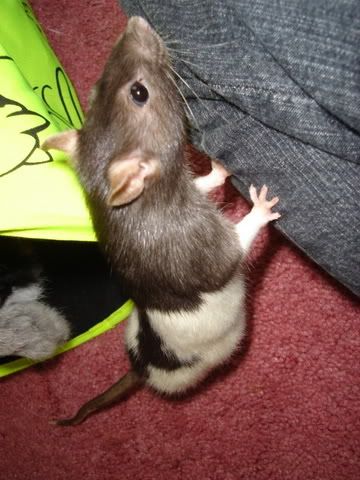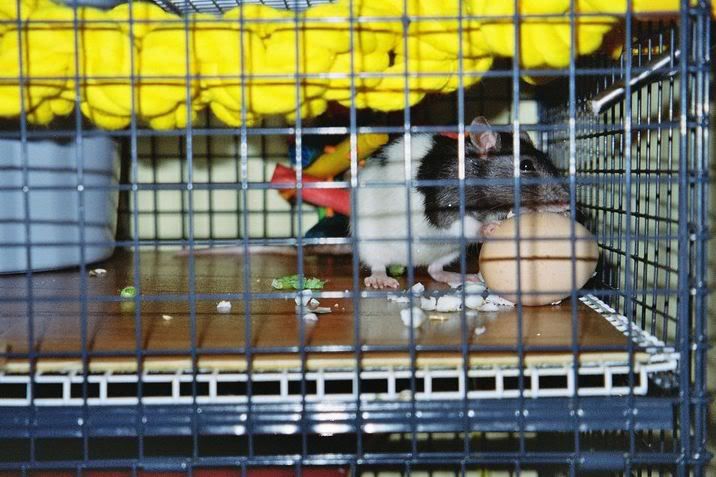 Primrose (with friends)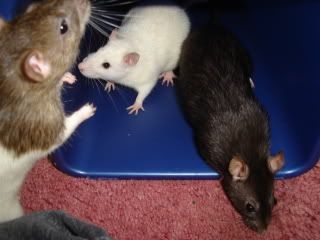 Lilly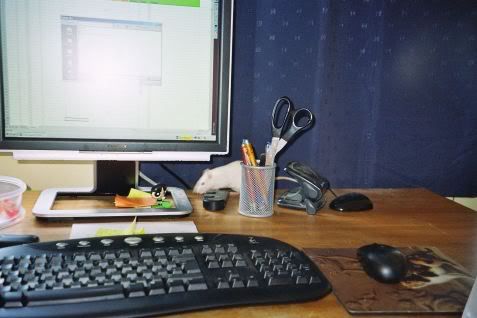 Alice (near food as usual)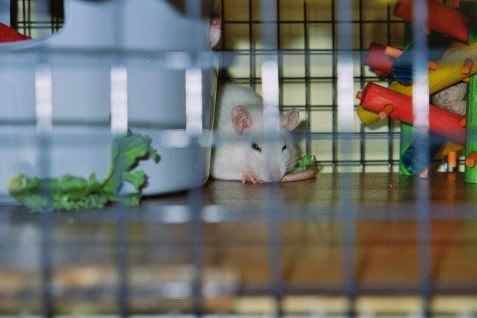 And a couple of their cage.

Winter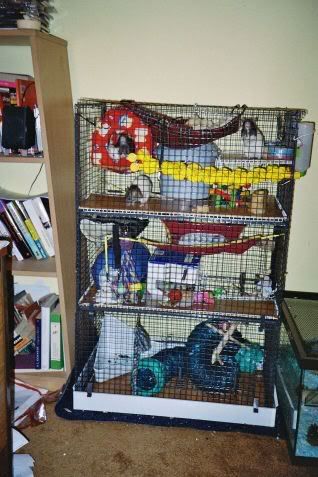 Summer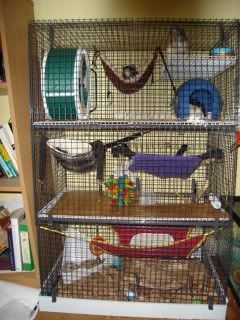 Print Remind Me Notify Moderator



I saw the other post too... look at all those little cuties!



You have a fantastic cage setup, too. But now I have a couple questions. Do they prefer a bare cage floor like that? I've always thought they liked to burrow down in something, so I've been using shavings... but bare floors would make things SO much easier to clean! Second - how on earth do you get them to not chew those hammock/sling things to pieces? We had one and it lasted about 24 hours before *someone* - Miss Lew, I believe - chewed 2 of the supports clean through, and turned it into a curtain instead of a sling. LOL!

Sorry I haven't been on the rat boards much - they move impossibly slow for me, for some reason, and I lose patience!

Print Remind Me Notify Moderator



Shavings are not recommended as they contain dust and give off phenols, all of which can cause respiratory disorders in later life. They are also a pain in the neck to clean up!!!!

Be careful with wire wheels as well as they can trap their tails in them and they can also cause back problems if they are not big enough. Don't do what I did though and shell out for a wodent wheel, as it has a rough coating and it is impossible to get the trodden in poo off it!!!

The top two levels of my cage are covered in lino, which I wipe down with unscented baby wipes everyday. The bottom level is filled with about an inch of cardboard squares called EcoPetBed, which is dust free. This only has to be changed once a week. It also helps having a litter tray, as most most of my rats use this and I clean it out every day.

The rats can dig around in the cardboard if they want, although rats by nature are not really burrowers. Our favourite game is for me to scatter the bedding with some hemp seeds, linseeds and millet + a few dog biscuits and dried mealworms, so that they have to rummage around to find them. It keeps them occupied for ages!! They also like chewing the cardboard and decorating their 'nests' with it.

I use fleecy blankets cut into squares for bedding in the winter and Tescos value 20p facecloths in the summer.

Hammock strings, hmmmmmm - the best quality hammocks tend to use straps which are about an inch in width and quite tough. The normal ones - well I tend to improvise with bits of wire and string, as they don't tend to last that long. With your sewing knowledge I'm sure you could come up with something! How about wrapping garden wire in fabric and using that as a support?? Mine like the hammocks with pockets so they can snuggle up together in them.

Oh and lino is good in hot weather when they sprawl out on the shelves to cool down.

Please, please can we have some pictures of your two!!!

Catherine



Print Remind Me Notify Moderator



Catherine!


#273401 - 07/10/06 04:13 PM
atomic rose

Reged: 06/01/04
Posts: 7013
Loc: Maine (IBS-A stable since July '05!)


I do have some pictures to post...

"Hmmm, what's this?"



*nibbles*



"Mmmmm!!" *lick* "This is *lick* *chomp* really good!" *chomp*



*all smiles*



That's my silly girl!

I'm sure ice cream sandwiches are not good for rats, but we don't make a habit of giving them that kind of thing anyway... Adam couldn't resist this time, though.



It's probably too late to avoid respiratory problems for my two, as they're actually senior citizen ratties at this point already, but I think I'm going to try switching them to non-shaving bedding, just because the shavings are a serious pain when it comes time to clean. The cage we're using is a refurbished bird cage, so it has a litter tray on the bottom, but because of the shavings, we don't use it - you can't pull it out with clumps of wet wood on it. Icky!

We do finally have a half-decent wheel for them, after going through no less than 4 of the blasted things. The wheel we have now is wire, but it's more of a mesh than those awful bars, and it's quite big. We tried a solid wheel at one point and they absolutely hated it - wouldn't use the thing.

The hammock they had had very wide straps, 4 of them, that clasped onto the cage with metal hardware. Lew made short work of those straps, that's for sure. Putting wire in the fabric might be something to try. I think you overestimate my sewing skills, though.



Anyway, thanks for all the advice! Now I know better what to do for future ratlings. See, I really need to spend more time at that forum... our setup here is standard for what people on this side of the pond use for rodent pets, and none of us have any idea that that's not ideal. Even books say to use wood shavings. Sigh!

Print Remind Me Notify Moderator



Great pictures - they are gorgeous and I love the look on her face as she spots the food.

Don't worry, when I got my first rat I was told -

Get just one or they won't bond with you (this led to very depressed rat, so I went and got her a friend)

Get this cage (turned out to be far to small so I had to buy another one over the Internet)

Feed Reggie Rat (evil stuff - they are now on the Shunamite diet and love it)

Use sawdust (grrrrr)

BTW the cardboard doesn't seem to get that wet, so it is easy to clean out. Plus it doesn't get chucked out of the cage and stuck in your socks



I reckon you could just sew two edges over on a square of fabric and feed the wire through them to make a hamock. Of course its not nearly so much fun for the rats if they can't destroy something!

Print Remind Me Notify Moderator