your veil is beautiful and why don't we wear hats here in the U.S.?!?!

--------------------



Print Remind Me Notify Moderator



Thanks!


#188708 - 06/23/05 02:18 PM

Yeah, the location was perfect. It was the historic home of George Rogers Clark (of Lewis and Clark fame) and as well as being very inexpensive, was absolutely gorgeous. The weather was great that day too!

As for the dress, well, my mom wanted me to wear it and I did. I'm not super fond of it, and I would like to have picked my own. But, Eric promises some day we'll renew our vows and I can buy whatever dress I want!



Print Remind Me Notify Moderator



but mine are at home and I'm still at work.


Maybe later tonight. I love seeing everyone's wedding pics!

--------------------



Print Remind Me Notify Moderator



that it was the good old days before digital. Can't post any.

It's going to be our 8th wedding anniversary this July. Good grief. Has it been that long?

--------------------
Formerly HanSolo. IBS, OCD, Bipolar, PTSD times 3.

Print Remind Me Notify Moderator



Thanks Linz


#188736 - 06/23/05 03:42 PM
cailin

Reged: 08/12/04
Posts: 3563
Loc: Dublin, Ireland


I love them. That pic of you doing the vows is fabulous. Is the veil antique? It looks amazing! I also adore your bouquet. And the pic on the boat is fab, so relaxed...has your first anniversary passed yet? Oh I can't wait til I post my wedding pics here! Wish I had something to share!

--------------------
S.

Print Remind Me Notify Moderator



That's really sweet that you wore your Mom's dress. You're lucky that it wasn's super-hick- My Mom wore a turtleneck longsleeved lace number that she made herself.

The weather looks amazing and the thoughts of having an outdoor wedding and reception is fantastic, but completely impractical over here in showery Ireland



--------------------
S.

Print Remind Me Notify Moderator



epa_ginger-

I LOVE wedding pics. When did you get married and where, details please...!

I just read your profile and I am a fellow text message addict. We have had textmessaging in Europe for five or six years now but I think its only new in the US ? Got thumb strain yet? I text as fast as I type!

Looking forward to seeing your pics!

--------------------
S.

Print Remind Me Notify Moderator



Oh no, no, no... it DID have a lace overlay turtle neck-- complete with rickrack choker!! That's where the $30 for alterations went.



Print Remind Me Notify Moderator



Details: got married in March 2005, in Joliet, IL (Southwest of Chicago) at the church my parents were married at, which was a block from the house we had lived at for the past 11 years. It was cool to walk down the street to the ceremony with my wedding party!
Reception Downtown Joliet, awesome place, great time, we spent the night at the Harrah's Casino across the street, which was nice because we didn't have to drive anywhere, and the only bad thing was I forgot extra shoes so I walked out the next morning in jeans, a t-shirt, and some lovely satin pumps! LOL!
Honeymoon, (sigh)---three weeks long, beginning in Barcelona, onto Nice, Venice, Rome, Santorini, and Athens. I believe I gained 5-7 lbs on the trip, which was acutally visible in photographs from Athens. Oh, the food....I loved Europe and I can't wait to get back one day. And at the time the Euro and dollar were about 1:1 which was great!!!

Have no clue if I'm doing this right but here goes:

The first one is me waiting to walk in with my cousin and maid of honor.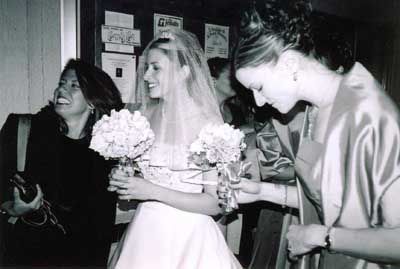 The next one is me and my husband coming out of the church after the ceremony. (Yes, he's 27 and now almost bald!!)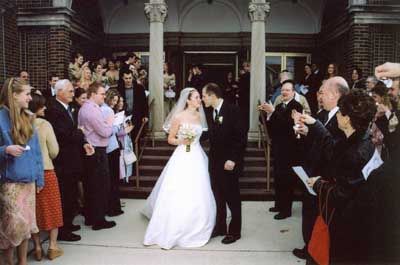 The next is me dancing with my dad, you can see the back of my dress....(p.s. my dress had straps I could put in at the reception, which worked out GREAT!)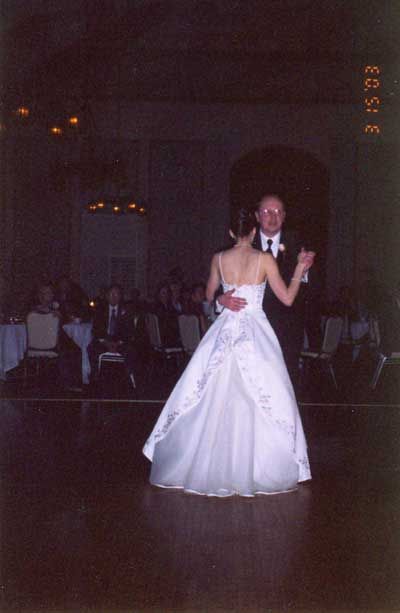 And this last one is on our honeymoon in front of the Trevi Fountain...(he is holding a rose that we were badgered into buying for some ridiculous sum!!!)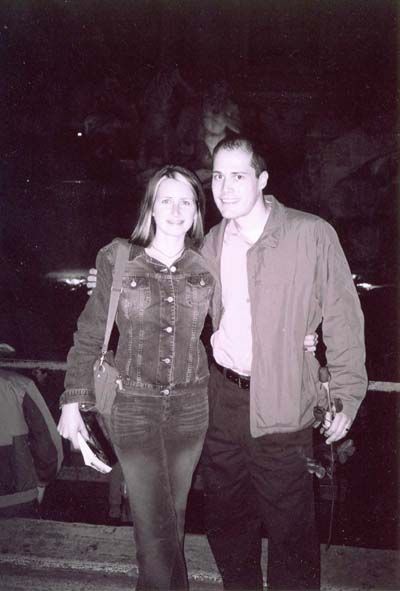 --------------------



Print Remind Me Notify Moderator



Oh those pictures are great! Thanks for sharing! You guys look so cute.



And I'm very jealous of your honeymoon- I wish we could have done that!!

Print Remind Me Notify Moderator