Heather Cooks! IBS Cooking Show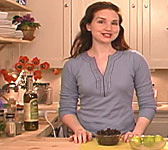 Previously aired on Seattle TV, and now on DVD! See all Heather Cooks recipes!
Step into my kitchen and watch
Heather Cooks
, television's only cooking show with fabulous food for good digestive health!
Everything we'll cook is low fat, high soluble fiber, and avoids all red meat, dairy products, and egg yolks. Insoluble fiber foods are carefully incorporated for good nutrition.
Most importantly, everything we cook is absolutely delicious – and that's a promise.
If you don't quite believe that healthy cooking truly can be both fun and a real treat to eat, you're in for a wonderful surprise. This show is for you, the audience, so recipe requests and questions are always welcome. I'd like everyone to have a great time making my dishes, and an even better time eating them!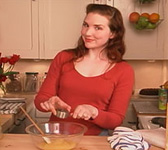 We'll be cooking everything from fast-and-easy meals based on fridge and pantry staples, to gourmet recipes and party foods. We'll demonstrate recipes from my cookbooks and add simple twists to create new variations.
For holidays throughout the year we'll take family favorites and make them safe and healthy, while keeping them traditional and delicious. There will also be occasional features on preparing food for traveling, for children, and exploring ethnic cuisines.
I really do want to have much of the show content dictated by the audience, so that I can offer the type of cooking advice you'll find most helpful and interesting.
Above all else, I hope to convince everyone that cooking great meals for good health is not a contradiction in terms.
Are you ready to don your apron and oven mitts? The cooking show airs weekly and
all recipes are posted here.
Just step into my kitchen and cook right along with me. I hope you enjoy each week's broadcast, and that you'll join me in the kitchen every week for healthy cooking that's not only good for you, but just plain good!
Heather Cooks! is now available on DVD with illustrated recipe cards.
All dietary information is copyrighted by Heather Van Vorous and MAY NOT BE REPRODUCED without permission.