Heather's IBS Diet Cheat Sheet & Newsletter

I have so much help for IBS to share with you! Let's start with:

Free shipping on your first Tummy Care order! Use Promo Code CHEATSHEET2
(US orders only)

Your Free IBS Diet Cheat Sheet, with information from the book Eating for IBS

Learn The Five Key Categories Of IBS Treatments

Have questions? Call us toll free (866) 640-4942. Outside the US (206) 264 8069.


  
Best Wishes,
Heather Van Vorous & Heather's Tummy Care
Over 15 Years of IBS Business!
Get Comprehensive IBS Dietary Help For ALL IBS Symptoms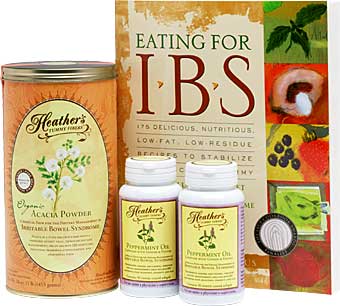 ~ Comprehensive IBS Dietary Help for ALL IBS Symptoms ~

Heather's IBS Diet Kit #2 - Get 20% Off!

* Eating for IBS, the complete IBS dietary guide & cookbook

* Plus Peppermint Tummy Tamers, to prevent IBS abdominal pain and cramps

* Plus Acacia Tummy Fiber, to relieve both diarrhea and constipation!



Fast & Easy Comfort Food! Homemade Tuna Casserole

If you're struggling to get your IBS symptoms under control and trying to find safe things to eat, you're likely craving foods that are comforting as well. One of these best-loved traditional favorites is Tuna Casserole, which many folks remember fondly from their childhoods for the crushed potato chip topping. Typically, this recipe is made with a high-fat, dairy-based canned soup mix, plus lots of whole milk as well. There's a digestion-friendly alternative, though, and the result is just as delicious - as well as very fast and easy to prepare.

Why is this recipe safe for IBS? The basis of Tuna Casserole is the noodles, which give the perfect soluble fiber basis for stabilizing digestion. Canned white tuna fish adds a small amount of heart-healthy oils and easily digested protein, and soy milk replaces the dairy to eliminate that trigger. The real secret, though, is to saute a blend of fresh mushrooms, celery, and onions and then puree the mix with silken tofu. The insoluble fiber of the fresh veggies is thus minimized but the good nutrition remains.

This simple substitution (never deprivation!) gives a creamy result that's a perfect stand-in for the canned soup mix, with none of the trigger foods but all of the flavor. The final touch? Baked potato chips, crumbled over the casserole for a golden, crunchy topping just like you remember. Delicious!

Homemade Tuna Casserole

4-6 Servings

3 c. dry macaroni or wide noodles (the soluble fiber foundation)
1 1/2 c. diced mushrooms
1 c. diced sweet white onion (well-cooked to off-gas the sulfur)
1/2 c. diced celery (well-cooked to minimize the insoluble fiber)
1 T. Acacia Tummy Fiber (increases the soluble fiber foundation)
1/4 t. celery seed
1/2 t. salt
10-12 oz. pkg. silken tofu, drained (substitutes for high fat canned soup mix)
2 (6 oz.) cans white tuna in water
1 1/2 c. plain soy or rice milk (substitutes for milk, as dairy is a trigger)
Baked Lays potato chips (minimizes fat, as fat is a trigger)

Preheat oven to 350F. Cook pasta in a large pot of boiling water with 2 teaspoons salt until tender. Drain.

While pasta is cooking, saute mushrooms, onion, and celery in a large nonstick skillet sprayed with a little cooking oil. Cook over medium high heat until very tender and golden, and liquid released from mushrooms has evaporated.

Puree cooked veggies in a blender or food processor with Acacia Tummy Fiber, celery seed, salt, and tofu.

In a 9" square baking pan or casserole dish, combine cooked noodles, pureed veggie/tofu mix, and drained tuna. Stir to mix well. Add soy milk and stir gently. Top with crushed baked potato chips as desired.

Bake for 35-40 minutes, until golden brown. Serve with ketchup.

For oodles of other delicious recipes, get Eating for IBS!

Are you just learning how to eat for IBS? Intimidated at the thought of special IBS recipes? Not quite sure just what makes a recipe IBS-friendly in the first place? Don't worry! Get the IBS Diet Kit #2 and find the answers to all your questions.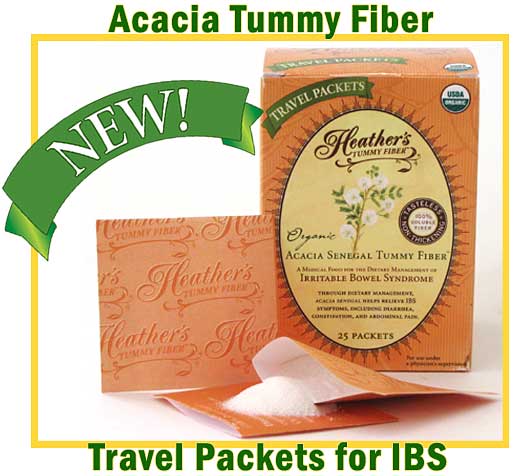 Certified Organic Acacia Senegal ~ Pure Soluble Fiber

The prebiotic fiber that relieves both diarrhea and constipation!

100% Acacia Senegal ** Never Low Grade Acacia Seyal

Fennel Tummy Tea Helps End Three Years of Bloating

Hello Heather,

I wanted to tell you about my last 3 years with IBS. I'll make it short. Until I found your web site and the use of Fennel Tummy Tea, my life had been terrible to say the least. I had surgery on my hiatal hernia 3 years ago, called a Nessin Fundulplication. Six months after the surgery I developed what doctors called IBS.

I lost 24 pounds in 4 months. I was so weak from losing so much nutrition that I spent most of my time in my house in bed. I made myself eat but had to be very careful, as you know. I paid doctors over $12,000.00 in deductibles over the past 3 years. I was so bloated with gas and extreme discomfort in my stomach.

I found out finally that the type of surgery I had can cause a lot of intestinal agony. I would spend hours on the internet looking for any relief. I tried all kinds of over-the-counter drugs and prescription drugs from the doctors. Nothing gave me relief from the spastic colon, all the bloating and the pain, and so much diarrhea.

I started on the Fennel Tummy Tea over a month ago. In just 2 days I lost all the bloating and gas and the pain in my upper stomach. I was apprehensive about these results but kept drinking the tea three times a day. Most of my problems are gone. I just can't believe that such a simple little cup of tea has done so much for me. I can't say enough about this wonderful natural seed. AND I want to thank you for all your years of investigation leading to your website and all the help you have given to so many people.

I don't have to take anymore drugs, not even Imodium. I want you to know that I wrote a letter to my gastro doctor and asked her to tell her patients about your website. Again, thanks to your help I have my life back! I have gained six pounds back in four weeks and have a lot more energy.

Keep up the good work!

Deborah Naert
Des Moines, Iowa

Thank you SO much, Deborah! I really hope your wonderful letter gives hope and help to others. ~ Heather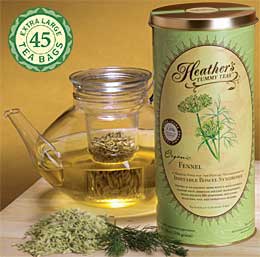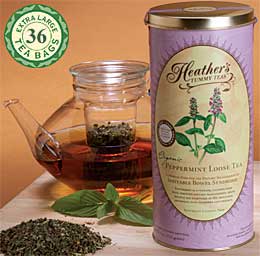 Organic Fennel & Peppermint Tummy Tea Bags

Extraordinary Quality ~ Very Economical

Fennel is terrific for bloating & gas, Peppermint is great for IBS pain & spasms.

Long Term Benefits to IBS Hypnotherapy - 5 Years of Remission
A significant study in Gut has found that there are long term benefits of hypnotherapy for irritable bowel syndrome. Researchers at the Department of Medicine, University Hospital of South Manchester, Manchester, UK had noted that there is now good evidence from several sources that hypnotherapy can relieve the symptoms of irritable bowel syndrome in the short term. However, there was no long term data on its benefits, and this study aimed to answer that question.

204 patients prospectively completed questionnaires scoring symptoms, quality of life, anxiety, and depression before, immediately after, and up to six years following hypnotherapy.

RESULTS: 71% of patients initially responded to therapy. Of these, 81% maintained their improvement over time while the majority of the remaining 19% claimed that deterioration of symptoms had only been slight. With respect to symptom scores, all items at follow up were significantly improved on pre-hypnotherapy levels and showed little change from post-hypnotherapy values. There were no significant differences in the symptom scores between patients assessed at 1, 2, 3, 4, or 5+ years following treatment. Quality of life and anxiety or depression scores were similarly still significantly improved at follow up. Patients also reported a reduction in consultation rates and medication use following the completion of hypnotherapy.

CONCLUSION: This study demonstrates that the beneficial effects of hypnotherapy appear to last at least five years. Go here for information about gut-directed self-hypnosis for IBS and to listen to program audio samples.



The Best Gut-Directed Self-Hypnosis Program for All IBS Symptoms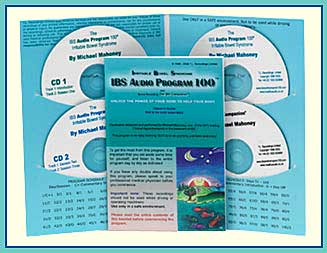 Gives an average 85% reduction of pain and bowel dysfunction symptoms.
Listen to IBS Audio Program 100 samples!

Peppermint Oil Caps Called Drug of First Choice for IBS
A recent study in Phytomedicine reviewed 16 clinical trials investigating 180-200 mg enteric-coated peppermint oil capsules in irritable bowel syndrome. Nine out of 16 studies were randomized double blind cross over trials, five had a randomized double blind parallel group design and two were open labeled studies.

Placebos were used in 12 trials and anticholinergics (smooth muscle relaxant drugs) in three studies as comparator. Eight out of 12 placebo controlled studies showed statistically significant effects in favor of peppermint oil capsules. Average response rates in terms of "overall success" were 58% (range 39-79%) for peppermint oil caps versus 29% (range 10-52%) for placebo. The three studies versus smooth muscle relaxants did not show differences between treatments; in other words, the peppermint oil capsules were as effective as the drugs. The study noted that both anticholinergic drugs and 5HT3/4-ant/agonists (such as Zelnorm and Lotronex) do not offer superior improvement rates over peppermint oil caps.

Taking into account the currently available drug treatments for IBS, the study noted that peppermint oil capsules may be the drug of first choice in IBS patients with non-serious constipation or diarrhea to alleviate general symptoms and to improve quality of life. Go here for more information about peppermint oil capsules...

"Good" Bacteria Help IBS as much as Drugs Zelnorm and Lotronex
A drink containing a probiotic strain relieved symptoms of irritable bowel syndrome to the same extent as pharmaceutical treatments for the condition, report Irish researchers.

The team from the Alimentary Pharmabiotic Centre, set up last year at Ireland's University College Cork to investigate bacteria and gut health, found that patients who consumed a drink containing Bifidobacterium infantis 35624 everyday for eight weeks experienced fewer overall symptoms, abdominal pain and discomfort. The symptom relief was comparable to that seen with Zelnorm (tegaserod) and Lotronex (alosetron), prescription drugs that have been approved for the treatment of irritable bowel syndrome (IBS).

"Our hypothesis is that low-grade inflammation is a factor in IBS and that certain probiotic bacteria can reduce this inflammation. We have some evidence to support this theory because our paper shows a change in cytokine ratios after the probiotic treatment," said Dr Quigley. He added that further clinical trials are ongoing and research into the mechanism will also be carried out by the team. Go here for information about prebiotic Acacia Tummy Fiber, which encourages the growth of probiotics in the gut.



Eating for IBS - Real Dietary Help For Irritable Bowel Syndrome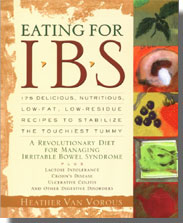 The book that's inspired thousands of thank you letters to Heather!

* Learn Safe Foods Vs. Trigger Foods

* Soluble Vs. Insoluble Fiber

* How To Eat, Not Jut What to Eat

* Learn Substitution, Never Deprivation!

Dairy and IBS
"I have IBS - is it okay to drink lactose-free milk or eat yogurt?"

Unfortunately, lactose is just one of many elements in dairy that can cause digestive distress. There are several other components in dairy that can all trigger IBS problems.

Lactose intolerance is often misdiagnosed or confused with IBS, but they are two different disorders. You can be lactose intolerant and have IBS. You can also not be lactose intolerant and have IBS, and dairy will still cause trouble. Why? Because dairy is an IBS trigger even if you're not lactose intolerant.

It's simply not just the lactose that's at fault. The high fat content of most dairy products can also cause your IBS to flare. But, even skim and lactose-free dairy can trigger IBS attacks. This is because, in addition to fat and lactose, dairy contains components such as the proteins whey and casein, which can cause severe digestion problems.

Though yogurt is traditionally recommended as an "easily digestible" dairy product because fermentation has reduced the lactose levels, even non-fat versions contain whey and casein, and should be avoided. If you want the benefits of the live cultures in yogurt choose a soy yogurt instead, take a probiotic supplement, and/or use a prebiotic such as Acacia Tummy Fiber to encourage the growth of healthy flora in your gut.

Even if you're not lactose intolerant, but you do have IBS, it's safe to assume dairy is a likely trigger and avoid it entirely. You're much better off using soy or rice substitutes for milk, cheese, ice cream, and in cooking. There are many good brands of dairy replacement products on the market, with more appearing every day. The tuna casserole recipe above is a wonderful example of how to use soy milk for dairy for a delicious as well as digestion-friendly result. As always with IBS, the key is substitution, and never deprivation.

As many IBS patients learn from painful experience, completely eliminating dairy from your diet can be one of the simple concrete changes that makes the biggest differences to IBS.

~ Heather

Check out "What IBS Patients Need - But Don't Get - From Their Doctors" for one of the all-time favorite "Ask Heather" columns!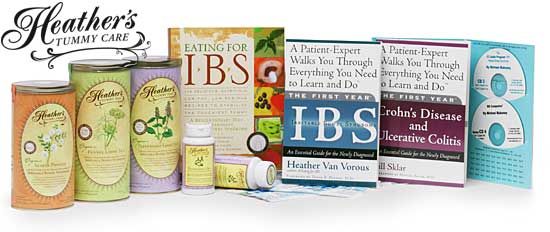 Shop at Heather's Tummy Store for IBS
HelpForIBS.com
The only store that's just for IBS - so we only carry the very best

You're on this newsletter list because you have expressed interest in IBS news and information.




Change your newsletter email address here.

If you are viewing this newsletter on a website and would like to subscribe for email delivery, please "Join the IBS Newsletter" here.

ANTI-SPAM PRIVACY & SECURITY POLICY
HelpForIBS.com
Heather's Tummy Care
19203 70th Ave S
Kent, WA 98032 USA

© 2017 Heather Van Vorous, Heather's Tummy Care. All rights reserved.
USA Copyright Office Registration Number TXU 1-270-858 and others.
Legal and Medical Disclaimer