Baked Salmon With Couscous Pilaf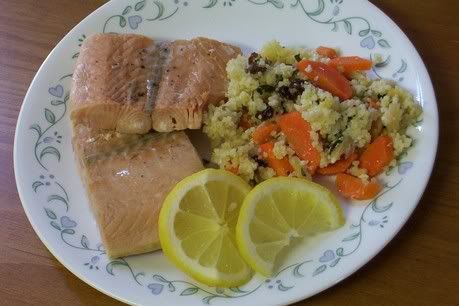 This is a great way to prepare salmon! It has a subtle flavor that really lets the fresh mint shine through.

6 medium carrots
1 cup uncooked couscous
1/2 cup slivered almonds
1/2 cup raisins
1/4 cup fresh mint, chopped
1 tablespoon olive oil
sea salt
fresh ground pepper
4 salmon fillet, skin removed, 7 ounces each
lemon wedges

Preheat oven to 450 degrees F.
Slice the carrots lengthwise and then in 1/8 inch diagonal sections.
In a 9x13 inch baking pan, mix together the carrots, couscous, almonds, raisins, mint, oil, salt and pepper and 1 1/4 cups of water.
Place the salmon fillets on top of this mixture and season generously with more salt and pepper.
Cover the pan with a piece of aluminum foil.
Bake for 30-35 minutes, or until fish is opaque.
Transfer fish to plates.
Fluff couscous with a fork and place next to salmon on plates.
Serve with lemon wedges.

Kree's Note: I halved this recipe, including the water (I used 1/2 cup plus 2 Tbsp), and baked it in an 8-inch square dish for 20 minutes. The salmon and couscous were perfect after that time, but I would recommend cutting the carrot pieces smaller if you try it. I learned that the hard way!



From Geema at Recipezaar

--------------------
"Anyone can exercise, but this kind of lethargy takes real discipline." -Garfield

Post Extras