IBS Stress Kit ~ Immediate And Long-Term Help For All IBS Symptoms!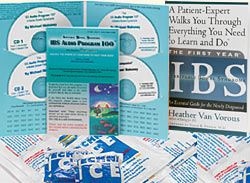 ~ Break the vicious cycle of worry and fear
that triggers and perpetuates IBS symptoms ~

~ For help today plus long-lasting results ~

~ Suitable for adults and children ~
3 Items - For All IBS Symptoms
* The IBS Audio Program 100™
* Gut-directed hypnotherapy for IBS
* Relieves multiple IBS symptoms
* 4 CDs plus program schedule
* Results last for years
* The First Year: IBS book
* Addresses all IBS symptoms
* All-inclusive treatment options
* Reassuring, proactive approach

* 2 Techni Ice Hot/Cold Packs
* Microwaveable and freezeable
* Soothes stress-related symptoms
* Relaxes the gut; great for pain



Great Reviews Price: $108.66 In Stock!

(Over 15% off $128.84 list price)




The IBS Stress Kit - Break the vicious cycle of worry and fear from IBS
This kit offers you a comprehensive approach to controlling your IBS when it's triggered or worsened by stress and anxiety. Dramatic improvements are likely whether your symptoms are minor or so severe that you're housebound. You'll see immediate, tangible results from information in the book and from the heat therapy. Plus, you'll achieve IBS symptom
prevention and elimination
for long-term - possibly permanent - relief following the gut-directed hypnotherapy program. This kit includes:
The IBS Audio Program 100
~
Listen to samples from the program!
The IBS Audio Program 100™, for Irritable Bowel Syndrome self-hypnosis,
consists of 3 gut-directed and gut-specific therapeutic session CDs, with an introduction and five different hypnotherapy sessions. Each builds on the preceding one into a comprehensive 100-day course of treatment. Sessions vary in duration but average 25-35 minutes. The program also includes a bonus 4th CD ("the IBS Companion"), which explains IBS to other people in the patient's life. A program booklet provides a symptom checklist, progress log, listening scheduler, and essential information for IBS sufferers.
The program effectively converts one-to-one sessions that are used in the clinical environment into a unique home-based, easy to follow program for the IBS sufferer. Designed and performed by Michael Mahoney, one of the United Kingdom's leading Clinical Hypnotherapists in the treatment of IBS, the program is the culmination of his clinical experience since 1986. His services are regularly used by gastroenterologists, doctors and other medical professionals. Michael is an associate member of the Primary Care Society for Gastroenterology.
Michael became interested in the treatment of IBS in 1993, due to increased referrals from gastroenterologists who could not find relief for their IBS patients with conventional medical treatments. These patients were the doctor's "heart-sinks" because nothing further could be done for them. In fact, many of these patients had given up hope and were ready to try anything to get relief from suffering with IBS. These were refractory IBS patients; that is, patients resistant to every type of treatment provided for them.
After seeing thousands of IBS patients with every combination of symptoms and duration, who were referred through word of mouth or by medical professionals, the gut-directed and gut-specific hypnotherapy protocols used in Michael's clinical setting were fine-tuned and recorded for patients either too far away or too incapacitated to attend therapy sessions in person.
To test the efficacy and effectiveness of the program, patients were asked to participate in private clinical research trials. These patients were contacted for three follow-up periods of assessment, with the last being three years following completion of the program.
Results exceeded previous research findings and showed the IBS hypnosis program gave an average 85% reduction of pain and bowel dysfunction symptoms.
News!
Researchers call hypnotherapy a "cure" for pediatric IBS.
Please note that individual results may vary.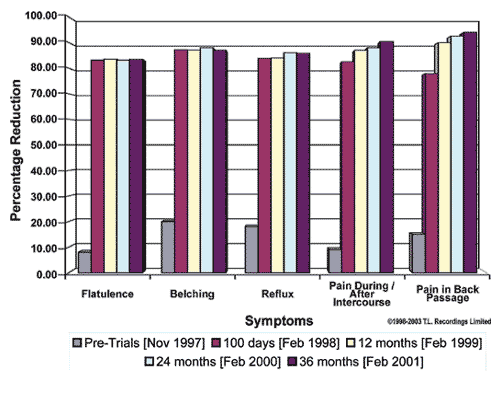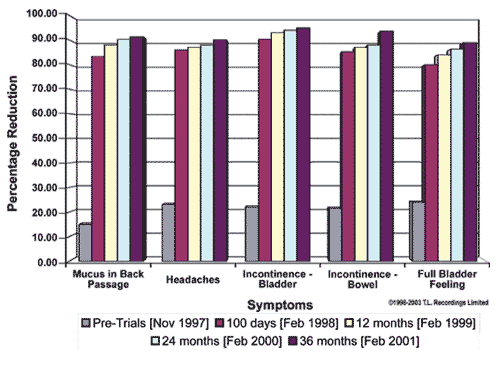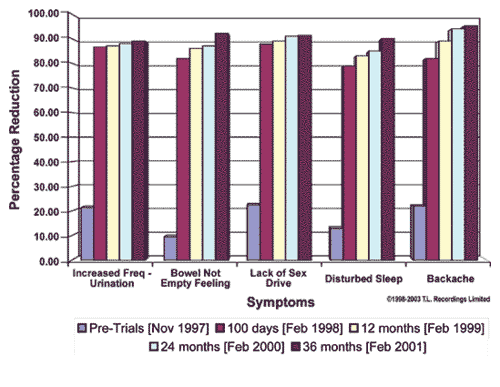 Listen to the IBS Audio Program 100™ for Irritable Bowel Syndrome Self-Hypnosis. The program addresses multiple IBS symptoms, and is particularly helpful for stress/anxiety related IBS. It is extremely relaxing, calming, and soothing.
Click here for a sample from the Introduction ~
Is IBS a necessary part of your life?
Click here for a First Session sample ~
Starting to take control of your life
Click here for a sample from the IBS Companion CD ~
For friends and family of IBS sufferers
Windows Media Player is required to listen to audio samples.
Get Media Player here.
The First Year: IBS, by Heather Van Vorous
Comprehensive information and strategies for managing all IBS symptoms
* Paperback: 242 pages
* Recommended resource by the UNC Center for Functional GI & Motility Disorders
* Excellent reviews by
Library Journal
and
Publishers Weekly
The First Year: IBS
is a critically-acclaimed book that offers a comprehensive and sympathetic approach to managing irritable bowel syndrome (whether you're newly diagnosed or have been struggling for years), by an author who has dealt with the disorder since childhood and prevailed. Whether you suffer from constipation, diarrhea, alternating bowel dysfunction, pain, bloating, gas, or nausea, this essential guide gives you the information you need to take control of your symptoms today.
An easy-to-follow daily/weekly/monthly calendar structure teaches you about the physical pathology behind IBS while giving a multitude of ways to successfully live with it, with a constant focus on symptom prevention.
The research for The First Year: IBS incorporates suggestions, concerns, and personal stories from many Irritable Bowel Syndrome sufferers, and offers:
* in-depth diagnostic and medical information for IBS treatments, drugs, and research
* detailed information about yoga and hypnotherapy for IBS
* extensive suggestions for using supplements and herbs to prevent symptoms
* innovative and successful IBS stress management techniques
* suggestions for dealing with friends and family members
* concise and accurate IBS diet guidelines with sample recipes
* effective alternative therapies for a spastic colon, including acupuncture
* IBS support group resources
* traveling and socializing suggestions
There are also special sections throughout the book just for children with IBS and their parents. These chapters draw extensively from the author's own perspectives, experiences, and memories from childhood, and address the unique concerns that children with IBS often face.
Two Techni Ice Hot/Cold Packs - Re-useable, Microwaveable, Freezeable
Great for IBS pain and cramps, relaxes the gut ~ Soothes stress-related symptoms
* Each pack is 9 x 13", and will generously cover your entire abdomen or lower back
* Re-usable, non-toxic, washable, comfortable
* Retains heat for hours or cold for days
* Packs can be cut to any size
Techni Ice Hot/Cold Packs
are a tremendously effective muscle relaxant, and can be wonderfully beneficial for most IBS symptoms. When your gastrocolic reflex has triggered colon spasms, and pain, diarrhea, or constipation have resulted, the intense heat of Techni Ice Hot Packs can relax the colon and offer quick relief. In addition, the Hot Packs can provide unparalleled relaxation and thus help
prevent
stress-related attacks in the first place, not just alleviate the cramps and bowel dysfunction once they've already begun.
Techni Ice Hot/Cold Packs start as flat, almost weightless sheets and absorb water through a special perforation technology in the surface of the product.
To use for the first time, scrunch the sheets between your hands for a minute or so while they're completely submerged in warm water (use a very large bowl or a sink), until the air bubbles have escaped. Then simply leave the sheets submerged in the water overnight, and the cells will swell (the hot pack will look like a thick quilt) and be ready for repeated use.
The water enters through the one-way surface and activates the internal polymer, which swells the sheet into 24 individually sealed cells. (Re-hydration is occasionally necessary after repeated use).
Techni Ice packs can be used hot, cold or frozen. The packs are completely washable, re-useable, and will last for years. They can be cut to any size, and stored at room temperature or in the freezer.
Techni Ice is a non-toxic, certified food safe product, with two inner layers which comprise a high strength spun bonded synthetic fibre non-woven fabric, which incorporates a high degree of strength and abuse resistance. The super-absorbent polymer is a cross-linked polyacrylate copolymer; these types of polymers absorb many, many times their own weight in water.
For use as a hot pack
, simply microwave the hydrated pack for 1-3 minutes or until hot. The pack must be fully hydrated before you heat it. Use pack over or under clothes, or wrapped in a towel or blanket.
**Customer Reviews**
More Reviews
---
Product

Patricia

from Maple Ridge, BC
Purchased on 1/2/2017
Reviewed on 2/13/2017

I think this is promising because it is so comprehensive.

I will not be able to accurately rate this yet because I've only just received it. But I do think that it's good to see they are trying to attack this dysfunction on all fronts, not just nutritionally but with the hypnotherapy, hot packs, recommendations (such as: more exercise) and a book which educates the sufferer.
Speed of Delivery
Customer Service
---
Product

Wendy

from Fayetteville, GA
Purchased on 4/27/2016
Reviewed on 5/18/2016

Re: Audio CD's

The first set I received 3 out of the 4 CD's had a lot of skipping. I returned them & was sent a new set. I asked that they be checked before being shipped. They arrived unopened. The 1st CD was fine. The 2nd one has a lot,of skipping. Called back yesterday & spoke with Bree. I just wanted to make you aware of what was taking place. The CD's are very relaxing until you hit a skipping part. Then stress builds back. Other CD's work fine on my player. Other than this problem, everything else has been top notch. Very helpful when I call with questions,etc.
Speed of Delivery
Customer Service

Heather says:
Hello Wendy - I am so sorry about the discs skipping. We have sent you a full replacement program. We don't actually manufacture these, Michael Mahoney, the hypnotherapist behind the program, does that. So we cannot open the shrink wrapped packages and test the CDs, or the packaging is compromised and the programs become unsellable. There is quality control done by Michael, and he is going to examine the returned discs to see what went wrong.

Again, our apologies for this, and I hope you are enjoying the program.

Best,
Heather

---
Product

Billie

from Alice, TX
Purchased on 1/2/2015
Reviewed on 1/23/2015

IBS / Stress Hpno Therapy : very good !

I'm only on Day 15 of the Cd's and I would highly recommend this to anyone that needs help. I'm almost afraid to say it out loud that I'm not only doing better but have not taken a prescription pill ( that I had been taking for many months). I'm learning so much from this website : I wish I had found this a long time ago. Thank you for sharing all the helpful information & products ! Please keep up the great help for IBS ~
Speed of Delivery
Customer Service
---
Product

Marcia

from Cleveland Heights, OH
Purchased on 1/1/2015
Reviewed on 1/22/2015

Helpful so far.

Speed of Delivery
Customer Service
---
Product

Barbara

from Burnsville, NC
Purchased on 8/28/2014
Reviewed on 9/18/2014

So far I have used the Audio Program for two weeks. I use them before I go to bed. This is the first time in almost 30 years that I have not had to take any type of sleep aid. I feel the deep sleep I am getting is contributing to my feeling better. I loo

I have also been tested for food allergies and have been off the offenders for 2 weeks. I believe this is contributing to my feeling better as well. I am very happy with the support of your program and have shared the information with a few other people I know with IBS . I am so relieved to know others have had the same experiences as I have and there is more than just hope for a life lived with comfort and freedom. Thank you for all of your kind service.
Speed of Delivery
Customer Service
---
More Reviews
Scroll up the page for more information.
All audio samples and trial graphs are copyrighted by Michael Mahoney and posted with permission. Samples may not be duplicated. All rights reserved.