Heather's Tummy Tamers
Peppermint Oil Capsules
*Best for Preventing IBS Pain, Bloating, Gas*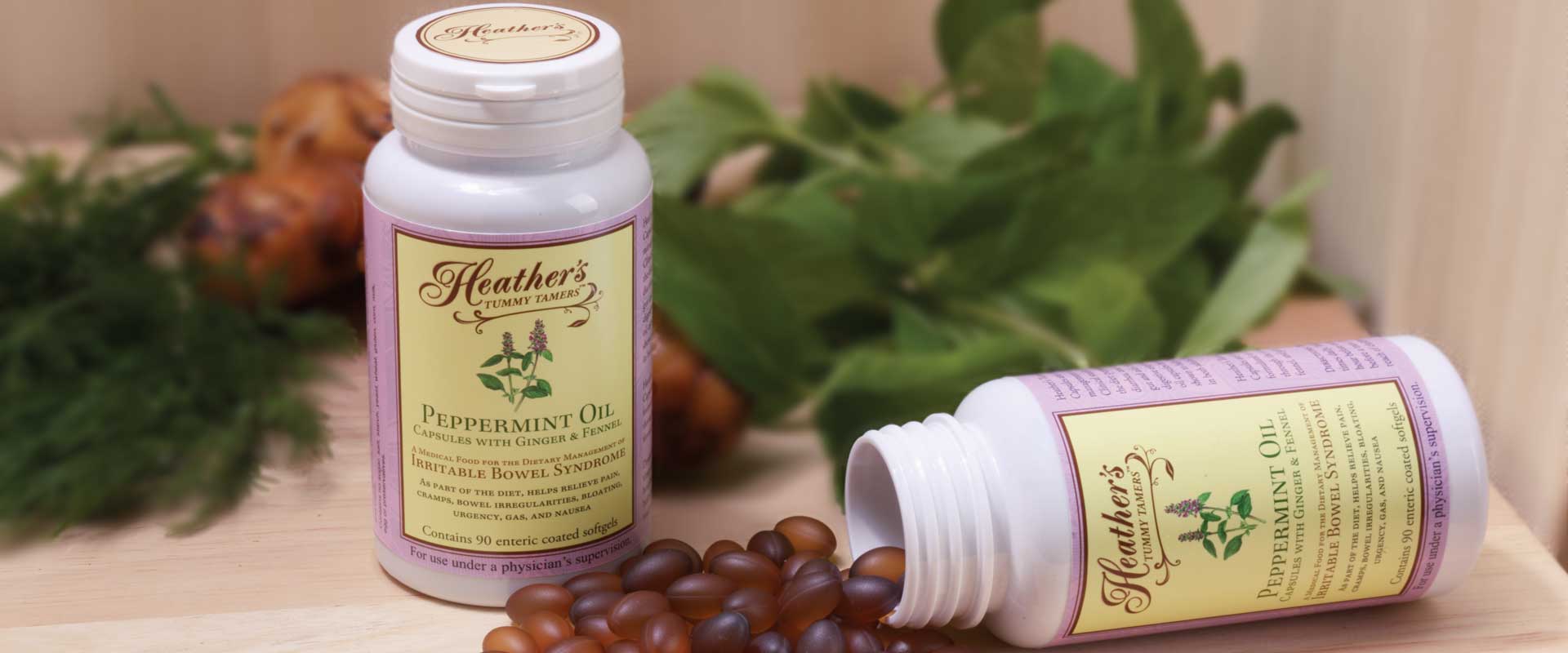 * Prevents Pain, Cramps, and Urgency
Easy to Use & Highly Economical

Now soy free, allergen free!
Naturally very low FODMAPS
Naturally gluten free

Peppermint Oil Featured on Dr. Oz! ~
2 bottles
90 enteric coated capsules per bottle
Active ingredients:
Peppermint oil, ginger oil, fennel oil
Ingredient list
No gluten, allergens, or additives
*
Formulated specifically for IBS
50% more enteric coating than industry standard for other brands!
Take one capsule at a time on an EMPTY STOMACH with just enough cool liquid to swallow easily.
*For IBS pain, spasms, bloating, gas.
*Calms and relaxes the GI tract.
Great Reviews
Price: $23.95 In Stock!
(Over 10% off $27.10 list price)
Interested in Peppermint Oil Capsules?
Get an even better deal with these Discount Kits:
Scroll right to see more options
Heather's Tummy Tamers Peppermint Oil Capsules ~
A Medical Food for the Dietary Management of IBS
*Peppermint oil capsules, as part of the diet, have been clinically proven to help IBS symptoms, even in children. A recent survey of clinical trials declared peppermint oil capsules the approach "of first choice" for IBS patients with constipation or diarrhea, to alleviate general symptoms, and to improve quality of life. For published studies, check the IBS Research Library.
*Peppermint
, as part of the diet, helps relieve abdominal pain, diarrhea, and urgency from IBS. Menthol and methyl salicylate, the main active ingredients of peppermint, have calming effects on the stomach and intestinal tract.
Although peppermint is such a powerful smooth muscle relaxant that it can trigger heartburn in people who are susceptible, Heather's Tummy Tamers Peppermint Oil Caps are enteric coated so they do not dissolve in the stomach. Instead, they pass through the digestive tract intact until they reach the intestines.
For this reason, Heather's Tummy Tamers Peppermint Oil Caps are often very helpful for people with both reflux and IBS who cannot tolerate peppermint in other forms (such as teas or foods).
However, individual tolerance levels for peppermint vary greatly among people who are prone to heartburn, so if you have severe reflux you may not be able to use peppermint in any form, even when enteric coated. Please tell your physician if you have heartburn or reflux before you use peppermint, and
follow these instructions
for using the Tummy Tamers.
*Fennel
, as part of the diet, helps regulate contractions of the small intestine and aids gas expulsion. Fennel also relaxes the gut, which can relieve spasms of the GI tract. As a result, fennel assists in the dietary management of IBS gas, bloating, and abdominal pain.
Fennel is exceptionally beneficial for bloating and gas.
*Ginger
contains powerful digestive enzymes, and is helpful for a wide variety of gastrointestinal ailments.
Heather's Tummy Tamers Peppermint Oil Capsules are considered a medical food, and they are specially formulated to address global IBS symptoms through the synergistic effects of peppermint, fennel, and ginger oils.
A 2005 study in
Phytomedicine
reviewed 16 clinical trials investigating enteric-coated peppermint oil capsules in IBS. Nine out of 16 studies were randomized double blind cross over trials, five had a randomized double blind parallel group design and two were open labeled studies.
Placebos were used in 12 trials and antispasmodics (smooth muscle relaxants) in three studies as comparator. Eight out of 12 placebo controlled studies showed statistically significant effects in favor of peppermint oil capsules. Average response rates in terms of "overall success" were 58% (range 39-79%) for peppermint oil caps versus 29% (range 10-52%) for placebo. The three studies versus smooth muscle relaxants did not show differences between treatments; in other words, the peppermint oil capsules were as effective as the drugs. The study noted that both antispasmodics and 5HT3/4-ant/agonists do not offer superior improvement rates over peppermint oil caps.
Taking into account the currently available drug treatments for IBS, the study noted that
peppermint oil capsules may be the approach of first choice in IBS
patients with non-serious constipation or diarrhea to alleviate general symptoms and to improve quality of life.
What makes Heather's Tummy Tamers special?
While there are several different brands of peppermint oil capsules on the market, Tummy Tamers are the only ones
formulated specifically for the special needs of people with IBS
. How do we do this?
Our first concern is that people with IBS are statistically more prone to heartburn, and peppermint is contraindicated for people with heartburn, GERD, and reflux. We have tried very hard to work around this problem, however.
The Tummy Tamers capsules are enteric coated, which allows them to pass through the stomach without dissolving until they reach the small intestines. This enteric coating is resistant to stomach acid.
In fact, we use
fifty percent more than the industry standard
amount of enteric coating on our Tummy Tamers, to allow as many people as possible to use them for IBS without aggravating any upper GI issues.
Second, we formulated Tummy Tamers to contain
not just peppermint oil but fennel and ginger oils
as well.
Clinical studies have shown that peppermint oil is exceptionally beneficial for IBS abdominal pain and spasms, diarrhea, and urgency (and it will NOT worsen constipation). Fennel is a carminative, it helps relax the gut, regulates contractions of the small intestine, and aids bloating and gas. Plus, it's known to have a calming effect on the bowel. Ginger contains powerful digestive enzymes and has historically been a remedy for nausea.
In addition, both
fennel and ginger are traditional remedies for heartburn
. Together with the peppermint oil in the Tummy Tamers, they have a synergistic effect on global IBS symptoms without the heartburn risk of peppermint alone.
Even though Tummy Tamers have extra enteric coating, which makes them more expensive to produce, they are actually one of if not
the most economical
brand of peppermint oil capsules on the market.
How to take Heather's Tummy Tamers
How
you take peppermint oil caps can make a world of difference. The capsules MUST be taken on an empty stomach, as they need to pass through the stomach unimpeded so they can reach the intestines before they dissolve. This can take a bit of time, so for this reason it's best to use the capsules to head off IBS symptoms in the first place.
However, some people with severe GERD, reflux, or chronic heartburn may still have problems with the peppermint capsules if they dissolve in the stomach before reaching the intestines. The antispasmodic effect you want to happen in your intestines will then occur in the stomach, and this relaxes the esophageal sphincter at the top of the stomach. That can lead to heartburn.
There are a several measures that can prevent this from happening:
1)
Take the Tummy Tamers on an empty stomach
at least one hour
before a meal. This gives the capsules plenty of time to reach the intestines before they dissolve. (If you're not prone to heartburn, you must still take the caps on an empty stomach, but you can take them right before a meal.)
2)
Never take Tummy Tamers during or after a meal because the food will delay the capsules from reaching the intestines, and this could cause them to dissolve in the stomach.
3)
Drink just enough cool - not hot - liquid to swallow a capsule easily. While the enteric coating makes them resistant to stomach acid, the capsules are water soluble. Limiting the amount of liquid they'll be floating around in will help them reach their destination without dissolving.
4)
Don't take the Tummy Tamers at the same time as any medication (prescription or over-the-counter) meant to lower your stomach acid. Lowering the stomach acid makes the enteric coating less likely to work (remember, it's resistant to high acid). For folks who need to take these medications, try taking the Tummy Tamers about an hour before you take the acid lowering/blocking medication, and then have your meal.
Serving Size: 1 capsule
Enteric coating allows the capsules to pass through the stomach without dissolving and release the three herbal oils within the intestines.
Ingredients: Peppermint Oil, Ginger Oil, Fennel Oil, Gelatin, Sunflower Oil, Glycerin, Enteric Coating, Water and Carob.
Contains no: sugar, salt, yeast, wheat, gluten, corn, milk or preservatives
Made in a facility that also processes tree nuts, milk, eggs, fish, shellfish, and wheat.
Directions: Take one capsule, one to three times daily, with just enough cool liquid to swallow easily. Do not take with a large glass of liquid as this can dissolve the enteric coating (the coating is impervious to stomach acid but dissolves in water). Take on an empty stomach one hour before eating if you are at all prone to heartburn. Alternately, if you are not prone to heartburn, take one capsule right before a meal. Do not chew.
* This product is a medical food for the dietary management of Irritable Bowel Syndrome (IBS), and is intended to be used under a physician's supervision.
Amount Per Serving
Peppermint Oil (Mentha piperita)
0.2ml/180mg
†
Ginger Oil (Zingiber officinale)
0.02ml/20mg
†
Fennel Oil (Foeniculum vulgare)
0.02ml/20mg
†
† Daily Value not established.


**Customer Reviews**
More Reviews
---
Product
Cindy from Columbus, OH
Purchased on 5/29/2018
Reviewed on 6/19/2018
Calms my poor gut
Speed of Delivery
Customer Service
---
Product
Gail from Mexico,Mo., MO
Purchased on 5/21/2018
Reviewed on 6/11/2018
Good helpful product and service.
Speed of Delivery
Customer Service
---
Product
Dorothy from Turlock, CA
Purchased on 5/20/2018
Reviewed on 6/10/2018
Very glad I ordered
I was concerned the Peppermint oil would be too much with the added Fennel and ginger, but was pleasantly surprised at how well it worked and how much better I felt. Thank you
Speed of Delivery
Customer Service
---
Product
Laura from Pittsburgh, PA
Purchased on 5/15/2018
Reviewed on 6/5/2018
Timing is the key
Finding my right amount of time between taking the capsules and waiting to eat was a bit tricky as I have LPR which is similar to Gerd. Waiting the full hour had me tasting peppermint and ginger for quite awhile, now after taking the time down I haven't had any issues. I've discovered that my personal time is between 11 -25 minutes to eat after taking the capsules on an empty tummy. They have really taken care of my lower abdominal pain. Definitely part of my Ibs regimen
Speed of Delivery
Customer Service
---
Product
Nadia from Newark, NJ
Purchased on 5/2/2018
Reviewed on 5/24/2018
they are doing the job
Speed of Delivery
Customer Service
---
More Reviews
*Disclaimer: Results may vary from person to person. Statements made, or products sold through this website, have not been evaluated by the United States Food and Drug Administration. They are not intended to diagnose, treat, cure or prevent any disease. Read More.
Scroll up the page for more information.