IBS Kitchen Kit ~ Dietary Help, Trigger Foods, Safe Foods, & Fabulous Recipes!
Great Reviews
Price: $41.48 In Stock!
(Over 20% off $52.89 list price)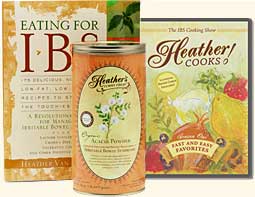 3 Items - For Safe, Delicious IBS Cooking!
* Eating for IBS, by Heather Van Vorous
175 delicious, digestion-friendly recipes
Addresses multiple IBS symptoms
* Tummy Fiber™ Organic Acacia Senegal
1 lb. refillable canister
Relieves diarrhea AND constipation; Prebiotic
100% acacia senegal, NOT low grade seyal
Add to wet or dry ingredients when cooking!
* Heather Cooks! DVD Cooking for IBS
5 fun shows, 8 step-by-step recipes
Beautifully illustrated recipe cards included
WATCH A SAMPLE SHOW!
Kit Description
Our diet kits offer the
immediate, tangible help
you need to take control of IBS through food and cooking. This kit includes:
Eating for IBS
Diet plays a direct role in gut function, and the abdominal pain, diarrhea, constipation, and bloating from bowel disorders can be directly controlled through diet.
This is true not just for Irritable Bowel Syndrome, but also for inflammatory bowel diseases (IBD) such as Crohn's and Ulcerative Colitis, plus diverticulosis and diverticulitis.
The
Eating for IBS
diet can make the difference between living a normal, happy, outgoing life versus spending every day stuck in the bathroom enduring pain, bowel dysfunction, and misery.
Contrary to what many believe, eating for IBS and IBD does
not
mean deprivation, never going to restaurants, boring food, or a limited and therefore unhealthy diet. It does mean learning to eat safely by realizing how different foods physically affect the GI tract, and
how foods can help or hurt both diarrhea AND constipation, as well as abdominal pain, bloating, gas, and nausea.
Foods can either
prevent or trigger
IBS or IBD symptoms.
For example:
* There are
two kinds of fiber
...one soothes the colon and regulates gut function but the other can cause severe attacks
* Dairy is a common trigger...even in people who are
not
lactose intolerant
* Peppermint, chamomile, and fennel can prevent pain, spasms, and bloating better than some drugs
* Bland foods are
not
automatically safe foods
In
Eating for IBS
, Heather Van Vorous, who has suffered from IBS for over 20 years and gradually learned to control her symptoms through dietary modifications, offers sympathetic information tailored specifically to the needs of IBS and IBD sufferers. She provides a comprehensive overview of IBS, explicit eating and cooking strategies, travel and restaurant advice, daily menus, supermarket ideas, and 175 delicious recipes. How delicious?
Eating for IBS
was a finalist for the IACP (International Association of Culinary Professionals) Health and Special Diet Award - also known as the "Julia Child" award.
IBS and IBD sufferers will be thrilled to discover that they can enjoy traditional homestyle cooking, ethnic foods, rich desserts, snacks, and party foods - and don't have to cook unusual or special meals for themselves while their families follow a "normal" diet.
Eating for IBS
will forever revolutionize the way people with bowel dysfunction eat - and live.
Wondering if the
Eating for IBS
diet really helps? Click here to
see what people have to say
about this book.
Heather's Tummy Fiber™ Organic Acacia Senegal
A Medical Food for the Dietary Management of IBS
* 1 lb. can (453 grams) ~ approximately 180 one-teaspoon servings
* Dietary
soluble fiber
; not insoluble fiber
* Certified organic by QAI ~ Kosher certified
* Has a prebiotic effect; increases good gut flora
* No gluten, FODMAPS, additives, fillers, flavors
* Tasteless, odorless, colorless, grit-free
* Will not thicken on standing - No choking risk!
* 100%
acacia senegal
, NOT low grade
acacia seyal
*
Add Acacia to cup, then add liquid.
*
Or, add Acacia to moist foods.
*
1 level teaspoon = 2 grams soluble fiber
* Start with a low dose and gradually increase.
* Take 1-3 times a day.
Heather's Tummy Fiber™ Acacia is a
natural, pure, organic, soluble dietary fiber
produced from the gum of the Acacia tree (also known as gum arabic). Acacia is a natural plant water-soluble fiber that has been harvested for millenia in Africa; its recorded dietary use dates back to the Egyptian pharaohs.
Soluble fiber supplements have a traditional and historical use for:
* Soothing and regulating the digestive tract
* Helping to prevent cramping by stabilizing intestinal contractions
* Promoting normal bowel function
* Alleviating BOTH diarrhea and constipation
Acacia soluble fiber supplement also:
* Increases good gut flora - it's considered a prebiotic, and significantly bifidogeni
c
* Has excellent gastrointestinal tolerance
* Slows down colonic fermentation (decreasing gas and bloating)
* Is completely safe and healthy for daily, lifelong use
* Is a traditional remedy for pregnancy/post-partum nausea & bowel dysfunction
* Is safe for use in children
* Has no gluten, sugar, salt, artificial sweeteners, citric acid, or yeast
How does soluble fiber work to prevent pain, constipation, AND diarrhea? The "soluble" in soluble fiber means that it dissolves in water (though it is not digested). This allows it to absorb excess liquid in the colon, preventing diarrhea by forming a thick gel and adding a great deal of bulk as it passes intact through the gut. This gel (as opposed to a watery liquid) also keeps the GI muscles stretched gently around a full colon, giving those muscles something to easily "grip" during peristaltic contractions, thus preventing the rapid transit time and explosive bowel movements of diarrhea as well.
By the same token, the full gel-filled colon (as opposed to a colon tightly clenched around dry, hard, impacted stools) provides the same "grip" during the muscle waves of constipation sufferers, allowing for an easier and faster transit time, and the passage of the thick wet gel also effectively relieves constipation by softening and pushing through impacted fecal matter. If you can mentally picture your colon as a tube that is squeezing through matter via regular waves of contractions, it's easy to see how a colon filled with soluble fiber gel is beneficial for both sides of the IBS coin.
As a glorious bonus, normalizing the contractions of the colon triggered by your gastrocolic reflex (from too fast or too slow speeds), prevents the violent and irregular spasms that result in the lower abdominal cramping pain that cripples so many IBS patients.
Clinical studies have also shown that Heather's Tummy Fiber™ has some special benefits, and advantages over other types of soluble fiber supplements. In the large intestine, Acacia stimulates the development of bifidobacteria and lactic acid bacteria, leading to the production of large amounts of short chain fatty acids which play numerous beneficial roles in the physiology of the human body. In addition, consumption of Heather's Tummy Fiber™ at dose levels lower than 15 grams/day caused none of the gastro-intestinal symptoms seen with other soluble fiber supplements (gas, bloating, cramps).
* This product is a medical food for the dietary management of Irritable Bowel Syndrome (IBS), and is intended to be used under medical supervision.
Heather Cooks! DVD ~ Fast & Easy Traditional Favorites
Illustrated recipe cards included
5 fabulous shows, 8 delicious recipes
* All-American Sandwich Classics
* Blueberry Pecan French Toast
* Lemon Herb White Fish with Rice & Mesclun Salad
* Pizza Party Snack Mix & Banana Berry Smoothie
* Garden Veggie Nachos
* Originally aired on Seattle television
* Traditional recipes made IBS-friendly
* IBS cooking & shopping advice, tips throughout
* Approximate running time: 110 minutes
* Formatted for US and International DVD players
Step into my kitchen and watch
Heather Cooks!
, television's only cooking show with fabulous food for good digestive health. Everything we cook is low fat, high soluble fiber, and avoids all red meat, dairy products, and egg yolks. Insoluble fiber foods are carefully incorporated for good nutrition.
Most importantly, everything we cook is fast, easy, and absolutely delicious – that's a promise.
Each of the five full-length shows offers step-by-step instructions, and is aimed at people who have little experience cooking, or who are unsure about how to modify their traditional cooking methods to meet the dietary needs of IBS. Beautifully illustrated recipe cards are included, so you can easily cook right along with the shows.
If you don't quite believe that healthy cooking truly can be both fun and a real treat to eat, you're in for a wonderful surprise. You'll have a great time making my dishes, and an even better time eating them!
In Volume 1, we'll be cooking fast-and-easy dishes based on fridge and pantry staples, with a homestyle, All-American focus. These traditional recipes (from French toast to club sandwiches to nachos) are typically full of trigger foods, but we'll use simple tricks and substitutions to make them IBS-friendly. Each show offers lots of helpful advice for shopping, cooking, and eating safely for IBS while keeping your diet nutritious and delicious. Above all else, Heather Cooks! will convince you that cooking great meals for good health is not a contradiction in terms.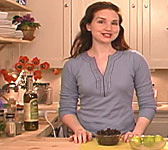 Are you ready to don your apron and oven mitts? Just step into my kitchen and cook right along with me!
**Customer Reviews**
More Reviews
---
Product

Ouida

from lepanto, AR
Purchased on 2/10/2016
Reviewed on 3/4/2016

good service.

much comfort had since using information in book and fiber . soooo thankful for information.
Speed of Delivery
Customer Service
---
Product

Terry

from North Palm Beach, FL
Purchased on 11/23/2015
Reviewed on 12/14/2015

Getting my life back from IBS-D

Still adjusting to the fiber, taking it slowly. The diet suggestions & recipes from the book are a life saver. Bought the capsules at a drugstore. That's how I learned about your products. Will be re-ordering for sure. Thank you!
Speed of Delivery
Customer Service
---
Product

Shelly

from Sunland, CA
Purchased on 3/5/2014
Reviewed on 3/26/2014

I started the acacia fiber twice daily, on it x one wk, diarrhea almost gone

I needed information about IBS. I am finally getting it from this site. Thanks
Speed of Delivery
Customer Service
---
Product

Anthony

from Houston, TX
Purchased on 10/9/2013
Reviewed on 10/30/2013

My first order

Hi Heather and staff!! I had it sent to my partner's office,Jason,but it was for me. I love the product and all of the information that I have gotten so far!...I feel great and I have all of you guys to thank. best always, Anthony
Speed of Delivery
Customer Service
---
Product

Glenda

from Tolleson, AZ
Purchased on 5/1/2013
Reviewed on 5/22/2013

Could not take the Acacia powder

I was so excited when I received your products. Hoping for a good outcome, but unfortunately my intestines rejected the acacia powder. I am having problems with eating any food. It all seems to upsets me, and have been to the hospital twice with the pain and high blood pressure. So they want to put me on medicine as a last resort. I am just trusting God and hoping and praying for the best. Thank you so very much for your website and your encouragement for all of us. May God bless you!
Speed of Delivery
Customer Service
---
More Reviews
Scroll up the page for more information.