IBS Diet Kit #2 ~ Immediate Dietary Help ~ Trigger Foods, Safe Foods, More!
Great Reviews
Price: $49.99 In Stock!
(Almost 25% off $65.04 list price)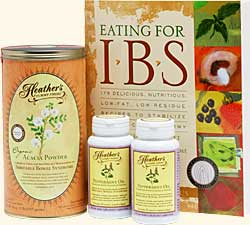 3 Items - For Diarrhea, Constipation, Pain
* Eating for IBS, by Heather Van Vorous
Comprehensive dietary information
Addresses multiple IBS symptoms
* Tummy Fiber™ Organic Acacia 1 lb.
Relieves diarrhea AND constipation; Prebiotic
Pure soluble fiber, no insoluble fiber
100% acacia senegal, NOT low grade seyal
* 2 Bottles Peppermint Oil Capsules
For IBS pain, spasms, bloating, gas
Calms and relaxes the GI tract
Kit Description
Our diet kits offer the
immediate, tangible help
you need to take control of IBS through a dietary approach that's safe and effective for adults and children. This kit includes:
Eating for IBS book, by Heather Van Vorous
Diet plays a direct role in gut function, and the abdominal pain, diarrhea, constipation, and bloating from bowel disorders can be directly controlled through diet.
This is true not just for Irritable Bowel Syndrome, but also for inflammatory bowel diseases (IBD) such as Crohn's and Ulcerative Colitis, plus diverticulosis and diverticulitis.
The
Eating for IBS
diet can make the difference between living a normal, happy, outgoing life versus spending every day stuck in the bathroom enduring pain, bowel dysfunction, and misery.
Contrary to what many believe, eating for IBS and IBD does
not
mean deprivation, never going to restaurants, boring food, or a limited and therefore unhealthy diet. It does mean learning to eat safely by realizing how different foods physically affect the GI tract, and
how foods can help or hurt both diarrhea AND constipation, as well as abdominal pain, bloating, gas, and nausea.
Foods can either
prevent or trigger
IBS or IBD symptoms.
For example:
* There are
two kinds of fiber
...one soothes the colon and regulates gut function but the other can cause severe attacks
* Dairy is a common trigger...even in people who are
not
lactose intolerant
* Peppermint, chamomile, and fennel can prevent pain, spasms, and bloating better than some drugs
* Bland foods are
not
automatically safe foods
In
Eating for IBS
, Heather Van Vorous, who has suffered from IBS for over 20 years and gradually learned to control her symptoms through dietary modifications, offers sympathetic information tailored specifically to the needs of IBS and IBD sufferers. She provides a comprehensive overview of IBS, explicit eating and cooking strategies, travel and restaurant advice, daily menus, supermarket ideas, and 175 delicious recipes. How delicious?
Eating for IBS
was a finalist for the IACP (International Association of Culinary Professionals) Health and Special Diet Award - also known as the "Julia Child" award.
IBS and IBD sufferers will be thrilled to discover that they can enjoy traditional homestyle cooking, ethnic foods, rich desserts, snacks, and party foods - and don't have to cook unusual or special meals for themselves while their families follow a "normal" diet.
Eating for IBS
will forever revolutionize the way people with bowel dysfunction eat - and live.
Wondering if the
Eating for IBS
diet really helps? Click here to
see what people have to say
about this book.
Tummy Fiber™ Organic Acacia Senegal
A Medical Food for the Dietary Management of IBS
* 1 lb. can (453 grams) ~ approximately 180 one-teaspoon servings
* Dietary
soluble fiber
; not insoluble fiber
* Certified organic by QAI ~ Kosher certified
* Has a prebiotic effect; increases good gut flora
* No gluten, FODMAPS, additives, fillers, flavors
* Tasteless, odorless, colorless, grit-free
* Will not thicken on standing - No choking risk!
* 100%
acacia senegal
, NOT low grade
acacia seyal
*
Add Acacia to cup, then add liquid.
*
Or, add Acacia to moist foods.
*
1 level teaspoon = 2 grams soluble fiber
* Start with a low dose and gradually increase.
* Take 1-3 times a day.
Heather's Tummy Fiber™ Acacia is a
natural, pure, organic, soluble dietary fiber
produced from the gum of the Acacia tree (also known as gum arabic). Acacia is a natural plant water-soluble fiber that has been harvested for millenia in Africa; its recorded dietary use dates back to the Egyptian pharaohs.
Soluble fiber supplements have a traditional and historical use for:
* Soothing and regulating the digestive tract
* Helping to prevent cramping by stabilizing intestinal contractions
* Promoting normal bowel function
* Alleviating BOTH diarrhea and constipation
Acacia soluble fiber supplement also:
* Increases good gut flora - it's considered a prebiotic, and significantly bifidogeni
c
* Has excellent gastrointestinal tolerance
* Slows down colonic fermentation (decreasing gas and bloating)
* Is completely safe and healthy for daily, lifelong use
* Is a traditional remedy for pregnancy/post-partum nausea & bowel dysfunction
* Is safe for use in children
* Has no gluten, sugar, salt, artificial sweeteners, citric acid, or yeast
How does soluble fiber work to prevent pain, constipation, AND diarrhea? The "soluble" in soluble fiber means that it dissolves in water (though it is not digested). This allows it to absorb excess liquid in the colon, preventing diarrhea by forming a thick gel and adding a great deal of bulk as it passes intact through the gut. This gel (as opposed to a watery liquid) also keeps the GI muscles stretched gently around a full colon, giving those muscles something to easily "grip" during peristaltic contractions, thus preventing the rapid transit time and explosive bowel movements of diarrhea as well.
By the same token, the full gel-filled colon (as opposed to a colon tightly clenched around dry, hard, impacted stools) provides the same "grip" during the muscle waves of constipation sufferers, allowing for an easier and faster transit time, and the passage of the thick wet gel also effectively relieves constipation by softening and pushing through impacted fecal matter. If you can mentally picture your colon as a tube that is squeezing through matter via regular waves of contractions, it's easy to see how a colon filled with soluble fiber gel is beneficial for both sides of the IBS coin.
As a glorious bonus, normalizing the contractions of the colon triggered by your gastrocolic reflex (from too fast or too slow speeds), prevents the violent and irregular spasms that result in the lower abdominal cramping pain that cripples so many IBS patients.
Clinical studies have also shown that Heather's Tummy Fiber™ has some special benefits, and advantages over other types of soluble fiber supplements. In the large intestine, Acacia stimulates the development of bifidobacteria and lactic acid bacteria, leading to the production of large amounts of short chain fatty acids which play numerous beneficial roles in the physiology of the human body. In addition, consumption of Heather's Tummy Fiber™ at dose levels lower than 15 grams/day caused none of the gastro-intestinal symptoms seen with other soluble fiber supplements (gas, bloating, cramps).
* This product is a medical food for the dietary management of Irritable Bowel Syndrome (IBS), and is intended to be used under medical supervision.
Heather's Tummy Tamers™ Peppermint Oil Capsules - 2 Bottles
90 Enteric coated capsules per bottle
Active ingredients: Peppermint oil, Fennel oil, Ginger oil
No gluten, FODMAPS, or additives
Heather's Tummy Tamers™ Peppermint Oil Capsules are a medical food for the dietary management of Irritable Bowel Syndrome. They are specially formulated to address global IBS symptoms through the synergistic effects of peppermint, fennel, and ginger oils.
*Peppermint
, as part of the diet, helps relieve abdominal pain, diarrhea, and urgency from IBS. Menthol and methyl salicylate, the main active ingredients of peppermint, have calming effects on the stomach and intestinal tract.
Although peppermint is such a powerful smooth muscle relaxant that it can trigger GERD (Gastroesophageal Reflux Disease) or heartburn in people who are susceptible, because Heather's Tummy Tamers™ Peppermint Oil Caps are enteric coated they do not dissolve in the stomach. Instead, they pass through the digestive tract intact until they reach the intestines. For this reason, Heather's Tummy Tamers™ Peppermint Oil Caps are often very helpful for people with both reflux and IBS who cannot tolerate peppermint in other forms (such as teas or foods).
*Fennel
, as part of the diet, helps regulate contractions of the small intestine and aids gas expulsion. Fennel also relaxes the gut, which can relieve spasms of the GI tract. As a result, fennel assists in the dietary management of IBS gas, bloating, and abdominal pain.
Fennel is exceptionally beneficial for bloating and gas.
*Ginger
contains powerful digestive enzymes, and is helpful for a wide variety of gastrointestinal ailments.
Serving Size: 1 capsule
Enteric coating allows the capsules to pass through the stomach without dissolving and release the three herbal oils within the intestines.
Ingredients: Peppermint Oil Extract, Ginger Oil, Fennel Oil, Gelatin, Sunflower Oil, Glycerin, Enteric Coating, Water and Carob.
Contains no: sugar, salt, yeast, wheat, gluten, corn, milk or preservatives
Directions: Take one capsule, one to three times daily. Take on an empty stomach one hour before eating. Alternately, take right before a meal. Do not chew.
* This product is a medical food for the dietary management of Irritable Bowel Syndrome (IBS), and is intended to be used under a physician's supervision.
**Customer Reviews**
More Reviews
---
Product

Calvin

from Millington, TN
Purchased on 10/9/2018
Reviewed on 10/30/2018

I have been using this product for three weeks and has seen a tremendous difference!

Speed of Delivery
Customer Service
---
Product

Barbara

from Kernersville, NC
Purchased on 10/8/2018
Reviewed on 10/29/2018

Have not used the tummy fiber yet but I do use the gel caps before eating. They seem to be working well for me.

Speed of Delivery
Customer Service
---
Product

Mary

from Spicewood, TX
Purchased on 10/3/2018
Reviewed on 10/24/2018

I have been so pleased with this product. It has taken care of some very difficult issues

Speed of Delivery
Customer Service
---
Product

Heather

from Saint Louis, MO
Purchased on 9/17/2018
Reviewed on 10/8/2018

This product has been a miracle. After suffering from IBS for years, My husband feel fantastic. The powder and the cookbook have been a lifesaver. Thank you Heather!

Speed of Delivery
Customer Service
---
Product

Sharon

from Fredericksburg, TX
Purchased on 8/27/2018
Reviewed on 9/18/2018

Not seeing difference

I have been using both products and so far not seeing any change. I was so hoping for a difference.
Speed of Delivery
Customer Service

Heather says:
Feedback Rating
Hi Sharon - I am so sorry to hear this. The peppermint oil caps should work quite quickly to help prevent IBS pain, spasms, bloating and cramps. Take those on an empty stomach in advance of symptoms - last thing at night to head off morning problems, etc. The pep caps should help within the first day or two. The Tummy Fiber will be more of a process, as you have to start with just 1/2 teaspoon twice daily, and then gradually increase your dose every few days or so. You may work your way up to 1-3 tablespoons per day for diarrhea, or 2-5 tablespoons per day for constipation, but it can take a little time and patience to gradually work your way up. The key is to reach the dose of soluble fiber you need in your gut to gently force normal motility. Please let us know how your dosages are going and how else we can help you get good results.

XXOO
Heather

---
More Reviews
Scroll up the page for more information.