IBS Child's Kit ~ Immediate and Long-Term Help for Children with IBS!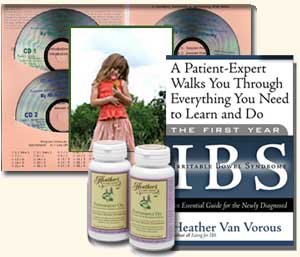 ~ Immediate & Comprehensive Help ~
~ Specifically For A Child's IBS Needs ~


3 Items
* The IBS Audio Program 60™
* Gut-directed hypnotherapy for IBS
* Relieves multiple IBS symptoms
* Results may be permanent
* Designed just for children ages 8-13
* The First Year: IBS book
* Addresses all IBS symptoms
* All-inclusive treatment options
* Specific sections just for children

* 2 Bottles Peppermint Oil Capsules
* Clinically proven to help IBS in children
* For pain, spasms, bloating, gas
* Calms and relaxes the GI tract



Great Reviews Price: $119.88 In Stock!

(Over 15% off $142.04 list price)




The IBS Child's Kit - Immediate and Long-Term Help for Children with IBS
This kit offers a comprehensive approach to managing all IBS symptoms in children. Dramatic improvements are likely whether symptoms are minor or so severe that your child is missing school or is even housebound. You'll see immediate, tangible results from information in the book and from the peppermint oil capsules. Plus, your child should see IBS symptom
prevention and elimination
for long-term - possibly permanent - relief following the gut-directed hypnotherapy program. This kit includes:
The IBS Audio Program 60
Self-hypnosis specifically for children with IBS
This 60 day program uses specific hypnotherapy guided imagery processes and methods to help alleviate global Irritable Bowel Syndrome symptoms in children. It is designed to help both the physical and emotional aspects of IBS conditon, including functional recurrent abdominal pain.
The program provides compassionate and gentle imagery to help reduce or eliminate all IBS symptoms, including:
recurrent functional abdominal pain
diarrhea
constipation
urgency
pain
anxiety
The program also provides support for parents, and gives guidance for returning the child to school. Used successfully in the clinical setting for over five years, it is the only program of its kind readily available.
The IBS Audio Program 60 Includes 4 CDs With:
An Informational Introductory Session For Parents Only


2 Introductory Sessions For The Child


6 Therapeutic Sessions Tor The Child


Complete Informational Booklet. Includes: symptom checklist, progress log, listening scheduler, and essential information about IBS and related symptoms and concerns for both you and your child.
News!
Researchers call hypnotherapy a "cure" for pediatric IBS.
Listen to the Child's IBS Audio Program for Irritable Bowel Syndrome.
The program addresses multiple IBS symptoms, specifically for children. It is particularly helpful for stress/anxiety related IBS, and is extremely relaxing, calming, and soothing.

Listen to a sample from the Parental CD
~
This clip acknowledges the frustrations of parents as well as medical professionals, and it outlines the areas of concern the program addresses.
Listen to a Session 2 sample
~
Using lots of imagery, which children really enjoy, this clip gives an example of how imagery and program delivery combine for effective communication to both the conscious and subconscious mind. The focus is on how to let go of worries and concerns associated with IBS.
Listen to a Session 5 sample
~
Continuing the progress made earlier in the program, this clip has future projection imagery that reinforces the changes learned and applied so far. The focus is on looking forward to feeling comfortable, encouraging positive expectations, and feelings of calm, comfort, and empowerment.
About Michael Mahoney, Clinical Hypnotherapist
The child's IBS program is designed and performed by Michael Mahoney, one of the United Kingdom's leading Clinical Hypnotherapists in the treatment of IBS. The audio program is the culmination of Michael's clinical experience since 1986. The program effectively converts one-to-one sessions that are used in his clinical environment into a unique home-based, easy to follow program for the IBS child, to alleviates pain, diarrhea, cramping, constipation, bloating, stress, anxiety, fears of school and difficult situations and many other IBS symptoms.
Michael's services are regularly used by gastroenterologists, doctors and other medical professionals. He is an associate member of the Primary Care Society for Gastroenterology. He works alongside general practitioners and takes referrals from gastroenterologists, and has been treating IBS patients at his Medical Centre in Cheshire since 1993. Since that time, he has used his original gut-specific therapy, On-Going Progressive Session Induction Methods (OPSIM) successfully with thousands of patients.
The IBS Audio Program 60 For Children Addresses:
Stomachache
Bloating
Diarrhea
Constipation
Alternating bowel movements (diarrhea/constipation)
Rushing to the toilet
Gas
Nausea
Pain in back passage
Cramping
Not empty feeling
Full bladder
Increased urination
Fear of going out
Fear of going to school
Friends don't understand
Teachers don't understand
Others don't understand
Low Confidence
Headaches
Anxiety
Disturbed sleep
Feeling sad and not wanting to play
Feeling angry
Feeling scared
Always avoid foods
Improvement of general happiness
How The IBS Child's Program Works
Functional or recurrent abdominal pain, tummy aches, missed school, and the various symptoms of functional motility disorders and Irritable Bowel Syndrome in children are not new, but finding an appropriate treatment for your child may prove to be quite frustrating. While many medications and behavioral treatment methods can provide some relief for your child, you may still be searching for something more effective that can be used alongside treatment prescribed by your child's physician.
The IBS Audio Program 60 is designed to address all IBS symptoms, recurrent abdominal pain or RAP (also termed functional abdominal pain or FAP), school attendance worries, peer pressure, pressure from teachers and other authority figures, mood, sleep, and general happiness, in addition to other areas included in the 27 measured responses for symptom reduction.
Using relaxation and imagery, the child uses his/her natural abilities to follow simple suggestions, learning to control their symptoms and fears, and bring calmness and harmony to both body and emotions. The program includes a listening schedule and symptom checklist / progress log.
Parental participation is required and the program is suitable for children ages 8-13.
For children who have a good understanding of concepts, and parental guidance, it can prove helpful for children a bit younger as well.
The program should not be used for children who have mental and/or emotional issues or conditions that have been diagnosed independently of their IBS or functional gastrointestinal related symptoms.
Research has shown that the use of clinical hypnotherapy often helps children who have failed to see improvements with other methods.
The First Year: IBS, by Heather Van Vorous
Comprehensive information and strategies for managing all IBS symptoms
* Paperback: 242 pages
* Recommended resource by the UNC Center for Functional GI & Motility Disorders
* Excellent reviews by
Library Journal
and
Publishers Weekly
The First Year: IBS
is a critically-acclaimed book that offers a comprehensive and sympathetic approach to managing irritable bowel syndrome (whether you're newly diagnosed or have been struggling for years), by an author who has dealt with the disorder since childhood and prevailed. Whether you suffer from constipation, diarrhea, alternating bowel dysfunction, pain, bloating, gas, or nausea, this essential guide gives you the information you need to take control of your symptoms today.
An easy-to-follow daily/weekly/monthly calendar structure teaches you about the physical pathology behind IBS while giving a multitude of ways to successfully live with it, with a constant focus on symptom prevention.
The research for The First Year: IBS incorporates suggestions, concerns, and personal stories from many Irritable Bowel Syndrome sufferers, and offers:
* in-depth diagnostic and medical information for IBS treatments, drugs, and research
* detailed information about yoga and hypnotherapy for IBS
* extensive suggestions for using supplements and herbs to prevent symptoms
* innovative and successful IBS stress management techniques
* suggestions for dealing with friends and family members
* concise and accurate IBS diet guidelines with sample recipes
* effective alternative therapies for a spastic colon, including acupuncture
* IBS support group resources
* traveling and socializing suggestions
There are also special sections throughout the book just for children with IBS and their parents.
These chapters draw extensively from the author's own perspectives, experiences, and memories from childhood, and address the unique concerns that children with IBS often face.
Heather's Tummy Tamers™ Peppermint Oil Capsules - 2 Bottles
For preventing abdominal pain, spasms, cramps, bloating, and gas
90 Enteric coated capsules per bottle
Active ingredients: Peppermint oil, Fennel oil, Ginger oil
Heather's Tummy Tamers™ Peppermint Oil Capsules are a medical food for the dietary management of Irritable Bowel Syndrome. They are specially formulated to address global IBS symptoms through the synergistic effects of peppermint, fennel, and ginger oils.
Peppermint oil capsules, as part of the diet, have been clinically proven to help IBS symptoms, even in children. A recent survey of clinical trials declared peppermint oil capsules the "drug of first choice" for IBS patients with constipation or diarrhea, to alleviate general symptoms, and to improve quality of life. For published studies, check the IBS Research Library.
*Peppermint
, as part of the diet, helps relieve abdominal pain, diarrhea, and urgency from IBS. Menthol and methyl salicylate, the main active ingredients of peppermint, have calming effects on the stomach and intestinal tract.
Although peppermint is such a powerful smooth muscle relaxant that it can trigger GERD (Gastroesophageal Reflux Disease) or heartburn in people who are susceptible, because Heather's Tummy Tamers™ Peppermint Oil Caps are enteric coated they do not dissolve in the stomach. Instead, they pass through the digestive tract intact until they reach the intestines. For this reason, Heather's Tummy Tamers™ Peppermint Oil Caps are often very helpful for people with both reflux and IBS who cannot tolerate peppermint in other forms (such as teas or foods).
*Fennel
, as part of the diet, helps regulate contractions of the small intestine and aids gas expulsion. Fennel also relaxes the gut, which can relieve spasms of the GI tract. As a result, fennel assists in the dietary management of IBS gas, bloating, and abdominal pain.
Fennel is exceptionally beneficial for bloating and gas.
*Ginger
contains powerful digestive enzymes, and is helpful for a wide variety of gastrointestinal ailments.
Serving Size: 1 capsule
Enteric coating allows the capsules to pass through the stomach without dissolving and release the three herbal oils within the intestines.
Ingredients: Peppermint Oil Extract, Ginger Oil, Fennel Oil, Gelatin, Sunflower Oil, Glycerin, Enteric Coating, Water and Carob.
Contains no: sugar, salt, yeast, wheat, gluten, corn, milk or preservatives
Directions: Take one capsule, one to three times daily. Take on an empty stomach one hour before eating. Alternately, take right before a meal. Do not chew.
* This product is a medical food for the dietary management of Irritable Bowel Syndrome (IBS), and is intended to be used under a physician's supervision.
All audio samples and trial graphs are copyrighted by Michael Mahoney and posted with permission. Samples may not be duplicated. All rights reserved.
**Customer Reviews**