Share!


May 7, 2015 ~ Scroll down for full newsletter or follow the links:
Ask Heather »
Antibiotics, Prebiotics, Probiotics, Oh My! Part One
IBS Recipe »
World's Best Guacamole (Gluten Free, Low FODMAPS, Delicious)
Special Letter »
No More Every Day Pain!
  
Have questions? Call toll free (866) 640-4942.
Outside the US (206) 264 8069.

Enjoy the newsletter!
Heather Van Vorous & Heather's Tummy Care
Over 10 Years of IBS Business!

Did a friend send you this newsletter? Sign up here for your own free subscription.



World's Best Guacamole!

This recipe couldn't be easier! It's a great example of how some foods that are often thought of as triggers aren't necessarily so.

Avocados are sometimes avoided by people with IBS because they're considered to be high in fat. Actually, they're just high in fat for a fruit (most fruits are fat-free). One large avocado typically has only 100 calories from fat, which is about one tablespoon. Plus, one large avocado makes enough guacamole for several people to share, so each person is only getting about one teaspoon of fat per serving. In addition, the fats are monounsaturated and heart-healthy.

It's important to note that the green Tabasco sauce in this recipe is quite mild. All peppers contain capsicain if they're "hot", but the peppers in green Tabasco (as opposed to the traditional red version) have very little capsicain. You can easily use green Tabasco sauce to add delicious zest to this guacamole without adding much (if any) heat.

Finally, the Tummy Fiber adds digestive stability (and a wonderful creamy texture) to the recipe. Avocados already contain soluble fiber, so this step just takes the recipe from digestion-friendly to downright beneficial. If you're just starting out with Tummy Fiber, add only about 1/2 tsp to the recipe. If you're a regular user, you can add up to one tablespoon.

Makes 2-3 Servings (easily doubled or tripled)

1 large ripe avocado, peeled and pitted
Green Tabasco sauce to taste
Acacia Tummy Fiber to taste

Mash all ingredients together in a bowl with a fork until well-blended. Serve with baked corn chips (Baked Tostitos are great) and enjoy!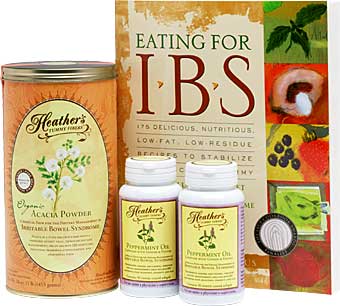 Try the IBS Diet Kit #2 - for Diarrhea AND Constipation!
Five Star Reviews!



* Eating for IBS - the Groundbreaking Diet and Cookbook

* Organic Acacia Tummy Fiber ~ for IBS Pain, Diarrhea and Constipation!

* Peppermint Oil Tummy Tamers with Fennel Oil ~ Prevent Bloating and Gas!



No More Every Day Pain!

Thank you! I cannot express to you how thankful I am for you and for practically "curing" me!

I read Heatherís story and I, like Heather, have had IBS since childhood. I am 45 now and wasn't officially diagnosed until about 5 years ago but the gastro doctor said there wasn't much they could do. I would have to just alter my diet until I figured out what foods were causing it.

I have had so many torturous nights when I thought I was absolutely dying and that my stomach was literally going to burst open. Well, I started taking the Peppermint Tummy Tamers capsules I bought from you about 4 months ago and I am a new person!

I have very few "attacks" now and I am so happy! I went from being in pain every single day to having pain about once a month or so. I can't believe it, I thought there was no hope for me and now I'm virtually pain-free!

Thanks,
Donna C.
Kentucky

Thank you so much, Donna! I am so happy you're feeling better! ~ Heather



~ Heather's Tummy Tamers Peppermint Oil Capsules ~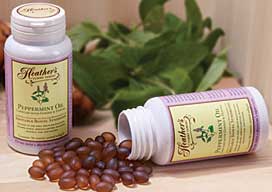 Peppermint Oil Caps Called "Drug of Choice for IBS"

Our Peppermint Oil Caps have the added benefits of fennel and ginger oils, and they help prevent abdominal pain, gas, and bloating!



There seems to be a lot of confusion surrounding antibiotics and IBS. Many people with IBS have had bad experiences with antibiotics of all kinds. The drugs often cause GI side effects and can make all IBS symptoms much worse.

But, there has also been a flurry of news and research suggesting that a specific antibiotic might actually help IBS. And probiotics are definitely known to help IBS. But what are prebiotics?

Just what the heck are all these 'biotics 'bout, anyways? Let's find out...

Part One: Antibiotics and IBS - Bad Guys First!

Traditionally, broad-spectrum antibiotics (prescribed for all kinds of infections, to children and adults alike) often cause mild to severe gastrointestinal side effects, even for people who don't have IBS. This is because those drugs not only kill the bacteria causing the infection you're treating, antibiotics also kill the friendly bacteria, called "flora", that live in your intestines.

These friendly bacteria are also called probiotics. A prebiotic is a supplement that encourages the growth of probiotics, or healthy flora, in the gut.

These friendly flora normally regulate the consistency of stools and help with digestion. There is a growing mountain of research that this gut flora is actually of critical importance not just for bowel health, but overall disease resistance as well.

If you have to take an antibiotic for an infection, one of the simplest steps to take is to ask your doctor for the most "digestion-friendly" antibiotic suitable for you. Then make sure you're taking the medication with a meal, and never on an empty stomach. Check the prescription label or with your pharmacist to make sure this is allowed. Typically, it's actually required that antibiotics are taken with food.

This will help prevent some of the immediate GI side effects, such as nausea and even vomiting, that many people see with antibiotics. You might also ask your doctor or pharmacist if inhalant antibiotics are an option. These can be much easier on your gut than oral versions.

Another helpful tip is to eat several daily servings of soy, rice, or almond yogurt labeled as having "live cultures." The healthy flora in the yogurt will help replace the natural gut flora that is being wiped out by the antibiotics. Make sure you choose a non-dairy yogurt, as the fat, casein, and whey in dairy can cause GI upsets as well. Keep up the non-dairy yogurt for at least two weeks after you stop taking the antibiotics. You could also use a dairy-free probiotic supplement instead of the yogurt.

However! A growing number of yogurts and other foods with probiotics are now adding inulin, fructan, FOS, or GOS. All of these are terrible for IBS.

These are highly processed rapidly fermenting prebiotics (and FODMAPS). They can cause tremendous bloating, gas, spasms, and cramps in people who don't even have IBS. Read all your food, drink, and supplement ingredients carefully, and avoid these completely.

Instead, help prevent and alleviate the GI side effects from antibiotics - and help your IBS symptoms in general - with a daily whole food slowly fermenting, FODMAPS-free prebiotic soluble fiber supplement such as Acacia Tummy Fiber. This will help your body in several ways.

First, the soluble fiber will keep your gut muscle contractions stable and regulate bowel motility, so you can head off diarrhea, constipation, spasms, and cramping. Second, the slowly fermenting prebiotic effect creates an environment in the bowel that encourages the growth of your body's healthy gut flora, which the antibiotics are wiping out.

The slow fermentation is key - slowly fermenting prebiotics have a good gastrointestinal tolerance, and are very unlikely to cause gas and bloating. Their prebiotic effect can actually help actively reduce bloating and gas.

Maintaining or re-establishing the good bacteria in your gut is essential for normal bowel function during and after a course of antibiotics. If the healthy bacteria in your gut are flourishing, they will keep the bad gut bacteria in check.

It's also important when you're on antibiotics to be extra careful to follow the IBS dietary guidelines. Keep your digestion stable by strictly limiting your fat intake and avoiding trigger foods. Just as critically, make sure that every meal and snack is based on soluble fiber foods like rice, pasta, oatmeal, polenta, potatoes, etc.

Finally, high volatile oil peppermint and fennel are very helpful herbs for immediate relief of the GI side effects of antibiotics. Try brewing Peppermint Tummy Tea for cramping and diarrhea, Fennel Tummy Tea for bloating and gas, or brew them both together in the same cup for all benefits

With a combined arsenal of dietary changes, a slowly fermenting prebiotic soluble fiber, and the helpful herbal teas, you should be able to either completely prevent or rapidly address the nasty GI side effects that are so typical of antibiotics. Before you know it you'll be done with the medication and successfully stable!

~ Heather

Coming next time we'll look at Part Two of our special series: Antibiotics and IBS - The Possible Good Guy! We'll cover Rifaximin, IBS, and small intestinal bacterial overgrowth (SIBO).

~ Heather



Researchers call gut-directed hypnotherapy a "cure" for IBS!

The IBS Audio Program 100 - for All IBS Symptoms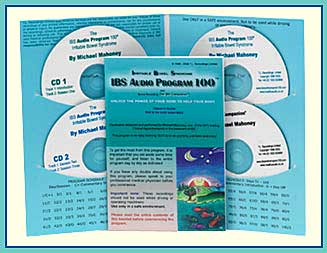 Gives an average 85% reduction of pain and bowel dysfunction symptoms.
Listen to IBS Audio Program 100 samples!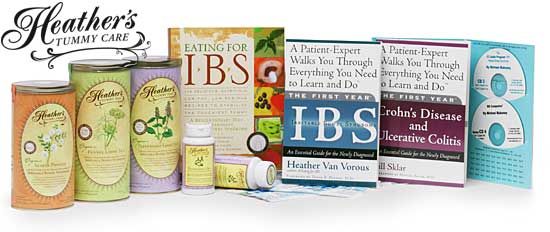 Shop at Heather's Tummy Store for IBS
HelpForIBS.com
The only store that's just for IBS - so we only carry the very best



You're on this newsletter list because you have expressed interest in IBS news and information.
Unsubscribe Here

Change your newsletter email address here.

If you are viewing this newsletter on a website and would like to subscribe for email delivery, please "Join the IBS Newsletter" here.

ANTI-SPAM PRIVACY & SECURITY POLICY
HelpForIBS.com
Heather's Tummy Care
80 S. Washington St, #304
Seattle, WA 98104 USA

© 2015 Heather Van Vorous, Heather's Tummy Care. All rights reserved.
Authored by Heather Van Vorous. May not be reproduced without permission.
USA Copyright Office Registration Number TXU 1-270-858 and others.

<***track***>